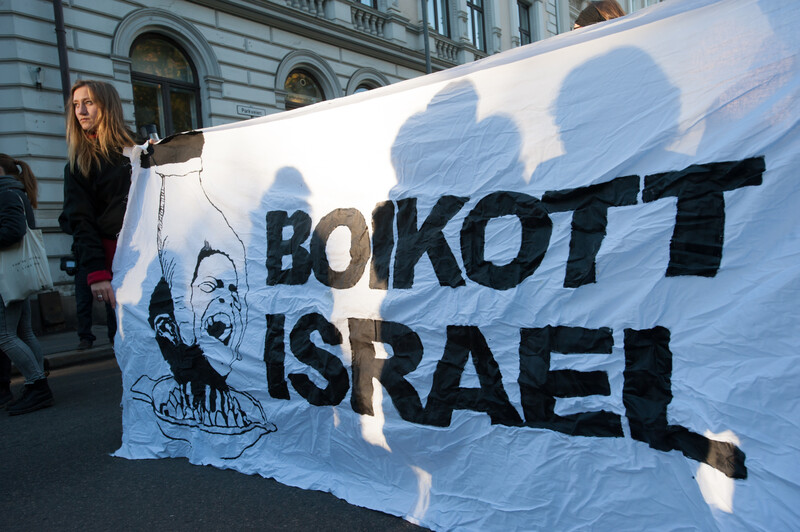 2016 began with a bang: French telecommunications giant Orange announced in early January it was dumping its Israel affiliate.
This came just months after boycott activists renewed their campaign against the company over its support for Israel's 2014 assault on Gaza and its complicity in Israel's colonization of the occupied West Bank.
The same week, a major Irish corporation yanked its cement contracts with Israel following boycott pressure.
Meanwhile, churches, student unions and local activists continued to organize strong boycott, divestment and sanctions (BDS) campaigns that caused panic among Israeli leaders.
Embarrassed by these significant victories, Israel spent 2016 waging "an all-out war" on the global BDS campaign, "in a desperate attempt to crush it," according to the Palestinian BDS National Committee (BNC).
Bullying
Israel resorted to threatening and bullying individuals, adopting policies to expel suspected boycott activists and to bar others from entering.
This followed last year's naming by Israel's leading financial daily of Omar Barghouti, a co-founder of the BDS movement, among 100 people most likely to influence Israel's economy in 2016.
Israel imposed an effective travel ban on Barghouti, following threats against him and other Palestinian human rights defenders by top Israeli government ministers in March.
Amnesty International condemned the threats, which included a call by intelligence minister Yisrael Katz for "targeted civil eliminations" of BDS leaders with the help of Israeli intelligence.
"Israel has attempted to stigmatize, demonize and in some cases delegitimize BDS from above, after failing to crush the movement at the global grassroots and civil society levels," notes the BNC.
But throughout 2016, BDS has only grown stronger, the group adds.
"The logic of appeasing Israel's regime of oppression has started giving way to the logic of sustained international pressure, which proved instrumental in ending apartheid in South Africa," it says.
With that spirit in mind, here are the top 10 BDS successes of 2016, as covered by The Electronic Intifada.
10. Activists rose up against Hewlett Packard. Campaigners in dozens of cities across six continents participated in an international week of action against Hewlett-Packard, bringing attention to the company's role in enabling Israel's rights violations.
9. Irish company divested from Israel's cement industry. One of Ireland's largest companies, CRH, announced in January that it was chucking Israeli assets after sustained grassroots boycott pressure. CRH held 25 percent of the shares in Mashav, owner of Israel's top cement manufacturer Nesher.
Nesher cement has been used in constructing Israel's wall and settlements in the West Bank and in the light rail network serving Israeli settlements in occupied East Jerusalem.
8. Spanish municipalities declared themselves "apartheid-free zones." More than 50 cities across Spain now declare themselves free of Israeli products in a campaign that began in July 2014, at the height of Israel's attack against Gaza.
With more than 120,000 residents, Cádiz, in Andalusia, is one of the largest cities to support the campaign.
7. Norwegians ditched Israeli products. Two major cities in Norway voted to boycott Israeli goods and services produced in settlements inside occupied Palestinian territory.
6. Churches continued to mobilize for Palestinian rights. Denominations voted in 2016 to boycott Israeli financial institutions, and to dump or bar investments in corporations that profit from Israel's occupation.
A church in California vowed not to purchase supplies from Hewlett-Packard, a company that provides equipment to Israel's military and settlements.
Presbyterians reaffirmed their previous commitments to divestment, while 24 denominations together called for "economic leverage" against businesses or governments that violate human rights.
Lutherans voted to call for an end to US aid to Israel.
5. Governments and political parties stood up to anti-BDS bullies. Sweden, followed by the Netherlands and Ireland, publicly upheld the right of citizens to work for BDS.
Meanwhile, the European Union and the US State Department admitted that boycott advocacy is a protected free speech right.
The Canadian Green Party and the Dutch government rejected pressure by right-wing Israel lobby groups.
4. Activists helped defeat anti-BDS legislation. Grassroots campaigners fought back against a growing wave of legislation promoted by US state and federal lawmakers – and encouraged by Israel lobby groups and the Israeli government – to suppress BDS activism.
In Massachusetts, an anti-boycott amendment was withdrawn in the state senate in July following a campaign by Palestine solidarity groups.
The amendment, which was tacked onto an unrelated economic bill, would have blacklisted individuals and businesses that engage with the Palestinian-led boycott of Israel. Organizers said that in order to successfully counter the imminent anti-boycott legislation there, they knew they had to engage directly with lawmakers over a sustained period.
In the UK, a test case for banning BDS campaigning failed in the high court.
And in France, a court overturned a government ban on a meeting to support individuals facing trial for their Palestine solidarity activism. The BDS campaign in France continued to flourish despite the government's crackdown.
In May, lawmakers in Ontario, Canada's most populous province, made history: theirs was the world's first full legislature to vote down an anti-BDS law.
3. G4S was forced to buckle under BDS pressure. Under years-long pressure by grassroots campaigns, the world's largest private security firm, G4S, ditched most of its Israeli businesses.
Four UN agencies in Jordan and one in Lebanon ended their contracts with the corporation.
The city of Berkeley, California, also voted to divest from private prison corporations, including G4S, for its role in human rights abuses against undocumented persons in the US and Palestinians under occupation.
2. Telecom giant Orange quit Israel. The French telecommunications company Orange announced it was quitting Israel in January, following sustained international boycott pressure.
The campaign calling on Orange to cut ties with Israel's Partner Communications began in 2010 and involved unions and groups in France, Tunisia, Morocco and Egypt, countries where Orange or its affiliates have tens of millions of mobile phone subscribers.
The campaign received a major boost in May 2015 when BDS Egypt called for a boycott of Orange subsidiary Mobinil, which has 33 million customers. This came after The Electronic Intifada revealed the extent of Orange's complicity in Israel's 2014 assault on Gaza.
"Orange had no choice but to realize that investing in occupation, profiteering from Israel's colonization of Palestinian land and involvement in violations against Palestinian rights is a commercially bad investment," said Abdulrahman Abou Salem of BDS Egypt, a coalition of trade unions, political parties and campaign groups.
Partner Communications, which operated under the Orange Israel brand, built and operated extensive mobile telephone infrastructure in Israel's settlements built on Palestinian land in the occupied West Bank in violation of international law.
1. Students stood strong. Students in the US, Canada and the UK passed strong divestment measures in their student governments and trade unions, amidst intensifying smear campaigns by outside Israel advocacy groups and shady websites.
Students "are eventually going to be members of the public in various capacities after they graduate. And the rapidly shifting politics around Israel-Palestine on campuses is something that we should really take heart in," Rahim Kurwa, a graduate student at UCLA, told The Electronic Intifada in August.
Since the beginning of 2016 alone, more than a dozen campuses around the US passed some form of divestment resolution or boycott measure, Kurwa, a member of Students for Justice in Palestine, said.
"People now realize that it doesn't make any sense to claim that you're a progressive or that you care about basic principles of equality and human rights if you can't apply those principles to the question of Palestine … and a freedom struggle that has gone on for decades now."
Tags