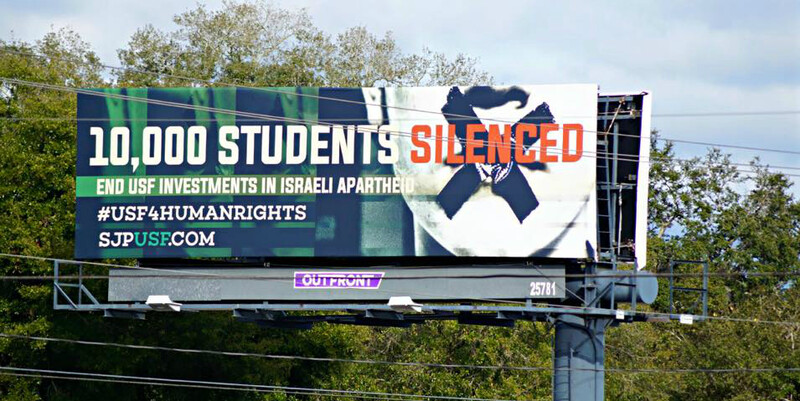 On Tuesday night, the student senate at the University of South Florida in Tampa passed a joint resolution calling on the board of trustees of the USF Foundation to divest from corporations involved in Israel's occupation and human rights violations.
The resolution, which passed in a landslide vote of 32-12 with 5 abstentions, demands that the university pull its investments in corporations that "are continuously and knowingly complicit" in violations of Palestinian rights.
It lists Caterpillar, Hewlett-Packard, G4S, Boeing, Lockheed Martin and Northrop Grumman as examples of such companies whose shares are in the university's portfolio.
Muhammad Imam, a student senator who sponsored the resolution, told The Electronic Intifada that he was extremely pleased by the "resounding" support among his senate colleagues.
"Our university was on the wrong side of history when it failed to divest from corporations affiliated with South African apartheid," the resolution states. "This time we hope to be on the right side of history." The full text can be viewed below.
Students are calling for a socially responsible investment policy, which includes financial transparency and divestment from tobacco, fossil fuels and private prison industries in addition to corporations that profit from Israel's occupation.
Two years of campaigning
The vote for divestment comes after more than two years of campaigning.
A 2013 student referendum on boycott and divestment was passed by a wide margin, but was immediately nullified by the university administration in what legal experts called direct censorship of free speech.
"Galvanized by the university's attempt to censor their voices, students began a university-wide petition calling directly for divestment," activists with Students for Justice in Palestine at University of South Florida (SJP-USF) state.
In 2014, 10,000 students signed the petition, which became the largest in the history of Florida universities. "However the USF Foundation Investment Committee refused to listen to their voices. And rejected them," SJP-USF adds.
The rabbi of all Tampa-area Hillel chapters also charged SJP-USF with "anti-Semitism," a common tactic to silence and intimidate students who advocate for justice for Palestinians.
Courted
In 2014, university provost Ralph Wilcox was courted by Project Interchange – an initiative of the American Jewish Committee, an Israel lobby group that seeks to influence elites.
Wilcox traveled to Israel with seven other provosts who had each vociferously condemned the American Studies Association's 2013 boycott resolution.
Growing support
Imam says that despite the attempts to censor student Palestine solidarity organizing, there is growing support on campus for free speech and justice for Palestinians.
"Students are really connecting with the theme of having student voices heard," he said. "And they're really connecting with the idea that the university should not be invested in segregation."
The referendum now heads to the student body president, who will be asked to sign it before it is presented to the faculty and staff senates.
If passed there, it will be forwarded to the university's trustees.
Imam said that the divestment resolution "has resonated" with members of the faculty already.
The USF administration "has worked every step of the way to interfere with student voices," Imam said. "It's time for the USF administration to step back and allow the student voices to be heard, to stop meddling in student government affairs."
Tags