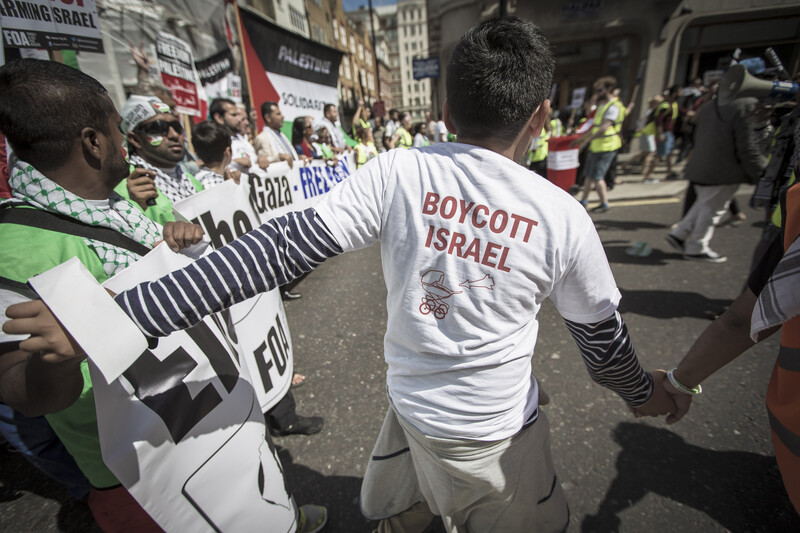 The Israeli government played a direct role in recent policy and legislative moves in the US, UK and other countries to suppress the free speech rights of citizens calling for the boycott of Israel over its human rights abuses.
Israel is now planning to significantly step up its efforts to thwart the Palestine solidarity movement, through its embassies in key capitals.
A 23 February article in Israel's Ynet takes to task Israeli politicians for making too much public noise about the boycott, divestment and sanctions (BDS) movement.
It cites as an example the fuss Israeli politicians made about the "subvertisements" Palestine solidarity activists placed on the London Underground this week.
Ynet claims that Israeli politicians helped the activists achieve their goal by giving them free publicity.
"The government, which prefers to deal with BDS activists quietly and under the radar, is now forced to deal with local politicians who threaten to 'hijack' this work to serve their local political interests," the article states.
"Successes"
While it is no surprise that Israel and its lobby groups are backing the heavy-handed censorship of the Palestine solidarity movement around the world, Ynet provides confirmation of the Israeli foreign ministry's direct lobbying and political interference in domestic legislation in several countries.
"In cooperation with Jewish and pro-Israeli organizations, the ministry convinced several American states to pass legislation against the boycott of Israel," Ynet states.
This is a reference to a raft of federal and state-level legislation that aims to penalize companies or blacklist individuals who support boycott or divestment from Israeli or other companies or institutions complicit in Israel's violations of Palestinian rights.
Human rights defenders say the initiatives violate a landmark US Supreme Court ruling that boycotts and related activities to bring about political, social and economic change are political speech, occupying "the highest rung of the hierarchy of First Amendment values."
The Israeli government is also claiming credit for new UK regulations aimed at stopping public bodies, including democratically elected local municipalities and public universities, from boycotting Israel.
"The Israeli embassy in London succeeded through quiet and effective work in convincing the British government to pass a directive prohibiting municipalities and public bodies from taking decisions to boycott Israel," Ynet reports.
Overblown
The UK policy is far from a ban or prohibition, although it threatens public bodies with civil court cases which could result in "severe penalties" if they take ethical investment or purchasing decisions to exclude companies from World Trade Organization member states that violate human rights.
Israel is a member of the World Trade Organization.
Riya Hassan of the Palestinian BDS National Committee says that the government of Prime Minister David Cameron "is going further than Margaret Thatcher ever went to defend South African apartheid."
But the Israeli claims of a major victory here appear to be overblown.
The BNC notes that the existing Public Contracts Regulations 2015, which are based on EU law, allow for companies to be excluded from public procurement if they have committed "gross misconduct," a provision that does not appear to have been changed by the new policy.
According to Hassan, the UK government is merely trying to "intimidate councils into falsely thinking that they are no longer allowed to exclude companies that violate human rights from tender exercises."
"We're seeking further legal advice but it appears that it remains perfectly legal for councils and universities to take ethical stances that reflect the views of their communities and exclude companies that violate human rights from tender exercises," Hassan adds.
Ynet cites other "successes" for Israel's anti-human-rights strategy, in Luxembourg, Sweden and France, including a vote by the Paris city council to condemn the BDS movement.
"An additional specialization of Israeli embassies is the use of existing legislation against boycott: in several countries there exists legislation against boycott and discrimination," Ynet observes. "The embassies were requested to check how it is possible to use local law to curtail boycott initiatives."
Ramping up
Israel's efforts to sabotage and attack the BDS movement are not new.
It is already known, for instance, that Israeli military intelligence spies on "overseas organizations" that advocate BDS as a strategy to support Palestinian rights.
And in 2013, Israel beefed up its London embassy with staff dedicated to fighting BDS.
According to Ynet, these kinds of efforts are about to be dramatically ramped up.
Last year, Prime Minister Benjamin Netanyahu appointed Gilad Erdan as minister with the responsibility to combat the movement for Palestinian rights, and armed him with a budget of $30 million.
Following the London Underground posters incident, Erdan announced that he intends to allocate $1 million "to create ten BDS coordinator positions in important Israeli embassies throughout the world," Ynet states.
"The coordinators will collect and coordinate information from the ground concerning boycott movement threats" and "will further assist in promoting projects for positive Israel branding."
As part of this work, Ynet reports, Israel will "hire local citizens – Jews and non-Jews – who will work in the framework of the Israeli embassies."
Pushing back
While there is no doubt that Israel's bullying and harassment of those calling for full rights for Palestinians is going to increase, it is doubtful that it will do much to gain Israel any public sympathy.
Israel's problem is not the marketing, but the product: brutally enforced occupation, settler-colonialism, war crimes and state-sanctioned racism.
As long as Israel is unwilling to end these practices, it will only generate more opposition both to its policies and its smear and censorship tactics.
In the latest example, 22 Jewish academics, artists and activists published a letter in The Guardian objecting to bogus claims of anti-Semitism made by anti-Palestinian activists after the Oxford University Labour Club decided to support Israeli Apartheid Week.
"Those who deliberately confuse anti-Semitism and anti-Zionism give comfort and aid to the real anti-Semites in our society," the letter states. "Like the boy who cried wolf, they ensure that if anti-Semitism does rear its ugly head, people will assume that this is just another false accusation."
Connie Hackbarth contributed translation.
Tags