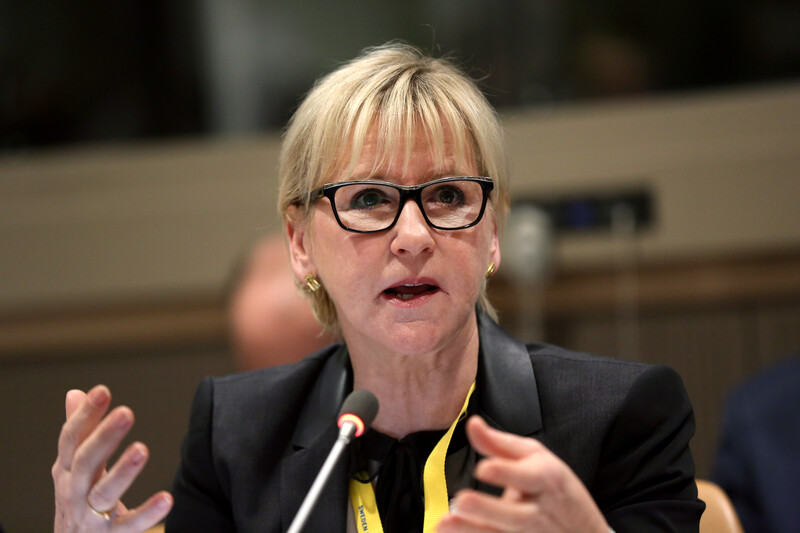 Sweden is denying claims that Foreign Minister Margot Wallström has promised to publicly denounce the Palestinian-led boycott, divestment and sanctions (BDS) movement.
Wallström met with Tzipi Livni, the war crimes fugitive and former Israeli foreign minister, who was in Stockholm last week.
At the end of the meeting, according to Israel's Ynet, Wallström "finally agreed to publicly support Israel's right to protect itself and oppose BDS."
Similarly, Israel's i24 News reported that "Wallström agreed to publicly express support for Israel's right to defend itself and Sweden's opposition to boycotts against Israel."
But the Swedish foreign ministry is contesting these characterizations of what it called a "private conversation."
"Sweden stands by a two-state solution," the foreign minister's spokesperson wrote in an email to The Electronic Intifada on Wednesday, in response to an inquiry about the accuracy of the Israeli media reports.
"As regards BDS, it is a civil society movement. Governments should not interfere in civil society organization views," the spokesperson added.
By acknowledging the legitimacy and independence of the BDS movement as a civil society phenomenon, Sweden is setting itself apart from other Europeans governments.
Leaders in France and the United Kingdom, for instance, have shown themselves ready to smear, prosecute and censor their own citizens exercising their free speech rights in solidarity with Palestinians.
Wallström would certainly be able to empathize with those being attacked for speaking out truthfully about Palestine.
In recent months, Wallström generated so much Israeli hostility for taking basic positions in support of Palestinian human rights that her security officials had to investigate apparent death threats directed against her in Israeli media.
Israeli officials had also instituted what amounted to a boycott on meetings with the minister.
Wallström had enraged Israeli Prime Minister Benjamin Netanyahu by calling for an investigation into Israel's practice of summarily executing Palestinian youths alleged to have carried out attacks on Israeli occupation forces, settlers or civilians.
The Israeli leader denounced Wallström's remarks at the time as "outrageous and stupid."
Israel routinely describes its well-documented violations of Palestinian rights, including its blockade and massacres in Gaza, its extrajudicial executions in the West Bank and its revenge demolitions of Palestinian homes as "self-defense."
Wallström also angered the Israelis by connecting the kind of radicalization behind the November attacks in Paris that killed 130 people to the situation in the Middle East, "where not least, the Palestinians see that there is not a future."
Her unwillingness to submit to Israeli bullying over BDS is an example that her counterparts around the world should emulate.
Tags