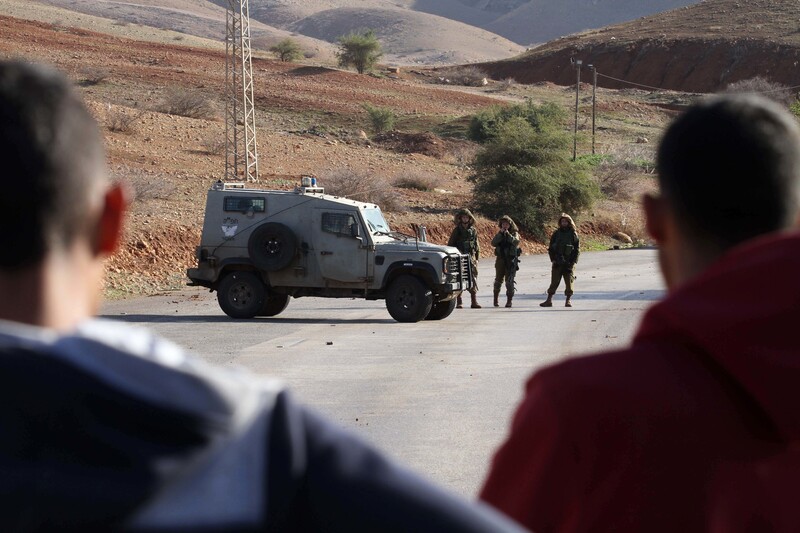 Two Palestinians were killed one day after Israeli Prime Minister Benjamin Netanyahu lashed out against Sweden's foreign minister, saying that her accusations that Israel is committing extrajudicial executions were "outrageous and stupid."
Two young men, Muhammad Abu Zayed, 19, and Muhammad Majdi Qaita, 26, were fatally shot during protests along Gaza's boundary with Israel on Friday.
On Tuesday, Margot Wallström, Sweden's foreign minister, called for an investigation into Israel's slayings of Palestinians in recent months, many of them during alleged attacks on Israelis.
"It is vital that there is a thorough, credible investigation into these deaths in order to clarify and bring about possible accountability," Wallström said during a parliamentary debate, according to media reports.
Following Wallström's remarks, Israel's foreign ministry reprimanded Sweden's ambassador in Tel Aviv.
The ministry said the Swedish foreign minister was "giving support to terror and thus encouraging violence."
Israeli forces have killed more than 150 Palestinians during an escalation of violence that began at the outset of October last year.
Human rights groups have criticized Israel for reflexively using lethal force when alleged attackers no longer pose an immediate threat.
In other cases, Palestinians may not have been attempting any attack when they were slain.
Earlier this week, two Palestinians were killed at al-Hamra checkpoint in the north of the occupied West Bank's Jordan Valley in what eyewitnesses described as "an act of cold blood."
Ali Hajj Muhammad, 21, and Said Abu al-Wafa, 38, were shot immediately after being asked by soldiers to exit their car on Saturday, 9 January.
An Israeli army spokesperson told the Ma'an News Agency that the pair had attempted to stab soldiers, but witnesses said that the men were not carrying knives when they were shot.
According to the Palestinian Centre for Human Rights, Muhammad, from al-Jadida village near the West Bank city of Jenin, was a third-year student at al-Quds Open University. Abu al-Wafa was a trader from al-Zawiya village near Jenin.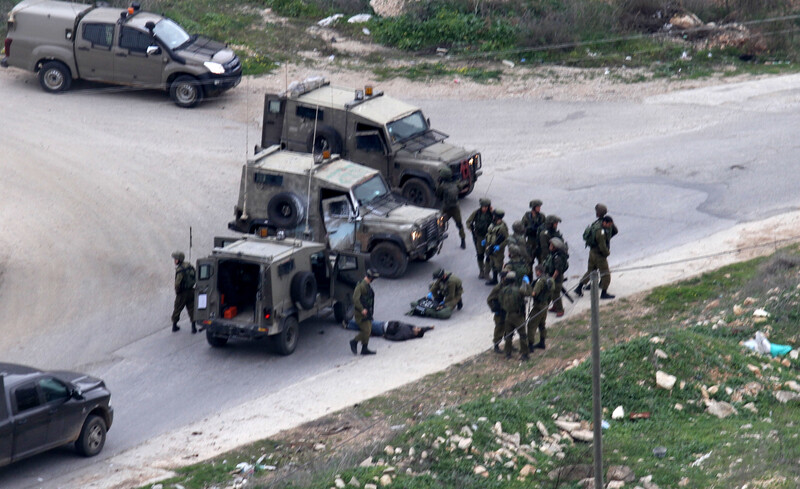 Two more Palestinians were killed during alleged stabbing attacks in the occupied West Bank on Thursday.
Israeli forces shot Haitham Mahmoud Abd al-Jalil, 31, after he allegedly injured an officer at a checkpoint near the West Bank city of Nablus. A soldier was reported to have been lightly injured during the incident.
Hours later, Muayyad Awni Jabarin, 20, was shot by Israeli forces near the Beit Einoun junction outside the city of Hebron.
Witnesses told the Ma'an News Agency that Israeli soldiers prevented medics from accessing the injured man.
Two other young Palestinians were killed at the Beit Einoun junction on Tuesday while allegedly attacking Israeli soldiers.
Muhammad Kawazba, 23, from the nearby village of Sair, was shot dead after he attempted to stab soldiers, according to an Israeli army spokesperson.
The Palestinian Centre for Human Rights said that Israeli forces left Kawazba's body on the ground for around two hours and denied Palestinian medics access to him.
Adnan Hamid al-Mashni, 17, from the village of Shayoukh, was shot and wounded during the same incident.
"An Israeli army spokesperson alleged that al-Mashni had driven Kawazba to the junction to carry out the attack. She confirmed that Israeli forces shot him, and said he afterward fled the scene," Ma'an reported.
Al-Mashni was evacuated to a nearby hospital with a gunshot wound to the chest and soon died of his injuries.
That same day, Israeli forces detained Majdi Ahmad al-Jabari, 25, who had transported al-Mashni to hospital. According to the Palestinian Centre for Human Rights, al-Jabari was interrogated for eight hours before being released.
Several other Palestinians have been killed at the same checkpoint in recent months, including 16-year-old Khalil Muhammad al-Shalalda, from the village of Sair, who was killed there on 7 January after allegedly attempting to stab a soldier.
The teen's brother, Mahmoud, was fatally shot by Israeli occupation forces during confrontations near Beit Einoun junction on 13 November.
Three other youths from Sair, including a child, were slain during an alleged stabbing attempt on soldiers at the Gush Etzion junction the same day that Khalil al-Shalalda was killed.
Also on Tuesday, Palestinian student Srour Abu Srour, 19, was killed when Israeli forces opened fire on youths throwing stones at soldiers who had raided the town of Beit Jala, near the West Bank city of Bethlehem.
According to the Palestinian Centre for Human Rights, the soldiers were in pursuit of a gunman who had opened fire at a checkpoint from a speeding car.
Abu Srour, from nearby Aida refugee camp, was hit with a bullet to the chest while returning home from university, according to the rights group.
Another youth was also shot with live fire to the chest and evacuated to hospital with serious injuries.
The next day, a Palestinian fighter was killed when Israeli forces shelled a group carrying out an armed operation in northern Gaza near the boundary with Israel.
Mousa Abu Zuaiter, 31, from Jabaliya refugee camp, was immediately killed and two other fighters and a civilian sustained shrapnel wounds, the Palestinian Centre for Human Rights reported.
Another fighter, 22-year-old Bassam Ayyoub al-Akhras, was killed by an electric shock in a tunnel near Rafah in the southern Gaza Strip on Friday.
Meanwhile, Israel's military and intelligence elite appear certain that there is no end in sight to the wave of attacks by individual Palestinians independent of armed groups in the West Bank.
"Israel is facing a long-term, persistent phenomenon," senior officers told the Tel Aviv newspaper Haaretz after interviewing Palestinians imprisoned after such alleged attacks.
According to Haaretz, more than half of the attacks in the West Bank "took place at only seven well-known locations, including the Gush Etzion junction, the Beit Einoun junction north of Hebron and in the Jewish enclave inside Hebron."
Those interviewed "wanted to attack symbols of the Israeli occupation, but also to take revenge" by carrying out attacks at sites where Palestinians had been killed previously, Haaretz added.
Tags