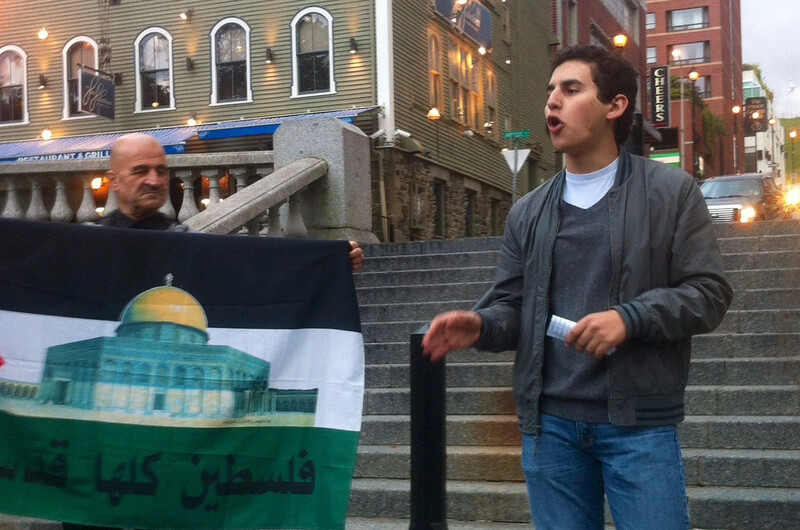 The student union at Dalhousie University in Halifax, Nova Scotia, is to sell its investments in nine companies involved in human rights abuses.
Four of the firms – Caterpillar, General Mills, Teva Pharmaceuticals and Toyota – were cited specifically for their involvement in Israel's military occupation and other abuses of Palestinian rights.
Other companies include arms-maker United Technologies, as well as sportswear manufacturer Adidas and German insurance giant Allianz, which were cited for abuses of labor rights and the environment around the world.
Yazan Khader, a member of Students Against Israeli Apartheid at Dalhousie University (SAIA) and a student councillor, told The Electronic Intifada that Wednesday night's unanimous vote to proceed with divestment came after a year of research, debate and advocacy.
A representative of Divest Dal told the council before the vote that her group, which campaigns for the university to divest from fossil fuels, also backed the resolution.
"We worked long and hard and we were very happy when the vote resulted in divestment," Khader said.
Khader added that campaign activities, under the banner "End the Complicity," included detailed research into the companies, weekly tabling at busy campus locations, one-on-one education of student leaders and Israeli Apartheid Week events focusing on settler-colonialism.
Dalhousie, with 18,000 students, is one of Canada's major public research universities.
"Money is going to be divested"
The Dalhousie Student Union's investment portfolio stood at around $3 million in 2015.

Khader estimates that the shares of the nine companies made up about one percent of the portfolio as of last year – in the tens of thousands of dollars.

"Money is going to be divested," Khader said. "This is actual institutional work happening. There will be money flowing out of Caterpillar, General Mills and Teva Pharmaceuticals as a result of this resolution."

Khader noted that when he and his colleagues first proposed divestment a year ago, they focused only on companies involved in Israel's abuses.

He says that supporters of Israel called for broadening the focus in an "attempt to dilute the message" and shift attention away from what is happening to Palestinians.

"But ultimately it meant that the usual criticism of 'why do you single out Israel' was not applicable in this case, so it kind of worked in our favor," Khader said.

Now he is glad that "our pressure led to something that was comprehensive" and tackles complicity in human rights abuses around the world.

The resolution also calls for the student union to establish an ongoing mechanism to review investments for compliance with human rights.
Smears
As on many other campuses, pro-Israel groups tried to halt the campaign's momentum with accusations of anti-Semitism and other smears.
One op-ed in the campus newspaper The Dalhousie Gazette, by a group calling itself "Dalhousie Students Against anti-Semitism on Campus," accuses BDS movement cofounder Omar Barghouti of the worst forms of bigotry against Jews "short of calling for a new Holocaust."
Palestinian human rights campaigner Barghouti, along with other prominent BDS activists, has recently been the subject of direct threats from Israeli leaders, prompting Amnesty International to express concern for his "safety and liberty."
SAIA hit back at such smears, which targeted students as well, arguing that BDS offers a practical way for people in Canada to act in support of human rights for Palestinians.
"To our dismay, those articles written by a group that doesn't have much traction on campus did get a lot of space and time," Khader said.
But the opponents, who according to Khader even heckled at SAIA events, did not succeed in halting the momentum.
Khader also pointed out the wide range of people who spoke out against the smears and in favor of BDS, including a member of Independent Jewish Voices, a Canadian-Israeli writer and Halifax Queers Against Israeli Apartheid.
National attention
The divestment at Dalhousie also comes amid a stepped up campaign against BDS by Canada's powerful Israel lobby.

In February, the Canadian parliament overwhelmingly passed a motion condemning the BDS movement.

Proposed by the Conservative opposition, the resolution was backed by Prime Minister Justin Trudeau's governing Liberal Party.

Trudeau, despite his progressive image, has long been an opponent of the Palestinian-led campaign to hold Israel accountable.

Khader says that opponents of divestment at Dalhousie played up these kinds of statements.

"It's not helpful when you talk to the average student for them to hear that the government condemns us," Khader said.

But ultimately, Khader thinks the parliamentary vote did more good than harm: "It created huge attention to BDS and that was great. People were searching to find out what BDS is."

Khader noted that BDS even became a central issue in campus elections, with candidates being asked for their positions on it.

"We're happy this is happening and we're going to keep the pressure going until divestment is followed through completely and we have an ethical investment policy that does not give in to Israeli exceptionalism," Khader added.
Tags