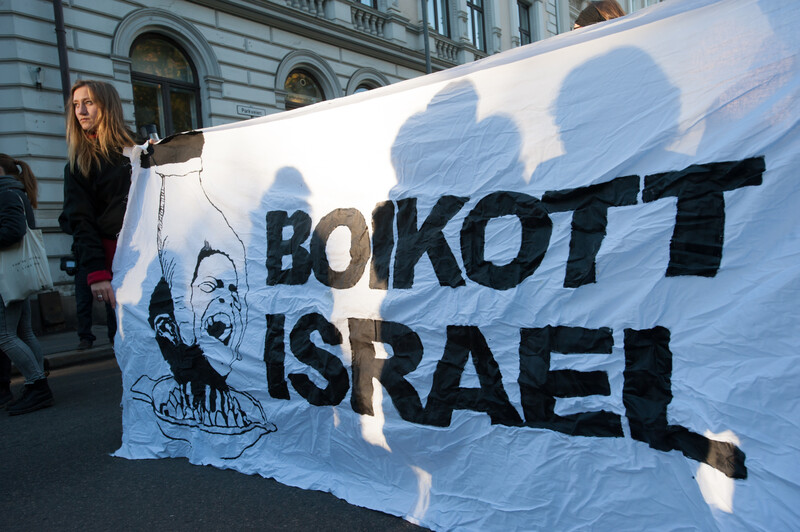 Israel is intensifying its efforts to crack down on activists working for freedom, justice and equality for Palestinians.
On Sunday, interior minister Aryeh Deri and public security minister Gilad Erdan formed a new inter-ministerial task force that will, as the The Times of Israel reported, "target supporters of the boycott, divestment and sanctions (BDS) movement."
The task force aims to prevent the entry of foreign activists allegedly affiliated with organizations that support BDS and expel those who have already entered territories under Israeli control.
"This is a necessary step, given the evil intentions of the delegitimization activists working to spread lies and distortions about the reality in our region," Erdan said.
The ministers reportedly "accused dozens of anti-Israel groups of operating in the country to gather information to be used in 'delegitimizing' Israel, and blamed activists in the West Bank for seeking to stir up protests among the local Palestinian population."
Israeli officials believe that hundreds of foreign BDS activists have entered through Tel Aviv airport or the Israeli-controlled Allenby Bridge land crossing from Jordan into the occupied West Bank "under the guise of being tourists," the Tel Aviv newspaper Haaretz reported.
Travelers, especially Palestinian Americans or those perceived to be of Arab or Muslim ancestry or religion, already face lengthy interrogations at Israeli-controlled crossings and frequent denial of entry.
Last month, a group of five Americans, including a staffer from the US Campaign to End the Israeli Occupation, were subjected to incarceration and lengthy interrogations about their backgrounds and political involvement, before being denied entry.
All five Americans were of Arab, South Asian or Muslim backgrounds.
"Espionage and propaganda war"
The ever more draconian political interrogations that the new crackdown is likely to entail, will only make Israel, which has seen a sharp drop in tourism, an even less attractive destination.
"Deporting BDS activists in order to silence them and undermine their principled support for Palestinian human rights is not only anti-democratic; it is yet another incident of Israel shooting itself in the foot," Abdulrahman Abunahel, a spokesperson for the Palestinian BDS National Committee (BNC), said in reaction to the Israeli announcement. "If anything, we expect such acts of heightened repression to boost support for boycotting Israel back in these activists' home countries."
"This latest weapon in the intensifying Israeli legal, espionage and propaganda war against the BDS movement for Palestinian rights is a strong indicator of how desperate and irrational Israel's regime of occupation, settler-colonialism and apartheid has become in its futile attempts to hinder the impressive growth of the BDS movement around the world," Abunahel added.
Targeting human rights defenders
Significantly, a spokesperson for the Israeli police, which will apparently participate in the crackdown on activists, admitted that Israel's current campaign against Omar Barghouti, a Palestinian human rights defender and co-founder of the BDS movement, is politically motivated.
"The minister [Erdan] wants to consider his status. He lives in Ramallah most of the time and part of what determines one's permanent residency is where the center of life is," police spokesperson Luba Samri said. "His BDS activities are also part of this."
Barghouti has lived with his family in Akka, in the north of present-day Israel, since 1994.
In April, Israel refused to renew Barghouti's travel permit, a decision stayed for two months by a Haifa court that has ordered the government to reconsider the case.
The effective travel ban on Barghouti followed threats made against him and other Palestinian human rights defenders by top Israeli government ministers in March, including intelligence minister Yisrael Katz, who called for "targeted civil eliminations" of BDS leaders with the help of Israeli intelligence.
The Hebrew term Katz used was similar to the Israeli term for "targeted assassinations."
At the time, Amnesty International strongly condemned these threats, warning that "an escalation of acts of intimidation by the government and attacks and threats by settlers and other non-state actors have created an increasingly dangerous environment" for human rights defenders in Israel and the occupied West Bank and Gaza Strip.
Israeli exports plummet
Many Israel advocates put a brave face on BDS, constantly boasting that all the campaigns have yet to put a significant dent in Israel's economy.
But there is no doubt Israel sees any and every effort to hold it accountable through economic or other forms of pressure as a strategic threat, including the US and EU requirements that products from settlements be labeled accurately.
"The labeling is just one part of the big plan," Ohad Cohen, the head of Israel's foreign trade administration, told NPR this weekend. "It doesn't matter whether it has a minor economic effect, we're not willing to take that."
Israel's fight back against accountability, especially BDS, is all the more urgent amid worse than expected economic performance, particularly a plunge in exports in the first quarter of 2016.
Analysts see long-term problems for Israel's export industries that could make a quick recovery difficult. And while they say the drop in exports is occurring for a number of reasons, BDS and labeling of settlements goods are undoubtedly factors.
David Elhayani, the head of a settler body in the occupied West Bank's Jordan Valley, told NPR that it is now much more difficult to sell settler produce such as dates and herbs grown on land seized from Palestinians and colonized in violation of international law.
"If it was 80 percent goes to Europe seven and six years ago, now it's about 30 percent going to Europe," Elhayani said. "Most of our products are going now to Russia," he added, where prices are much lower.
Last year, Israeli officials warned that a complete boycott of Israeli goods in the EU could cost Israel tens of billions of dollars in exports and tens of thousands of jobs.
But as the latest announcement shows, Israel's leaders prefer to target the messengers than to end the injustices that are at the root of its predicament.
"After failing to counter or even diminish the unmistakable impact of BDS in isolating its brutal regime of oppression, Israel is dropping the mask," the BNC's Abunahel said. "It is revealing its true face to the world as a ruthless, warmongering pariah state, and it is resorting to the same repressive tools deployed by apartheid South Africa in its last chapter, before its eventual collapse."
"We salute every person of conscience around the world who has creatively, passionately and selflessly supported the Palestinian struggle for our rights under international law," Abunahel added. "We are confident that Israel's intensifying repression notwithstanding, this principled solidarity will significantly contribute to the struggle for Palestinian freedom, justice and equality."
Tags