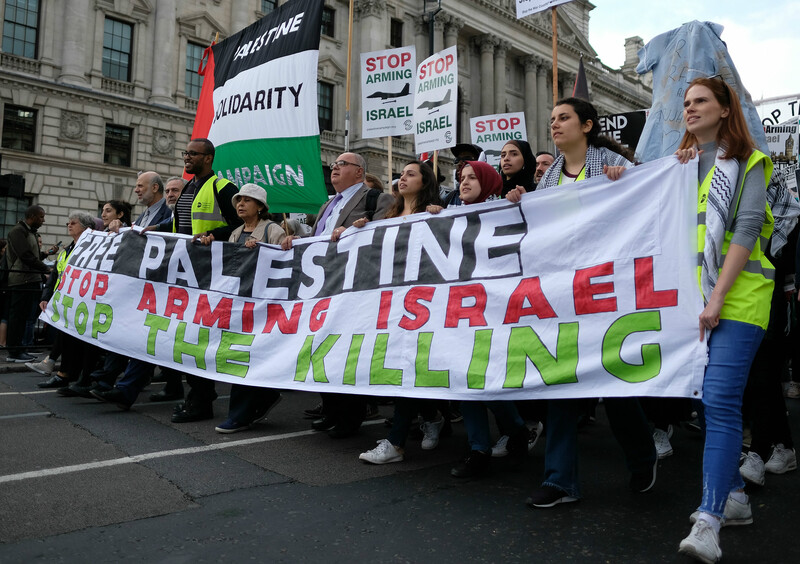 The year 2018 was one of victories by human rights activists despite heavy pressure, attacks and propaganda efforts by Israel and its lobby groups to whitewash its image.

Starting off the year, it was revealed that US President Donald Trump's alliance with white supremacist groups and anti-Semitic figures has pushed support for Israel to a low point, especially among young American Jews.

By October, it was confirmed in another survey that support for Israel is coming primarily from Trump's base, a hotbed of right-wing, white nationalist and Christian Zionist views, while support from other Americans continues to erode.

Early on in the year, AIPAC, Israel's powerful lobby group on Capitol Hill, was forced to admit that it was facing mounting problems in its efforts to shore up support for Israel among progressive American leaders.

However, AIPAC, along with the Anti-Defamation League and similar advocacy groups, continued to push for federal legislation – the Israel Anti-Boycott Act – that seeks to criminalize supporters of the boycott movement, even as the ADL determined behind closed doors that such bills are ineffective and unconstitutional:

But there were signals that even Israel's hardline supporters in Congress began pushing back.

Just in the past few weeks, Senators Bernie Sanders of Vermont and Dianne Feinstein of California urged top congressional leaders to pull the Israel Anti-Boycott Act from an omnibus spending package, citing blatant First Amendment violations.

Following Israel's premeditated massacre of Palestinians in Gaza on 30 March, The Electronic Intifada's Ali Abunimah noted that not one Democrat in either houses of the US Congress spoke up to defend Israel's actions, a notable difference in policy of elected leaders who have reflexively done so in the past.

It reflected a recognition of Israel's increasingly toxic brand, especially among the Democratic base.

Israel's attacks on BDS activists were sometimes absurd – like when a Mossad-backed Israeli lawfare group sued two New Zealand activists for successfully encouraging pop star Lorde to cancel her Tel Aviv gig at the end of 2017.

The activists named in that lawsuit – which legal experts said could not be enforced – used the publicity generated by the case to raise money to support mental healthcare in Gaza and bring more attention to the humanitarian crisis across Palestine.

The Electronic Intifada's release of a censored documentary produced by Al Jazeera on the Israel lobby's tactics in the US helped reveal the efforts of Israel and its lobbyists to spy on, smear and intimidate US citizens who support Palestinian human rights, especially the BDS movement.

Despite Israel's attacks, smears and threats, boycott activists continued to make enormous gains – much to the dismay of Israeli leaders.

"We are exposing Israel's crimes and apartheid policies and building pressure to end them," noted prominent activists in the BDS movement in their annual roundup of boycott highlights.

Here are some of the top BDS victories as covered by The Electronic Intifada over the last year.
Israel remains a toxic brand
Performers continued to ditch their Israel gigs in 2018, following sustained appeals by human rights activists in Palestine and all over the globe.
Shakira and Gilberto Gil led a list of notable cancellations, while dozens of DJs and music producers took public pledges not to perform in the apartheid state.
Over the summer, Israel's Meteor Festival fizzled without its headliner Lana Del Rey, who pulled out of her gig just days before the festival began, stating that she wanted to "treat all my fans equally."
Sixteen other Meteor Festival acts, including Of Montreal, dropped out of the festival following sustained appeals by Palestinian and international activists to respect the boycott call.
Israeli-American actor Natalie Portman refused to receive an award in Jerusalem in April, ostensibly over Israel's massacres of Palestinians, much to the scorn and shock of Israeli leaders.
In June, 11 LGBTQ filmmakers refused to let Israel use them to pinkwash its crimes, joining the boycott of TLVFest – the Tel Aviv International LGBT Film Festival.
Artists also boycotted the Istanbul Film Festival after it was revealed that Israel was sponsoring it.
The cultural boycott also saw gains in the sports world, as Argentina's football team canceled a high-profile match in June with Israel after an intense global campaign that kicked off in Argentina and swept Latin America and Spain. Fans and activists urged Argentina, and the team's star, Lionel Messi, not to help Israel whitewash its massacres of unarmed civilians in Gaza.
Earlier in the year, a motorcycle racing event sponsored by Honda in Israel was canceled following pressure by BDS activists.
Other Israel propaganda efforts ended in failure, with international chefs pulling out of the Round Tables festival in the fall while an Israeli diplomatic source admitted that the hundreds of cultural events included in the Saison France-Israël (France-Israel Season) "had zero success regarding Israel's image in France, or that of France here."
Meanwhile across Europe, activists continue to pressure television broadcasters not to allow Israel to host next year's Eurovision Song Contest as a part of its whitewashing campaign.
Protesters have held regular demonstrations outside performances by Netta Barzilai, Israel's 2018 Eurovision winner who has been deployed as part of the country's officially backed international propaganda efforts.
Churches, corporations, unions ditch Israel
In December, banking giant HSBC confirmed it was divesting from the Israeli arms manufacturer Elbit Systems following a grassroots campaign.
The company has already been excluded from pension and investment funds around the world over its involvement in supplying surveillance systems and other technology to Israel's wall and settlements in the occupied West Bank.
Saying it was the first British church to take such a step, the Quaker Church announced in November it would not invest any centrally held funds in companies that profit from Israel's human rights violations.
Joining other Christian denominations in the US, the Episcopal Church voted to adopt an investment screen to avoid profiting from human rights abuses against Palestinians. It also resolved to safeguard the rights of Palestinian children and Palestinians in Gaza, support Palestinian self-determination and to call for continued US aid to Palestinian refugees.
Another resolution demands equal access to Jerusalem and opposes the Trump administration's move of the US embassy to the city.
In August, trade union workers and boycott activists in the Arab world forced Israel's shipping line Zim to indefinitely halt its routes to Tunisia.
Tunisia's main labor federation, the UGTT, called on its members to prevent the Israel-linked ship Cornelius A from landing in Tunisia, and backed demands for an official inquiry into clandestine trade with Israel.
Jordanian workers refused to supply materials for a Jordan-Israel gas pipeline, while French firm Systra committed to pulling out of plans to expand Israel's light rail project.
And in November, vacation rental giant Airbnb announced it was dropping its listings from Israeli settlement properties in the occupied West Bank. All Israeli settlements in occupied territory are illegal under international law.
Though there has been some confusion recently around if – and when – the policy change will be implemented or if the company, under Israeli pressure, will backtrack on its announcement, it helped highlight corporate complicity with Israeli war crimes.
Local governments back the boycott
Despite Israeli lobby efforts to interfere in local and national politics, city councils in Europe and Latin America passed strong resolutions in support of the BDS campaign, in a growing wave of resistance to Israel's war crimes against Palestinians.
In June, Monaghan became the fifth county or city council in Ireland to declare its support for BDS. It followed Dublin's vote in April to endorse a boycott against Israel, becoming the first European capital to do so, and its subsequent dropping of a contract with HP, a computer firm that has long been complicit in Israel's military occupation.
Around the same time, the city council of Valdivia in Chile passed a motion to endorse the BDS campaign and declared the city an "apartheid-free zone."
A wave of similar "apartheid-free zone" measures passed in more than 30 cities in Spain.
In May, Bologna, Italy's seventh largest city, also called for a military embargo on Israel.
In June, Norway passed a motion that supported individual cities' rights to boycott Israeli settlements, dealing a blow to right-wing politicians who attempted to appeal boycotts passed in the cities of Trondheim and Tromsø.
In the UK, members of the Labour Party voted overwhelmingly to support an arms sales freeze against Israel.
Anti-BDS laws blocked, challenged
In 2018, US laws attempting to muzzle the right to boycott were blocked.
Federal courts ruled against anti-BDS laws in Arizona and Kansas, while lawsuits were filed in Texas and Arkansas courts against mandated Israel loyalty oaths.
In February, human rights activists in the New Jersey town of Maplewood helped defeat a local resolution that would have condemned the BDS movement. The resolution was introduced to the town council by representatives of Israel advocacy groups which had lobbied other nearby towns to adopt similar resolutions.
And activists in Missouri and Massachusetts successfully campaigned to block state anti-BDS measures.
In Germany – which has been hostile to BDS activism and has ruled to conflate Palestine rights advocacy with anti-Semitism – local boycott activists won a significant victory in September that could set a legal precedent across the country.
The Oldenburg municipal court ruled that a previous decision by the city council to cancel a BDS event in 2016 was unlawful and violated freedoms of expression and assembly. It was the first time that a German administrative court had declared it unlawful to disallow a BDS event.
Students pass sweeping resolutions protecting Palestinian rights
Resisting Israel lobby pressure, shadowy blacklisting websites and targeted harassment campaigns, student activists across the US, Canada and Europe stood strong in support of Palestinian rights and urged university administrations to divest from Israel's crimes of occupation and apartheid.
In May, students at California State University, East Bay voted unanimously in favor of a resolution calling for divestment from companies found to be complicit in Israel's violations of Palestinian rights, including Caterpillar, HP, G4S and Motorola.
And student senators at the University of Oregon passed a resolution to ensure that student funds are divested from 10 companies that profit from Israel's violations of Palestinian rights.
A referendum to support divestment passed at Barnard College in New York City. The vote passed in spite of recent and historic attempts by the administration and Israel lobby groups to bully and smear students and faculty supportive of Palestinian rights at Barnard and its partner, Columbia University.
Students at New York University also voted in a landslide in favor of divestment in early December, with more than 60 campus groups and 35 members of faculty supporting the measure.
At the University of Minnesota, students passed a referendum urging the administration to act on its socially responsible investment policy and divest from companies that profit from Israel's human rights abuses as well as from private prisons, immigrant detention centers and corporations that violate the sovereignty of indigenous communities.
The Canadian Federation of Students, the largest student organization in Canada, voted in November to support the BDS movement, to condemn Israel's ongoing occupation and atrocities in Gaza and to provide financial donations to various Palestine solidarity organizations.
The federation, which represents more than 500,000 students across Canada, also said it would support local chapters to begin weapons divestment campaigns targeted towards their individual university administrations.
The Union of Students in Ireland, representing 374,000 students in higher education, voted to join the BDS movement and condemned Israel's "brutal" military occupation and human rights violations.
The union resolved to boycott Israeli institutions which are "complicit in normalizing, providing intellectual cover for and supporting settler-colonialism" and to lobby Irish universities to divest from companies that profit from Israel's rights violations. It also affirmed the right of return for Palestinian refugees expelled by Israel.
The vote followed a March measure passed by students at Trinity College Dublin to support the BDS campaign.
Students leaders at the University of Pisa in Italy also adopted a motion in a near-unanimous vote in the spring, calling for attention by the academic community toward Israel's apartheid policies and to support the academic boycott campaign.
In November, Leeds became the first UK university to divest from firms involved in the Israeli arms trade, after a boycott, divestment and sanctions campaign by Palestine solidarity activists.
Professors also continued to show their support for Palestinian rights in 2018.
In March, a union representing faculty of the Los Rios College Federation in California voted nearly unanimously to back divestment by their pension fund from companies that profit from Israel's occupation.
Two instructors at the University of Michigan resisted Israel lobby attacks and defended their decision not to write recommendation letters for students wishing to join discriminatory study abroad programs in Israel.
And faculty at Pitzer College in California called for the suspension of study abroad in Israel programs with the University of Haifa, citing Israel's policies of discrimination based on ancestry and political speech. The faculty also backed students' rights to support the BDS campaign.
Here's to the victories of 2018, as activists organize for more to come in 2019.
Tags