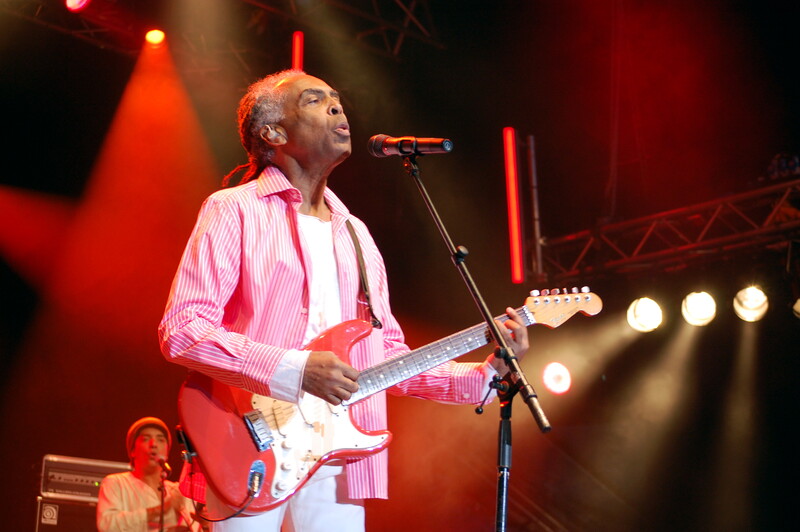 Palestinians are hailing the decision by Brazilian music legend Gilberto Gil to pull the plug on a performance in Israel this summer.

Meanwhile, dozens of artists are declaring their support for the cultural boycott of Israel following the latest Israeli mass killings of civilians in the occupied Gaza Strip.

They include bands such as Portishead, Wolf Alice and Slaves.

"We warmly welcome Gilberto Gil's cancellation of his concert in Tel Aviv, the center of Israel's regime of occupation and apartheid," PACBI, the Palestinian Campaign for the Academic and Cultural Boycott of Israel, said on Monday.

"We thank Gil's fans in Brazil and across Latin America whose outrage over Israel's latest massacre in Gaza and support for Palestinian human rights seem to have played a decisive role in his decision."

The Brazilian newspaper O Globo reported Monday that Gil took the step because of the "conflict in the Gaza Strip."

The previously advertised 4 July concert in Tel Aviv no longer appears on Gil's tour schedule.

Gil had played in Tel Aviv in 2015, when, accompanied by another Brazilian music legend, Caetano Veloso, he defied appeals to refrain from performing there.

A few months later, Veloso announced that he would "never go back" to play Israel, and Gil's cancellation now was a "belated show of solidarity," said PACBI.

"We want Gil to know that we never held any grudge. And as our daily resistance shows, our hope never dies."

The Jerusalem Post had considered Gil's expected arrival this summer along with a number of other big-name acts to be a blow to the boycott, divestment and sanctions (BDS) movement for Palestinian rights.

The newspaper Haaretz called Gil's cancellation a "win for BDS."
Indy bands back boycott
On Tuesday, there was a wave of announcements via Twitter by bands that they would back the boycott, using the hashtag #ArtistsForPalestine.

Many posted a pledge that "As long as the Israeli government commits war crimes against the Palestinian people we support their call for a boycott of Israel as a means of peaceful protest against the brutal occupation."

"Artists are endorsing the cultural boycott of Israel en masse after Israel's massacre of Palestinians in Gaza," PACBI stated. "Israel may be drunk with impunity, but like apartheid South Africa after the Sharpeville massacre, Israel is being held accountable for its crimes."

The music industry publication NME put the number of artists backing the pledge in the hundreds. Here are some of them:
Israel Festival boycotted
And last week, Tiago Rodrigues, the artistic director of Portugal's national theater canceled his participation in the Israel Festival in Jerusalem next month and announced his support for the cultural boycott.

"I have decided not to present my show at the Israel Festival in June because I believe it is the only way to ensure that my artwork will not serve to justify or support a government that commits deliberate human rights violations and is currently violently attacking the Palestinian people," the author, actor and director stated.

Rodrigues said that he initially accepted the invitation believing "that the people of a country and its political administration are not the same thing."

But he said he subsequently realized that the Israel Festival was explicitly being used to celebrate Israel's 70th anniversary and therefore to whitewash decades of crimes against Palestinians.

Also, two British acts, singer-songwriter Richard Dawson, and the band Shopping, have announced their withdrawal from this year's Pop-Kultur festival in Berlin, because it is sponsored by the Israeli embassy.

Activists will be aiming to encourage more performers to do the same, since last year more than half a dozen acts withdrew.

Electronic music icon Brian Eno has given his support to the call to boycott Pop-Kultur.
Boycott Eurovision
In Ireland there continue to be calls to boycott next year's Eurovision Song Contest, which Israel is due to host following the victory of its entrant Netta Barzilai this year.

Last week, Charlie McGettigan, who won Eurovision for Ireland in 1994, told national broadcaster RTE that the 2019 competition should be moved to another country. If that did not happen, Ireland should not send an entry.

McGettigan expressed horror at how US and Israeli officials celebrated the opening of the US embassy in Jerusalem on 14 May, while Israeli snipers massacred dozens of Palestinians in Gaza.

"It was dreadful yesterday seeing Netanyahu and the Trumps celebrating while people are dead," McGettigan said. "It's frightening."

And Frances Black, a singer and senator told a prime time television audience that Ireland should not go to Eurovision because Israel's use of the competition was "political."

"I definitely think we should boycott it," Black said. "I just came back from Gaza and I saw the injustice that's going on over there and the way people are being treated. This is the biggest injustice that's going on in the world today."

The Lord Mayor of Dublin Mícheál Mac Donncha had already called for a Eurovision boycott.

More than 25,000 people have also signed a petition calling for Iceland to boycott the contest.

While not all of the signers necessarily live there, that is equivalent to about 7.5 percent of Iceland's population.
Tags