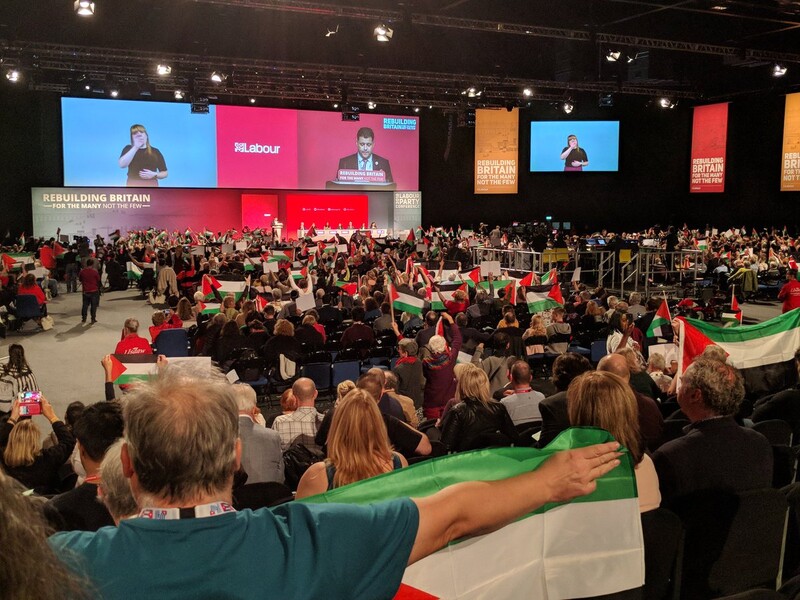 In a historic move, the Labour Party's annual conference on Tuesday voted to end UK arms sales to Israel.

But The Electronic Intifada has learned that Emily Thornberry, the woman who would become foreign minister were a Labour government elected tomorrow, had privately tried to scupper the motion.

Although Thornberry is a close ally of Labour leader and Palestine solidarity veteran Jeremy Corbyn, she is also a supporter of Labour Friends of Israel and opposes an arms embargo.

Amid a sea of waving Palestinian flags, and chants of "Free Palestine," delegates debated a motion condemning Israel's killing of Palestinian protesters – more than 140 to date – since the Great March of Return protests began on 30 March.

The motion, passed with almost no votes against, calls for an immediate freeze on UK arms sales to Israel.

Since 2014, the UK government has approved licences for exports to Israel of arms and other military technology worth $660 million, including components for aircraft missiles, drones and sniper rifles, the Palestine Solidarity Campaign stated in a press release.

The Palestinian Boycott, Divestment and Sanctions National Committee, the steering group of the international BDS movement, praised the Labour Party vote for "rekindling hope that Israel's South Africa moment is getting closer."
"Review" or "freeze"?
Thornberry has said in the past that a Labour government would "review" arms sales to Israel – far short of the freeze called for by Tuesday's motion.

She repeated her promise to review arms sales to Israel at a meeting of Labour Friends of Palestine at the conference on Monday night, a campaigner told The Electronic Intifada.

But multiple sources told The Electronic Intifada that Thornberry had put pressure on Labour activists behind the motion to make changes to its text that would have gutted it.

Not only did Thornberry demand that the call for an immediate arms trade freeze be removed, she had wanted a line mentioning "Palestinian victims of the Nakba" taken out as well – a reference to Israel's expulsion of some 800,000 Palestinians to establish a "Jewish state" in 1948.

The proposers of the motion declined to comment on the record.

But sources with knowledge of the discussions told The Electronic Intifada that during an hour-long meeting Thornberry and her people pressured the activists from Harlow and Wolverhampton South West local Labour parties to water down the draft.

Proposer Colin Monehen made a thinly veiled reference to Thornberry's interference in his speech to delegates.

As Thornberry sat on the stage nearby, he stated: "There are those that are nervous about the word Nakba. But the Nakba did happen and those people were forcibly removed from their homes, and there has to be a recognition of that."

Thornberry's pressure tactics failed and, if anything, the final motion ended up slightly stronger. The original draft stated that the arms freeze was pending the results of an independent investigation into Israel's killings in Gaza, while the adopted text doesn't make the freeze conditional on an investigation.

The Palestine Solidarity Campaign's director Ben Jamal stated: "This incredible show of support and this historic motion demonstrate the strength of feeling at the grassroots of the party. Labour members want to show real solidarity with Palestinians."

"Given Israel's continuing use of live fire to kill unarmed Palestinian demonstrators, it is no surprise that there's clear support for an immediate freeze of arms sales to Israel," Jamal added.

There is no Labour Friends of Israel stall at conference this year. Pro-Israel newspaper the Jewish News reported this was the first time in "recent memory" the LFI stall was absent.

An anonymous source claimed to the paper, that "Last year the LFI stand at conference became a magnet for conspiracy theorists and young staff members were put in uncomfortable positions."

In January 2017, undercover footage shot by Al Jazeera at the LFI stall at Labour conference in 2016 revealed that the Israeli embassy had promised LFI's Joan Ryan that lawmakers would receive "more than one million pounds" ($1.3 million) worth of propaganda junkets to Israel.

The footage also revealed that Ryan had outright fabricated an instance of "anti-Semitism" arising out of a discussion at the stall, where a Labour Party activist had questioned Israel's colonization of Palestinian land in the occupied West Bank in violation of international law.
Shut down
During the debate academic Hilary Wise was shut down by the chair after encouraging delegates to watch the Al Jazeera film, The Lobby.

Rhea Wolfson chided Wise: "I would ask you to be very careful with your language."

Wolfson is a member of the Jewish Labour Movement, a group with intimate ties to the Israeli embassy.

The massive level of popular support for Palestine at the Labour grassroots put into stark relief the failure of the Israel lobby's attempts to court support within the party.

As it has become clear how isolated pro-Israel activists are within Labour, some appear to be turning to ever more extreme tactics.

On Tuesday night, a film screening focusing on Black anti-Zionist Jewish activist Jackie Walker was cut short after a bomb threat.

The Political Lynching of Jackie Walker was due to be premiered at a conference fringe showing on Tuesday night. The screening got only 15 minutes in before the venue was forced to call off the event. Walker told The Electronic Intifada that a phone call to the venue from an unknown person claimed that "There are two bombs in the building that will kill many people."

Walker has been a vocal critic of the Labour Party's witch hunt against anti-Zionists, and was suspended from the party for her views.
Tags