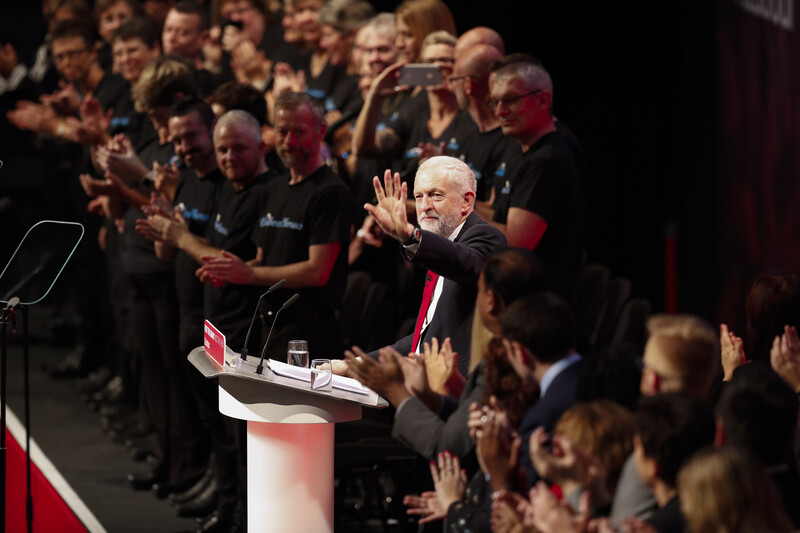 Having previously attempted to remove Jeremy Corbyn as party leader at all costs, Labour's internal Israel lobby is now changing its strategy.
The shift in the UK's political terrain since June's general election has left Corbyn firmly in charge of the main opposition party's leadership.
With another general election likely before the end of the Conservative government's five-year term, Corbyn's right-wing Labour enemies have resigned themselves to the reality of a socialist leader.
For Israel lobby groups like Labour Friends of Israel and the Jewish Labour Movement, this means ending the all-out assault on Corbyn and instead trying to "moderate" his positions on Palestine and the Israeli occupation.
Since Corbyn became Labour leader, the party has faced an almost entirely fabricated media campaign to portray it as rife with anti-Semitism.
Despite an inquiry by respected human rights lawyer Shami Chrakrabarti finding in June last year that the party was "not overrun by anti-Semitism," mainstream media have continued to promote this false narrative.
Fabrications
Yet as an investigation by The Electronic Intifada last year revealed, the instigator of the "Labour anti-Semitism" campaign had not only presented no evidence for his allegations, he was in fact a factional player in Oxford student politics who once worked for a leading Israel lobby organization.
Alex Chalmers, covered up the fact he worked with the Israel lobby group BICOM.
Yet Chalmers' unfounded allegations did untold damage to Labour in the press.
Since Chalmers' fabrications kicked the whole story off, claims of anti-Semitism in Labour continued in very much in the same vein.
Labour activists' statements were pulled out of context, exaggerated and misinterpreted by factional enemies.
But sometimes they were simply fabricated, including by Joan Ryan, the Labour lawmaker and chair of Labour Friends of Israel caught inventing a claim of anti-Semitism against a party member who questioned Israel's policy of settling occupied Palestinian land.
Right-wing Labour alliance
That there was no truth to most of these stories did not stop media from running with a narrative that made a convenient weapon against Corbyn in the hands of "moderate" Labour lawmakers – the hard right, Blairite wing of the party.
Although establishment media did their best to boost this wing against Corbyn, the party rank and file did not believe the story. One poll last year showed that just five percent of members agreed anti-Semitism is a bigger problem in Labour than in other parties.
The warm reception for Palestine at Labour's annual conference in September proved this was still the case. The delegates' loudest cheers were reserved for Corbyn's speech when he called for an end to Israeli occupation, and for Jewish Voice for Labour activist Naomi Wimborne-Idrissi when she asserted she was "not an anti-Semite" for criticizing Israel.
Corbyn's call for an "end to the oppression of the Palestinian people" and to Israel's "50-year occupation and illegal settlement expansion" drew rapturous applause from delegates.
These were signs that support for Palestinian rights against Israeli oppression has become the defining international cause on the party's grassroots left.
Hundreds of delegates in Brighton wore the Palestine Solidarity Campaign's lanyards, the group's director told The Electronic Intifada.
Years of resistance to war, austerity and racism have culminated in an unprecedented popular movement asserting itself within Labour over the last two years.
In the summer of 2015, that movement won Corbyn the leadership. A year later it defeated a coup attempt, and in 2017 it campaigned on doorsteps to help Labour achieve impressive gains in the general election.
Changes
With Corbyn's electoral success, grassroots influence in the party has grown and many ideas in his "radical" manifesto are now seen as mainstream.

This year's Labour's conference passed rules changes that modestly increase democratic control of the party.

All this sets the stage for calls to action in support of Palestinian rights to grow even louder.

A recent poll of the UK public by the Institute for Jewish Policy Research found that more than a fifth of respondents agreed with the statement that "Israel is an apartheid state."

While 62 percent were unsure or declined to answer, only 19 percent disagreed. Just six percent of respondents said they sympathize more with Israel than with the Palestinians. Three times as many (18 percent) declared that their greater sympathy lay with the Palestinians.

And unlike in the previous two years, in 2017 Corbyn did not attend Labour Friends of Israel's conference reception. This made him "the first party leader in living memory" to skip the Israel lobby group's event, according to the Jewish News.

At the reception, Labour Friends of Israel chair Joan Ryan was heckled with cries of "Why's he not here? Where is he?" when she read out a statement from Corbyn reiterating his call for a two-state solution.

Corbyn's shadow foreign minister Emily Thornberry, who attended in his place, told the gathering that "Jeremy's not attending any of these receptions this evening, because he has a big speech tomorrow." But later the same night he was photographed at a party thrown by The Mirror newspaper.

Corbyn did provide a video to the Labour Friends of Palestine reception with a similar message to his conference speech.

Since the conference, Corbyn declined an invitation to attend a dinner with the Israeli prime minister to celebrate the centenary of the Balfour Declaration – the British government's promise to support Zionist colonization of Palestine.

Again, Thornberry was sent in Corbyn's place, telling media that the anniversary was nothing to "celebrate" but should be marked by recognizing Palestine.

But in the same interview with Middle East Eye, Thornberry pointedly declined to commit Labour to an arms embargo on Israel, something Corbyn has previously supported.

She also claimed at a 3 November conference hosted by the Israel lobby group BICOM that "Israel stands out as a beacon of freedom, equality and democracy," despite "challenges" in relations with the Palestinians.

The following week she joined Labour Friends of Israel chair Joan Ryan on a propaganda tour of Israel.

In an apparent effort at "balance," Thornberry also went on a tour led by Labour Friends of Palestine and visited human rights groups including Medical Aid for Palestinians and Breaking the Silence.

Thornberry did not reply to a request for comment.
Bowing to pressure?
All this indicates that the anti-Semitism smears have succeeded to some extent in pushing party leaders to appease Israel lobby groups and to parrot some of their messaging.
British-Palestinian human rights lawyer Salma Karmi-Ayyoub, who spoke at a Labour conference fringe meeting, told The Electronic Intifada that "the unfounded anti-Semitism allegations have made people across the party more wary of voicing support for the Palestinian cause."
This summer, Corbyn called for the suspension of British arms sales to Saudi Arabia, due to its involvement in the war on Yemen that has killed thousands of civilians and brought millions to the brink of famine.
But since becoming leader, Corbyn has not repeated his call for a similar embargo on Israel that he made in a 2015 interview with The Electronic Intifada when he was running for the leadership.
Corbyn also endorsed key elements of BDS, the boycott, divestment and sanctions campaign – demonized by Israel as "delegitimization." This included a boycott of Israeli universities involved in arms research.
But in March this year, a Labour spokesperson appeared to roll back some aspects of Corbyn's support for BDS.
"Jeremy is not in favor of the academic or cultural boycott of Israel or a blanket boycott of Israeli goods," the spokesperson told The Telegraph. "He does support targeted boycotts aimed at undermining the existence of illegal settlements in occupied territory."
After that report appeared, The Electronic Intifada asked Labour to clarify the apparent contradiction between Corbyn's 2015 interview and the comments to The Telegraph.
A Labour spokesperson said that Corbyn still "supports targeted boycotts of those Israeli academic institutions involved in arms research and surveillance of the Palestinian population."
A spokesperson for Corbyn also confirmed that the leader stands by his comments in The Electronic Intifada interview.
No Labour "open door" to ambassador
The issue is clearly sensitive, and the leader's office seems to be feeling heat from the Israel lobby. A new call by Corbyn to end arms sales to Israel would likely be met with more howls of "anti-Semitism."
But such smears could still be defeated by popular support.
One prominent pro-Palestinian blog in September reported a rumor that Corbyn is now "regularly" meeting with Israeli ambassador Mark Regev. The reported source of the statement told The Electronic Intifada it was just a rumor he had heard, one he'd since been assured by the leader's office was untrue.
A spokesperson for Corbyn disputed any "open door" to Regev, adding that "Jeremy has had one meeting with Mark Regev since becoming Labour leader. Jeremy has also met with the Palestinian ambassador once in the same period."
This would be Manuel Hassassian, the head of the Palestinian Authority's London office.
Corbyn also faces a continued challenge from party bureaucrats who have waged war against supporters of Palestinian rights, suspending and expelling party members based on false charges of anti-Semitism.
Chief among the witch hunters is party general-secretary Iain McNicol, who appeared in person at the Labour Friends of Israel reception that Corbyn skipped.
According to a source who was present, McNicol hugged Israeli ambassador Mark Regev.
Labour Friends of Israel "lay chair" Adrian Cohen thanked McNicol for joining "us this evening as an act of solidarity."
The audience then burst out into the most enthusiastic cheers of the night, chanting "Oh, Iain McNicol!" – in imitation of the chant frequently heard from Corbyn's supporters.
The new strategy
Last year, the main aim of Labour's right wing, including the party's Israel lobby, was to remove Corbyn as leader. But his solid electoral performance and grassroots popularity has put that goal beyond reach for now.
In a dramatic turnaround, Corbyn is now seen as the UK's likely next prime minister, as Theresa May's minority government stumbles from crisis to crisis and her Conservative Party is riven with infighting.
Given this reality, Israel lobby groups have shifted strategy – now their goal is to influence Labour's Palestine policies from within. The anti-Semitism smear is a weapon that can continue to be used for that purpose.
An example of how the lobby groups might try to pressure the party came before the June general election, when they pressed Labour to drop language from its manifesto condemning Israeli settlements.
Israel's backers have also pushed for party rules changes that would make it easier to accuse supporters of Palestinian rights of anti-Semitism.
Israeli Prime Minister Benjamin Netanyahu said during his visit to London to celebrate the Balfour Declaration centenary that he hoped there would be "a continuity of British policy with Israel" if Corbyn becomes prime minister.
Jewish Labour Movement vice-chair Mike Katz recently acknowledged that Israel lobby groups need to foster ties with people who would fill a future Corbyn government.
He told the The Jewish Chronicle that it is "not great for the [pro-Israel] community if you don't have an organization trying to reach out to someone who may well become prime minister, or a future foreign secretary or a home secretary."
Katz added that Israel lobby groups like the Board of Deputies of British Jews "understand there's work to be done because we can't be left high and dry if Labour win the election."
For supporters of Palestinian rights, the Israel lobby's charm offensive towards Corbyn and his front-bench team could be more dangerous than its failed efforts at an all-out assault.
Tags