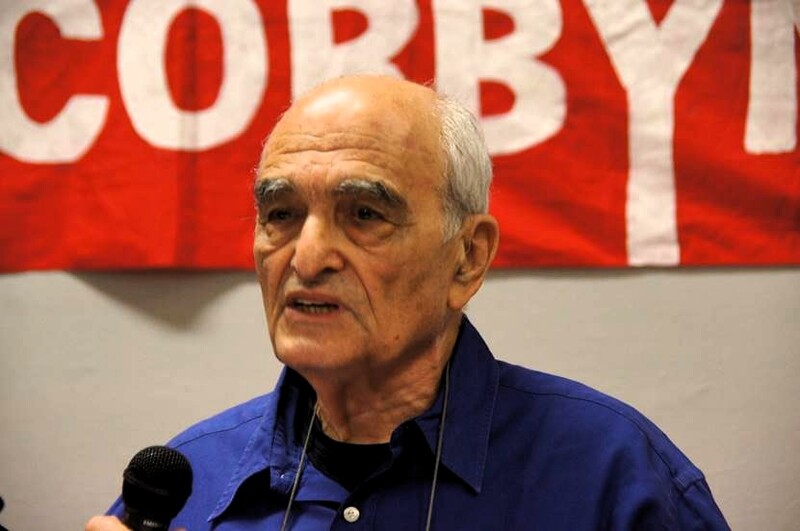 All in all, the Labour Party's annual conference was a significant advance for the Palestinian cause in the UK.
Jeremy Corbyn, now firmly in charge of the party leadership, felt strong enough to include a call for the end of Israeli occupation in his speech.
But charges that Labour is now an anti-Semitic party still linger, despite being debunked time after time.
Why? In part it is because the smear tactic is the go-to response of Israel and its lobby – which count some Labour lawmakers and right-wing activists as their allies.
And, though stronger, Corbyn still does not have control of the Labour bureaucracy, which remains hostile ground for the grassroots movement that propelled him to the leadership. Labour right die-hards remain firmly entrenched at Southside – the party's national headquarters in London.
Despite recomendations to change party rules last year, which were intended to make it harder for Labour activists to be suspended without due process, expulsions of left-wingers and Palestine rights activists continue.
As general secretary of the party, Iain McNicol leads the Southside bureaucracy. McNicol has bitterly opposed Corbyn and his popular movement, last year backing failed attempts to keep Corbyn out of the leadership election, and sucessfully mounting a legal challenge to keep 130,000 people from voting.
Many grassroots activists also criticized McNicol for leading a purge of left-wing supporters of Corbyn on usually spurious grounds – often invoking "anti-Semitism." Some held a protest calling for McNicol to resign, outside the conference hall in Brighton in September.
Overreach
That the "Labour anti-Semitism" narrative is not going away was shown by the expulsion of Moshé Machover soon after the conference.
But party bureaucrats had overreached. Machover is respected throughout the left as a principled anti-Zionist. After a wave of protest, Labour headquarters backed down and he was readmitted.
But activists are gearing up to continue the campaign. They are demanding that Labour apologize to Machover and withdraw the false claim of anti-Semitism, and for suspensions against other falsely accused members to be lifted.
Israel lobby activists have found it hard to be seen openly opposing Machover's readmission. One of the motions in his favor by local Labour groups was passed by Hampstead and Kilburn, Machover's local Labour Party group.
Two sources who were present at the debate on the motion told The Electronic Intifada that Jewish Labour Movement vice-chair Mike Katz spoke at the debate, arguing against the motion, but that it still passed with 58 votes in favor, none against and eight abstentions.
Despite its rejection by the grassroots, the false Labour anti-Semitism narrative still generated negative press coverage at the Brighton conference.
Miko Peled, a Jewish-Israeli Palestine solidarity activist, in response to a question from the audience at a panel discussion, defended total free speech, calling for "the freedom to discuss every issue, whether it's the Holocaust, yes or no, whether it's Palestine, the liberation – the entire spectrum, there should be no limits on the discussion."
This was later misreported as Peled defending "Holocaust denial."
Right-wing media smears
Peled later clarified that "The Holocaust was a terrible crime that we must study, and from which we must all learn. I reject the idea that Holocaust deniers, foolish as they may be, should be treated as criminals."
Indeed, in his 2012 book The General's Son Peled writes about the psychological effects of the Nazi genocide on Israel's founding generation, the political leaders of the recently established state who ordered brutal and aggressive military operations against Palestinians and other Arabs.
At the same Free Speech on Israel meeting, Michael Kalmanovitz, an activist with the International Jewish Anti-Zionist Network, said that "if you support Israel, you support apartheid. So what is the [Jewish Labour Movement] and Labour Friends of Israel doing in our party?" He argued that it was "time we campaigned to kick them out."
Jewish Labour Movement chair Jeremy Newmark claimed to right-wing media that this was "a thinly veiled call to purge Jews from" Labour.
The reports ignored the fact that Kalmanovitz is himself Jewish, and was clearly calling for two specific pro-Israel groups associated with Labour to be shunned – not for Jews to be expelled.
While Peled lives in the United States and is not a Labour member, Kalmanovitz told The Electronic Intifada he remains a Labour Party member and has not been suspended.
Attending the conference, anti-Palestinian blogger David Collier uploaded to YouTube short, decontextualized video extracts of the Free Speech on Israel meeting of both Peled and Kalmanovitz. These appear to have been sources for some of the mainstream media reports.
Labour group close to Israeli "foreign agent"
As The Electronic Intifada has previously reported, the Jewish Labour Movement is a Labour-affiliated pro-Israel group.

It is closely linked to the Israeli embassy and the World Zionist Organization, which receives tens of millions of dollars from the Israeli government to spend on settlements in the occupied West Bank.

In the United States, the World Zionist Organization is registered as a foreign agent of Israel, on whose behalf it carries out "public relations."

Newmark himself has a long history of falsely alleging anti-Semitism as part of his role in the Israel lobby, in which he liaises "closely with the government of Israel" to fight boycotts – to use his own words.

Right-wing media also attacked Tapash Abu Shaim, an activist who manned the Palestine Solidarity Campaign stall at the Labour conference.

Abu Shaim appears to have become a target because Jeremy Corbyn gave him and other campaigners a tour around Parliament back in 2012. There may also be an element of Islamophobia, since Abu Shaim is visibly a Muslim, and of Bangladeshi ancestry.

Abu Shaim was accused by anti-Palestinian blogger Collier of posting "hardcore racist" material for now-deleted articles once posted on his Facebook account. These included one from 2012 which claimed that the 9/11 attacks were done "with the complicity of the Israeli government."

Right-wing outlets Guido Fawkes and The Jewish Chronicle both picked up on this blog post and ran with the story.

While both included a statement from Labour Friends of Israel's director, neither apparently sought comment from Abu Shaim himself.

Labour Friends of Israel also seems to have approached The Sunday Times about Abu Shaim.

In emails seen by The Electronic Intifada a senior correspondent for the paper put several Labour Friends of Israel claims to him, including the allegation that "you caused unease at its reception at Labour conference in Brighton last week by photographing its guests."

Abu Shaim replied with a statement distancing himself from the articles and the paper did not ultimately run the story.

Abu Shaim told The Electronic Intifada that he did not agree with those articles and they do not reflect his views. He also said that "I deeply regret posting the mentioned articles and have not posted any such articles since they were brought to my attention a year ago."

Although Labour Friends of Israel has called for Abu Shaim to be expelled from the party "immediately," he says he has yet to hear anything from party officials.
Turning point?
Could this, along with the forced retreat of the witch hunters over Machover, suggest a turning point has been reached in the campaign to smear Labour as rife with anti-Semitism?
A recent poll by the Institute for Jewish Policy Research showed that anti-Semitism in the UK, while still a problem, is far less prevalent than in other European countries and is among the lowest in the world.
Although the establishment media hyped up the Labour story, most ordinary party members and activists do not believe it.
One poll last year showed only five percent of members agreed that anti-Semitism is a bigger problem in Labour than in other parties.
Nonetheless, as Machover himself emphasized to The Electronic Intifada soon after he was readmitted, many other activists remain in limbo, having been suspended or had doubt cast over their reputation.
The Israel lobby groups entrenched within the Labour Party appear determined to ensure the issue does not go away.
Tags