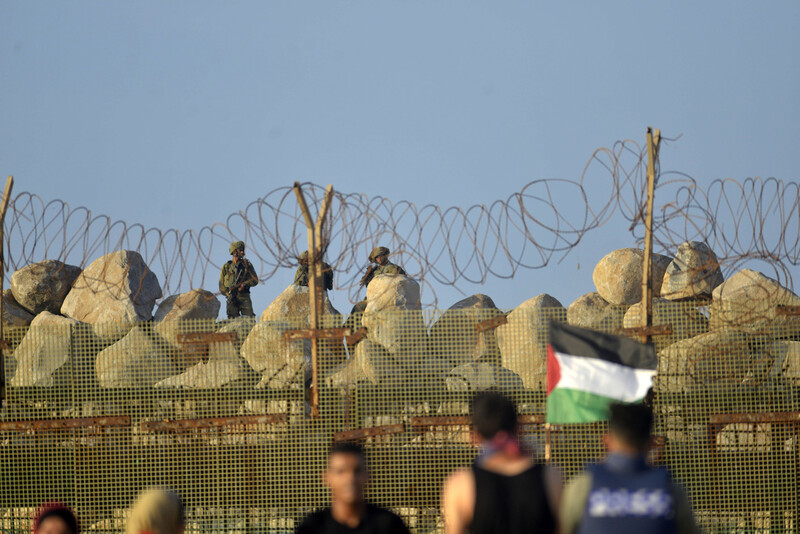 Not one of the more than 140 Palestinian protesters, journalists or medics killed during the mass protests along Gaza's eastern boundary since 30 March were armed when they were targeted by Israeli occupation forces.
That point was stressed by the Gaza-based human rights group Al Mezan during a meeting of the United Nations Human Rights Council in Geneva on Monday.
Human Rights Watch meanwhile told the council that it "has not documented instances where protesters posed an imminent threat to life."
Israel has validated its unlawful conduct "after presenting a gross distortion of international law" to its high court, Nils Mollema, representing Al Mezan, stated. Its military's "investigation into some of the protest deaths is expected to find that none of the incidents involved violations of open fire orders."
In other words, such internal investigations merely rubber-stamp Israel's war crimes.
"The unlawful conduct is therefore ordered at the top of the military and political echelons and then protected by the justice system," Mollema said.
Ending Israeli impunity
Human rights groups and state representatives speaking at the Human Rights Council on Monday emphasized the need for accountability, particularly at the International Criminal Court, to bring an end to Israeli impunity.
In May, the UN body voted overwhelmingly in favor of establishing an independent commission of inquiry into the killing of unarmed demonstrators in Gaza.
The commission gave an oral update to the council during Monday's meeting – only four days after a new chair, Santiago Canton, was appointed following the resignation of his predecessor David Crane last month due to an unspecified "personal circumstance."
Canton, an Argentinian who was a political assistant to US President Jimmy Carter, along with Sara Hossain of Bangladesh and Kaari Betty Murungi of Kenya, is mandated to investigate alleged violations of international law and make recommendations "with a view to avoiding and ending impunity and ensuring legal accountability."
Israel, which did not participate in Monday's meeting, opposed the establishment of the commission, as did the United States, which voted against it and withdrew from the Human Rights Council in June.
Canton said that the commission has requested that Israel allow the investigators to enter the Gaza Strip, the West Bank and Israel.
Israel has previously denied UN investigators and other human rights defenders entry to the territory it controls in an effort to impede their work.
"It is important for us to see with our own eyes the sites of these alleged violations and abuses and to speak directly with the affected people and with the authorities," Canton said.
The commission has already received a large amount of materials and "will cast a wide net to include a diversity of sources. We will make full use of modern technology, including for the verification of information received, through open sources and other channels," Canton said.
Hossain said that even if the commission is prevented from meeting with victims and eyewitnesses personally, the investigators intend to communicate with them directly.
"Grave and deadly situation"
Yet another protester, Muhammad Fayiz Abu al-Sadiq, 21, was killed by Israeli occupation forces the day that the commission members spoke at the Human Rights Council.
Several more Palestinians were killed along Gaza's eastern perimeter the previous week.
"We note with deep concern that events that triggered this council to hold a commission of inquiry are not over," Canton said.
"Protests are continuing to take place. … It is clear to us that there is a grave and deadly situation ongoing that requires urgent attention."
During the meeting a representative from the human rights group Al-Haq said that more than 20,000 Palestinians have been injured during the Great March of Return protests, many of them shot in the legs.
Israel appears to be using "a type of explosive ammunition that shatters the bone and increases the risk of amputation while guaranteeing long-term hospitalization," legal researcher Nada Kiswanson stated.
"Concrete action has to be taken with a view to ensure accountability," she said, adding that "Israeli mechanisms have repeatedly failed to bring justice to Palestinians."
Kiswanson said that the commission must address the root causes of the protests: the unlawful siege on Gaza and the right of Palestinian refugees to return to their lands and properties in what is today called Israel.
Mounting calls for ICC investigation
Palestinian and international nongovernmental organizations have called on the International Criminal Court to "urgently" open an investigation into alleged Israeli war crimes.
"The International Criminal Court is the only viable independent judicial body capable of ending impunity for crimes committed in the occupied Palestinian territory and effectively deterring the commission of future crimes," 25 groups stated in a letter to the chief prosecutor this month.
Israel's occupation, now in its 51st year, "has been characterized by complete impunity," they said, despite it being one of the most well-documented situations "with a long list of eminent United Nations experts, inquiries and missions having issued lengthy reports alleging that international crimes have been committed and that violations of international humanitarian and human rights law have occurred."
The International Association of Democratic Lawyers is petitioning the International Criminal Court to "immediately move forward to investigate and refer for prosecution" violations of international law "committed by individuals acting or purporting to act on behalf of the State of Israel, which have occurred and continue to occur within the jurisdiction of the court."
The group states that its intervention is "inspired by our previous international action begun in the 1980s, calling upon lawyers to support the campaign to free Nelson Mandela."
Earlier this month, President Donald Trump's national security advisor John Bolton said that the US would sanction court officials and seek their prosecution if they pursue investigations into alleged American war crimes in Afghanistan or those allegedly committed by Israel.
During his speech to the UN General Assembly on Tuesday, Trump said that the US would "not return to the Human Rights Council until real reform is enacted" and would not provide any support to the International Criminal Court.
Trump described the court as having "no jurisdiction, no legitimacy and no authority."
The situation in Palestine has been under preliminary examination by the prosecutor's office since 2015 and earlier this year the prosecutor warned that Israeli leaders may face trial for the killings of unarmed protesters in the Gaza Strip.
In a sign the International Criminal Court may be edging towards an unprecedented challenge to Israeli impunity, a panel of judges ordered court officials last July to begin reaching out to victims of war crimes in Palestine.
Tags