Israeli forces killed a Palestinian man during protests along the eastern boundary of the occupied Gaza Strip on Friday.
The slain protester, killed east of Gaza City, was identified by Gaza's health ministry as Karim Muhammad Kullab, 25.
The ministry reported 300 injuries during Friday's protests, 100 of them requiring hospital treatment. More than 50 people were injured by live fire, four of them seriously and one critically.
One Israeli soldier was reportedly lightly wounded by shrapnel.
Kullab is the sixth Palestinian in Gaza killed by Israeli forces this week.
On Wednesday, Israeli forces shot 15-year-old Muamin Abu Iyada during protests east of Rafah on Wednesday night, killing him.
Two others were shot and killed during protests on Tuesday and two more killed in an airstrike on Monday.
According to Al Mezan, a human rights group based in Gaza, Israeli warplanes launched two missiles at a group of protesters late Monday night when they approached the boundary fence east of Khan Younis in southern Gaza.
The bodies of Naji Abu Assi, 16, and Alaa Abu Assi, 19, were recovered by Palestinian medics hours later. "Both had shrapnel injuries on various parts of their bodies and one of them was torn to pieces," Al Mezan stated.
Around 140 Palestinians have been killed during demonstrations along Gaza's eastern boundary since the launch of the Great March of Return series of protests on 30 March.
Those killed during the protests have included nearly 30 children, as well as two journalists and three paramedics, and three persons with disabilities, according to Al Mezan.
Some 5,500 have been injured by live fire during the protests, including 900 children.
Amnesty International has said it has not found any evidence of protesters posing a threat to the lives of soldiers behind the fence that would justify the use of deadly force.
The protests, which have been held every Friday since their launch, have increased in frequency in recent days. Protests have been held on weekdays "and include naval marches and night sit-ins near the separation fence – activities which do not threaten the life or safety of Israeli soldiers," Al Mezan stated.
The protests are calling for an end to Israel's blockade on Gaza, now in its 11th year, and in support of the right of refugees to return to their original lands and property on the other side of the Gaza boundary fence.
Two-thirds of Gaza's population of two million are refugees.
"We will continue"
"We will continue our peaceful marches to fulfill our demands and liberate our lands," one protester says in this video:

The young man urges leaders in the Arab world, whom he accuses of complicity with Israel, to stand with the Palestinian people in Gaza resisting the siege.

Yahya Sinwar, the leader of the Hamas movement in Gaza, said on Friday the ongoing protests show the world "how the Palestinian people on their land are a model of giving, loyalty, sacrifice and the service of humanity."

Anticipating a rise in the number of protesters, the Israeli military deployed additional occupation forces along the Gaza boundary ahead of Friday's demonstrations.

Occupation forces are said to be operating under orders to use live fire against Palestinians launching incendiary kites and balloons, which have landed in southern Israel in recent days.
Collective punishment threat
The head of COGAT, the bureaucratic apparatus of Israel's military occupation of the West Bank and Gaza, said that collective punishment measures would be used against the general population in Gaza.
Apparently referring to naval protests held earlier this week, Kamil Abu Rukun stated that "The Hamas terror organization is using fishermen and forcing them to participate in riots."
Abu Rukun said that the Israeli military would "use an iron fist" against such "rioters" and would reduce the permitted fishing area from 6 to 3 nautical miles off the Gaza coast.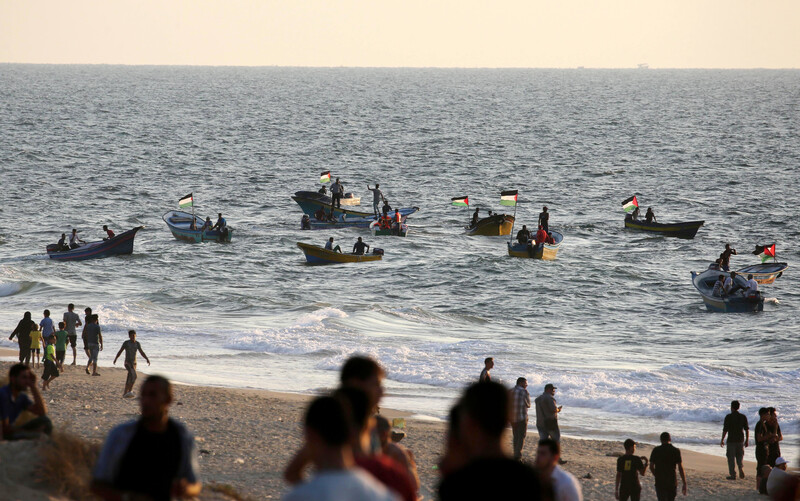 Under the 1993 Oslo accords signed by Israel and the Palestine Liberation Organization, Gaza's fishing zone was supposed to extend 20 nautical miles out from shore. But Israel has never allowed this and the furthest Gaza's fishers have been able to sail has been 12 nautical miles out.
Over the past decade, Israel has reduced the permitted fishing area to 6 nautical miles, and sometimes less, and has frequently fired on fishing boats.
Israel has killed eight fishers since 2000, according to Al Mezan.
Tags