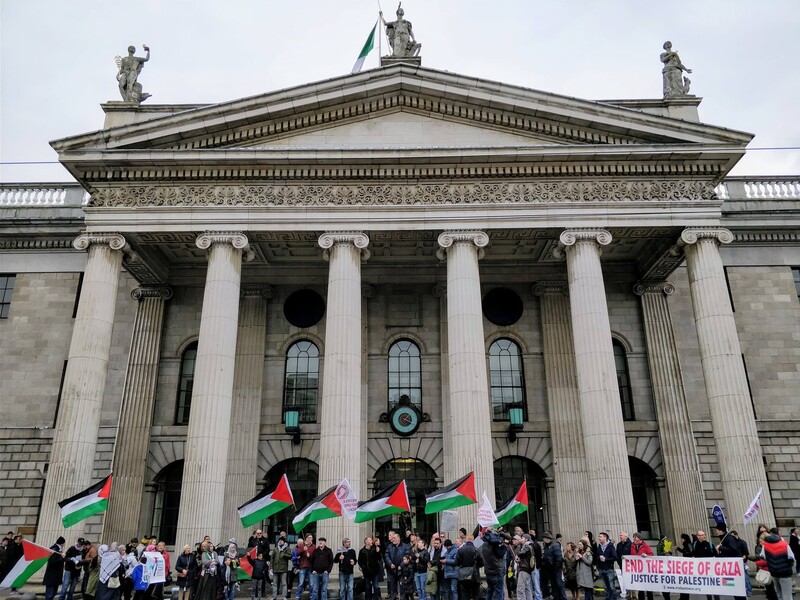 This article has been updated since initial publication.
Dublin City Council passed a motion Monday night endorsing the Palestinian call for boycott, divestment and sanctions (BDS) on Israel.
And on Tuesday, Israel claimed to have barred Dublin's mayor from entering territory it controls, but a short time later the mayor appeared to be tweeting from Ramallah, in the occupied West Bank.
"Since its violent establishment in 1948 through the ethnic cleansing of more than half of the indigenous people of Palestine, the state of Israel has denied Palestinians their fundamental rights and has refused to comply with international law," the motion states.
It adds that: "Israel continues to illegally occupy and colonize Palestinian land, discriminate against Palestinian citizens of Israel, imposes an inhumane blockade and siege of Gaza and denies Palestinian refugees the right to return to their homes."
Israeli embassy interference
The motion commits the Irish capital to discontinue contracts with Hewlett-Packard (HP), an information technology firm that has long been complicit in Israel's military occupation in Palestine, and with its spin-off DXC.
Although the official vote tally had not yet been published at the council's website, John Lyons, the People Before Profit councillor who sponsored the motion, told The Electronic Intifada on Tuesday that the measure passed by 30-8 with five abstentions.
Fatin Al Tamimi, chair of the Ireland-Palestine Solidarity Campaign, stated: "Speaking as a Palestinian and a Dubliner I'm so proud that the local government of my adoptive city has voted to stand in solidarity with the Palestinian people's struggle for freedom, justice and equality."
Al Tamimi thanked the council for adopting the motion in spite of interference by the Israeli embassy.
"It is concerning that, once again, officials of the Israeli embassy sought to attempt to interfere in Irish democracy by writing to the Lord Mayor demanding he block the motion from even being discussed," Al Tamimi said.
In a separate motion, the council voted to call on the Irish government to expel the Israeli ambassador.
Changing Ireland
Lyons told The Electronic Intifada that the BDS motion was an important sign of solidarity and a step up from last year's symbolic flying of the Palestinian flag above Dublin City Hall for a month.

But Lyons cautioned that the "second battle now is to get city officials to implement it."

The city's top manager has already declared he will refuse to implement the decision, claiming that it violates national and EU procurement law.

But Lyons disputed that, telling The Electronic Intifada that the city was free not to buy goods or services from any companies that violate human rights.

Dublin is likely to come under massive pressure from businesses and national politicians, just as Reykjavik did in 2015 when it passed a BDS measure.

The pressure succeeded in forcing the Icelandic capital to reverse its decision.

This is all the more so since Ireland has for years used low taxes to attract major US firms including Apple, Google and HP to set up operations in the country.

"I can hear the arguments already about what HP and other US companies bring to Ireland in terms of employment and taxes," Lyons said.

"But more and more people are seeing quite clearly the unjustified slaughter of Palestinians," he added. "Anyone who makes an economic argument that says we don't have the right to stand up with Palestinians who are literally being murdered before our eyes – they will lose that argument."

Lyons sees the Dublin City Council's willingness to back the resolution on Palestine as part of a bottom-up transformation in Irish politics away from mainstream parties.

"With the economic crisis, more and more people are looking for alternatives," he said.

Lyons was elected in 2014, a year in which the left-wing nationalist Sinn Féin become the largest bloc in the Dublin council, and Lyons' socialist grouping People Before Profit more than doubled its presence.

"Ireland has a proud history of supporting the Palestinian struggle for independence and self-determination, and you are starting to see that reflected at the local level," Lyons said.

"But the politicians in the national government are still unwilling to challenge either Israel, the European Union or the US when it comes to international relations, and I think we've seen a dimunition of Ireland's standing," he added, citing Ireland allowing the US to use Shannon airport for its invasion of Iraq and for CIA rendition flights.

The Irish government, like EU counterparts, has pointedly failed to condemn Israel's calculated and premeditated targeting of unarmed protesters that has killed almost 30 Palestinians and injured 2,000 during Great March of Return rallies in the besieged Gaza Strip since 30 March.

But Lyons hopes that the decision by Ireland's capital will spur city and county governments across the country to "look at what we did here in Dublin and do something similar."

Last week, Ireland's national students and teachers unions both adopted decisions committing them to take action in solidarity with Palestine.
Dublin mayor "denied entry"
On Tuesday, Israel's ministry of strategic affairs announced it had barred entry to the Lord Mayor of Dublin Mícheál Mac Donncha because of his ties to the Ireland Palestine Solidarity Campaign, which supports BDS, the newspaper Haaretz reported.

But the mayor denied this in a tweet stating, "I can confirm I am in Ramallah and preparing for tomorrow's conference."

Mac Donncha was expected in Ramallah for a conference on the future of Jerusalem.

The tweet came from the @LordMayorDublin account that does not bear the blue checkmark indicating it has been verified by Twitter.

But the account can be independently verified as genuine since it is linked from the Dublin City Council's official website.

The mayor confirmed in another tweet that he entered via Tel Aviv airport.

Israel's interior ministry later told Haaretz that the mayor had entered the country before the instruction to bar him had been delivered.

Later still, according to Haaretz, the interior ministry admitted that Mac Donncha got in because Israeli authorities had misspelled his name on the banning order.

"As Lord Mayor of the capital city of Ireland I am travelling to acknowledge that East Jerusalem is the designated capital of Palestine under the two-state solution, recognized by the international community, but forcibly prevented from being implemented by successive Israeli governments," Mac Donncha wrote on Facebook before his trip.

The strategic affairs ministry, run by Gilad Erdan, is in charge of Israel's overt and covert war against the global Palestine solidarity movement, especially BDS.

In January, the ministry revealed an apartheid South Africa-like blacklist of human rights organizations whose members would be denied entry to all Israeli-controlled territory.

The list includes the Ireland Palestine Solidarity Campaign.
Tags