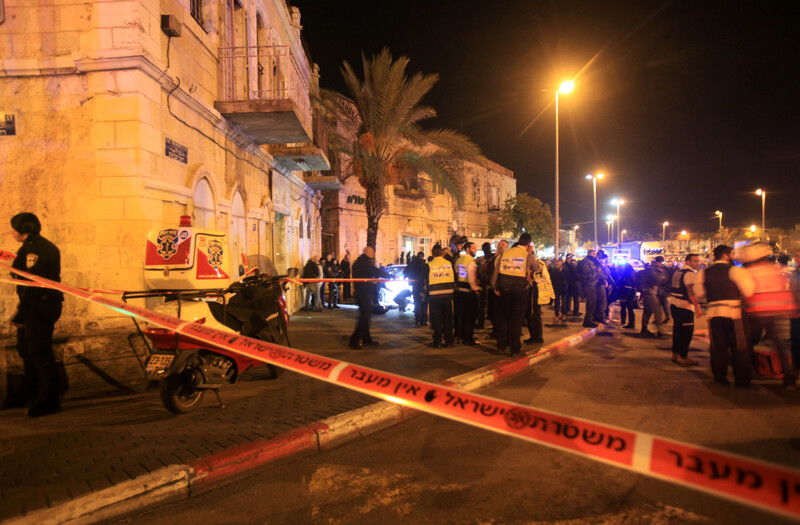 Israeli forces shot a Palestinian man and, after he was dead, fired at his head at point-blank range, according to the Palestinian Centre for Human Rights.
Mazen Oraibi, a Palestinian Authority intelligence officer from the Jerusalem-area village of Abu Dis, had stepped out of his car at an Israeli checkpoint last Thursday when soldiers opened fire and killed him on the spot.
A Palestinian bystander, Khalid Yaqub Abu Jibna, was shot by live fire and taken to hospital in critical condition.
A soldier was lightly injured during the incident, the Israeli paper Haaretz reported.
Oraibi's brother told Haaretz of the married father of four: "It is hard to believe that a man like him would perpetrate a terrorist attack, and we don't really understand what happened there in the checkpoint, and how he was shot and killed, without anyone Israeli or Palestinian notifying us. We have yet to receive his body."
Israel continues to withhold and delay transfer of the bodies of Palestinians its forces have killed during alleged attacks.
Defense for Children International – Palestine (DCI) stated on Wednesday that Israel was withholding the bodies of 12 children, making independent investigation of the circumstances of their deaths nearly impossible.
The rights group documented one case in which Palestinian youths hid the body of a boy shot dead by Israeli soldiers near a checkpoint, so that the teenager could be properly buried.
Ayman Samih al-Abbasi, from the Ras al-Amoud neighborhood of occupied East Jerusalem, was shot at around 9pm on 29 November and transferred to a medical center in the area, where he was declared dead.
"After a while, Israeli forces stormed the area to seize Ayman's body, but Palestinian youth managed to hide the body and bury it in Silwan cemetery just after midnight," eyewitness Anwar Abbasi told DCI.
Israel claimed that its forces opened fire at Palestinians after firebombs had been thrown at them, but witnesses said that there were no confrontations or stone-throwing when the boy was shot.
Children killed
Another boy in the West Bank was shot and killed in the last week after allegedly stabbing Israeli soldiers, bringing to 23 the number of Palestinian children slain since the beginning of October, according to DCI.
Mustafa Fanoun, 15, was killed along with his 19-year-old cousin, Taher Fanoun, shortly after midnight on 4 December, the Palestinian Centre for Human Rights (PCHR) reported.
The teens were shot by Israeli forces stationed at a checkpoint near the Tel Rumeida neighborhood in central Hebron, where the cousins are from.
Hours after the two were killed, their fathers were summoned for questioning by Israeli intelligence but were not permitted to see the bodies of their sons, according to PCHR.
Israel last month declared Tel Rumeida a closed military zone and Hebron as a whole has borne the brunt of its occupation forces' violence.
Another set of Palestinian cousins were killed in Hebron in the last week.
Ihab Fathi Miswadeh, 21, was slain by Israeli soldiers deployed around the historic Ibrahimi mosque near Hebron's Old City after allegedly stabbing a settler on Monday.
Video of the scene shows Israeli soldiers and medical crews treating the wounded settler but not offering any first aid to Miswadeh.
He was left bleeding for more than half an hour before he was taken away in an Israeli ambulance, according to PCHR.
Israeli forces raided a home belonging to Miswadeh's family before dawn on Wednesday and summoned his male relatives to an intelligence office in Gush Etzion settlement south of Bethlehem.
That same day, Israeli soldiers in central Hebron shot dead Abdulrahman Miswadeh, also 21, who they say stabbed two settlers.
PCHR's preliminary investigation found that the young man was slain at a checkpoint near the entrance to Beit Hadassah settlement in downtown Hebron.
"He was left bleeding without being offered first aid by medical crews of the Red Star of David," according to the rights group, referring to the Israeli emergency service.
Left to bleed to death
Several other Palestinians were left to bleed to death without medical treatment after being shot by Israeli forces in the past week.
On Thursday, 3 December, Israeli police opened fire at Izzedine Abdallah Raddad, 21, near the Old City in occupied East Jerusalem.
"Israeli police claimed that Raddad stepped towards a police officer … and pulled his knife out to stab the officer in the hand. The police officer started fighting with Raddad, but the Israeli officers who were in the area opened fire at Raddad and killed him immediately," PCHR reported.
Police closed the area and Raddad was left bleeding on the ground without first aid, PCHR added.
The officer Raddad is alleged to have stabbed was also wounded by friendly fire, according to media reports.
"Killed in cold blood"
Another Palestinian man was shot dead by Israeli police in Jerusalem on Sunday and left to bleed to death at the scene even though there were Red Star of David ambulance crews nearby, according to PCHR.
An Israeli police spokesperson said that Omar Iskafi from the Beit Hanina suburb of the city had run over a person in West Jerusalem and stepped out of his car, carrying a knife and stabbed a police volunteer in the hand.
Two Israelis were reported to have sustained light injuries during the incident.
PCHR reported that Iskafi's family "did not believe that their son carried out a run over or stab attack," saying that it was only a road accident "but the Israeli forces killed him in cold blood."
Another Palestinian, Abdulrahman Abdulmajid al-Barghouthi, was slain in an act of willful killing this week, according to the rights group, which said its findings contradict Israel's claim that the man had stabbed a soldier.
PCHR reported that on Friday, 4 December, Israeli soldiers had stopped al-Barghouthi at a temporary checkpoint in Aboud village near the West Bank city of Ramallah.
Al-Barghouthi obeyed the soldiers' orders to raise his hands, and one of the soldiers approached and searched him, after which he slapped al-Barghouthi in the face.
Al-Barghouthi then "pushed the soldier, who stumbled and fell on his back," according to PCHR. "The Israeli soldier immediately fired two bullets at him. The first bullet entered the neck and exited the back of the head and the other bullet hit the palm of the right hand."
"Two other soldiers, who were present a few meters away, opened fire at him as well," PCHR added, causing al-Barghouthi, now dead, to fall on the first soldier who fired on him.
"The soldier pulled himself from under the corpse screaming and the three soldiers fled towards the watchtower" opposite the main entrance to the village.
A witness said that he saw a knife near al-Barghouthi's left hand, "but there was no blood on it," PCHR stated.
Al-Barghouthi's uncle told the Ma'an News Agency that the knife was planted and that his nephew was executed in "cold blood."
Israeli forces are suspected of having planted knives in other incidents during which Palestinians were killed or arrested.
Al-Barghouthi was reportedly a US citizen who had recently arrived to the West Bank for his marriage.
Village residents told Ma'an that the man was returning from his fiancée's home when he was killed.
"Every intention to kill"
Also near Ramallah that same day, Israeli forces opened fire at a vehicle driven by Anas Abdulrahim Hammad, 21, killing him after he allegedly ran into a group of soldiers stationed at the entrance to the village of Silwad.
"Israeli forces closed the area and denied an ambulance access to the scene" and fired three bullets at the emergency vehicle, according to PCHR.
An eyewitness told the rights group that "Israeli medical crews arrived and offered medical treatment to the Israeli soldiers but left the Palestinian young man bleeding to death for about 90 minutes inside his vehicle" before it was taken away in an Israeli ambulance.
Another young Palestinian man was left to bleed to death after being shot by Israeli forces during a late-night raid on Dheisheh refugee camp near the West Bank city of Bethlehem on Tuesday.
Soldiers opened fire on camp youth who had gathered to repel them by throwing stones and empty bottles, according to PCHR.
Malik Akram Shahin, 18, was hit in the head.
The army denied Palestinian medical crews access to the camp and left Shahin to bleed for a prolonged time before he was evacuated to a hospital in Beit Jala, where he was pronounced dead, PCHR added.
Doctors said that Shahin was killed with an expanding round, also known as a "dum dum" bullet.
"Medics said the explosive bullet smashed Shahin's skull, and exploded inside his head, with the bullet and skull fragments shattering into 'hundreds of pieces,'" the Ma'an News Agency reported.
"The sources said the positioning of the shot, as well as the type of bullet used, clearly indicates that Israeli forces shot at Shahin with every intention to kill," Ma'an added.
The use of this type of ammunition is banned under both international law and Israel's own rules of engagement, according to the Palestinian rights group Al-Haq.
Israelis injured in West Bank
Also this week, an Israeli settler who was found guilty of killing three Palestinians in an attack in the 1980s was wounded along with his wife in a shooting in the West Bank on Wednesday. The assailant was reported to have fled the scene.
Israeli forces imposed total closure on the West Bank city of Tulkarem and neighboring communities in pursuit of the gunman, the Ma'an News Agency reported.
Also on Thursday, an Israeli soldier was critically wounded and another three suffered moderate and light wounds in an alleged car-ramming attack in the central West Bank.
Haaretz reported that the assailant escaped, but the car used in the attack was later found containing an M-16 rifle and a stun grenade.
"The police said that the rifle belongs to one of the soldiers involved in the incident," Haaretz added.
At least 111 Palestinians have been killed during eight weeks of violence, according to Defense for Children International – Palestine.
Nineteen Israelis, one Palestinian and one American were slain by Palestinian attackers during the same period, according to The New York Times.
Many Palestinians have been killed in what human rights organizations and international monitors have condemned as summary executions.
The Israeli rights group B'Tselem has blamed Prime Minister Benjamin Netanyahu for "the transformation of police officers, and even of armed civilians, into judges and executioners."
Jerusalem's police commander Moshe Edri recently stated that "Anyone who stabs Jews or hurts innocent people is due to be killed," while Israel's interior security minister Gilad Arden declared, "Every terrorist should know that he will not survive the attack he is about to commit."
The effect of Israel's apparent shoot-to-kill policy is that children as young as 13 are being shot dead at close range in the streets even when they pose no immediate threat.
Mass arrests
Israel has meanwhile arrested approximately 2,250 Palestinians since the beginning of October – nearly one-fifth of them children, according to the rights group Addameer.
Four children are among the nearly 250 Palestinians arrested during that period who are being held without charge or trial under administrative detention orders.
Nearly 600 Palestinians are being held by Israel under administrative detention, according to Addameer. They are among the more than 6,500 Palestinians imprisoned by Israel, including at least 450 children.
In the last two months, Israel has opened new sections in several prisons to accommodate the spike in the number of detained Palestinians, according to Addameer.
The group has also "documented an escalation of the use of violence and excessive force against Palestinians during arrest and detention."
"Many of those who were arrested after being shot were subjected to field interrogations while bleeding, interrogations during treatment in hospitals while chained to [a] bed as well as being subjected to harsh interrogations shortly after release from hospitals," Addameer added.
Israel has also destroyed and issued demolition orders against homes belonging to families of Palestinians killed or arrested during alleged attacks on Israelis.
More than two dozen people, including 16 children, were made homeless this month after Israeli forces blew up two homes belonging to relatives of alleged attackers.
One hundred Palestinians – half of them children – have been displaced as a result of punitive home demolitions since the beginning of October.
Palestinian protests and confrontations with Israeli police that began in mid-September, provoked by Israeli aggression and incursions into the al-Aqsa mosque compound in Jerusalem's Old City, "rapidly spread throughout the occupied Palestinian territories, including all parts of the West Bank and the Gaza-Israel border areas," as the United Nations monitoring group OCHA observes.
The current uprising and Israeli crackdown is set against a background of failed peace negotiations and political stagnation, as well as decades of brutal military occupation, forced displacement and oppression of Palestinians.
Tags