"The main goal is to make Tel Rumeida as Shuhada street: empty from Palestinians," Issa Amro of the activist group Youth Against Settlements told The Electronic Intifada.
Late last month Israeli settlers stormed the offices of Amro's group in the Tel Rumeida neighborhood of the occupied West Bank city of Hebron, demanding that the army shut it down.
Soldiers arrested Amro, blindfolded him and kept him handcuffed in the bathroom of a military base for nearly five hours, he said. They also arrested one of the group's volunteers, 16-year-old Ahmad al-Azza, falsely accusing him, according to Amro, of possessing a knife.
Tel Rumeida is the site of one of five colonies in Hebron, where approximately 850 hostile settlers live within close quarters of Palestinians under the Israeli army's guard.
Pushing Palestinians out
Three out of approximately 100 Palestinian families in the Tel Rumeida neighborhood have already relocated because of harassment by Israeli settlers, according to the rights group B'Tselem.
Tel Rumeida may soon more closely resemble Shuhada street, the formerly bustling commercial center in Hebron's Old City which is now shuttered and closed to Palestinians for the benefit of Israeli settlers.
Nearly all the approximately two dozen stores around Hebron's historic Ibrahimi mosque have been closed since Israel placed new restrictions on Palestinians in the city, B'Tselem reported last month.
"The businesses are closed as their owners are barred access to this part of the Old City," according to B'Tselem.
On 30 October, the Israeli army issued a directive preventing Palestinian males between the ages of 15 and 25 from passing all Israeli military checkpoints that surround Jewish settlements in Hebron.
Amro said that settlers freely roam the streets while Palestinians remain confined to their homes.
"You can't move from one house to another without passing checkpoints or soldiers humiliating you. Even to leave the city is hard," he said.
Al-Haq says these measures are designed to drive out the Palestinian population of the city.
Outside of Hebron, Israel has placed roadblocks at the entrances to the nearby villages of Dura, Yatta, Beit Einun and Bani Naam. In the village Sair, Israel imposed travel restrictions on boys and men under the age of 25.
Israel has designated most of the Old City of Hebron as a closed military zone, restricting its access to only registered residents of the area.
The United Nations recently reported that 4,200 children in the city must cross at least one military checkpoint on their way to school.
Killings
Israeli forces have in recent weeks killed more Palestinians in Hebron than they have in Jerusalem, where the current surge of violence first erupted.
Since 1 October, Israeli soldiers have slain at least three dozen Palestinians in Hebron and its surroundings.
Palestinians in the Hebron area constituted approximately one-third of the total number killed by Israeli forces in all of the occupied West Bank and Gaza Strip since the beginning of October.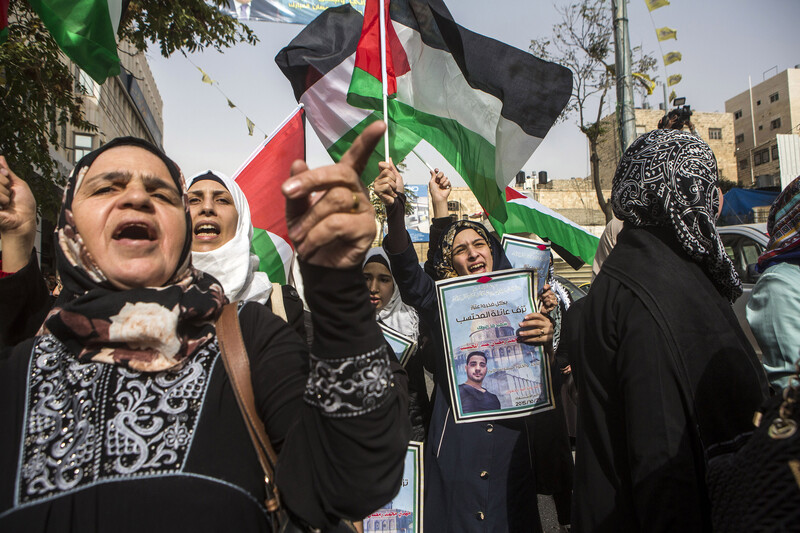 "Fifteen of those killed were perpetrators or alleged perpetrators of attacks against Israeli forces and settlers in the city (mostly stabbing or stabbing attempts), which resulted in one Israeli fatality and six injuries," according to the UN monitoring group OCHA.
Numerous protests in the city have demanded that Israel transfer the bodies of Palestinians killed during alleged attacks on Israelis.
Israel has also shut down three Hebron radio stations, confiscating and damaging equipment in the process.
"Life has changed," Amro told The Electronic Intifada. "People are living with fear; they don't feel safe."
Tags