A video has emerged apparently showing an Israeli soldier dropping a knife on the ground and forcing a terrified Palestinian girl to pick it up before she is arrested.

The video was circulated widely in Palestinian media and on social networks on Tuesday, the same day that two more Palestinian teenagers were shot dead by Israeli occupation forces, who claimed that the youths had attempted to carry out stabbings.

Israel further escalated violence on Wednesday by carrying out a revenge demolition of a Palestinian home in Jerusalem.
Forced to pick up knife
The Palestinian news outlet Donia Al-Watan said the video was recorded by a Palestinian who witnessed the incident at an Israeli military checkpoint south of Bethlehem in the occupied West Bank on Tuesday.
Several outlets identified the girl in the video as 14-year-old Sabreen Mujahid Sanad.
The 3-minute video appears to have been filmed from a vehicle stopped at the checkpoint. At the beginning, a man in civilian clothes can be seen speaking to the girl next to a white truck. Israeli soldiers are standing nearby and giving orders to others.
The girl is not restrained by the soldiers and walks toward the cab of the white truck. At 1:30, one of the soldiers throws what appears to be a knife onto the ground.
The girl, with her arms raised near her chest, trembles. The soldier then appears to order her to bend down and pick up the knife.
She kneels down and picks it up, and then appears to talk to the soldier as she holds it. As she kneels, a second soldier aims his weapon at her.
A third soldier then approaches and leads her away with her hands behind her back.
As with other similar incidents, the video has fueled widespread suspicions that many of the alleged stabbing attempts in which Palestinians were killed involved the planting of evidence.
Teenagers killed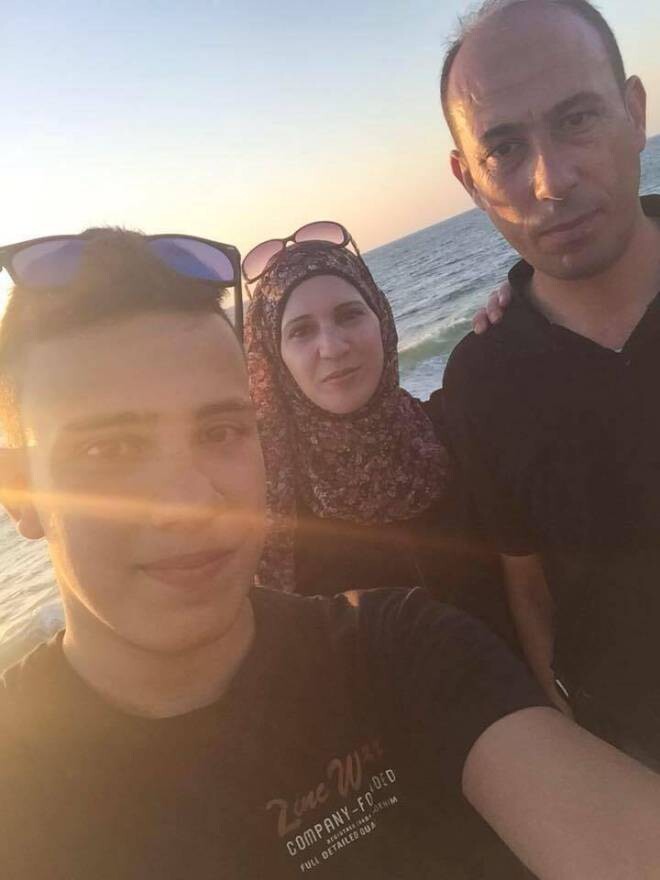 On Tuesday morning, Israeli occupation forces shot dead 16-year-old Mamoun Raed al-Khatib near the Gush Etzion bloc of settlements in the occupied West Bank, claiming he tried to stab a man.
No one was injured in the alleged stabbing, but Israeli media reported that a 35-year-old bystander was injured by the Israeli army gunfire that killed Mamoun.
The boy, from Doha village near Bethlehem, was a high schooler in the 10th grade.
Later on Tuesday, Israeli forces shot dead a 19-year-old Palestinian woman at a checkpoint east of Tulkarem in the northern occupied West Bank, Ma'an News Agency reported.
The army claimed the young woman had tried to stab one of its soldiers but none was injured.
A Palestine Red Crescent Society spokesperson said the young woman had no vital signs when medics reached her. Palestinian medics were prevented from removing her body, which was taken away by the Israelis.
Israel continues to withhold the bodies of dozens of Palestinians killed in alleged stabbing attempts.
The Ma'an News Agency said a Palestinian family identified the young woman from photos circulating on social media as their daughter, Maram Ramiz Hassouna, from Nablus. She was a student at An-Najah University.
The family told Ma'an that she had previously spent a year in Israeli prison after she was accused of attempting to stab a soldier at the same checkpoint two years ago.
Israeli forces raided the family's home on Wednesday.
Also on Wednesday, an elderly woman was shot and critically injured in al-Bureij refugee camp in the central Gaza Strip. Ma'an News Agency reported that she was shot by Israeli forces who frequently fire at Palestinian protestors across the boundary fence.
"Though clashes between Palestinian youth and Israeli forces have been common in [the] area east of al-Bureij camp, it is unclear whether the woman was shot during such clashes," Ma'an added.
More than 100 Palestinians have been killed since 1 October, many of them in what human rights organizations and international monitors have condemned as summary executions.
Nineteen Israelis, one Palestinian and one American were slain by Palestinian attackers during the same period, according to The New York Times.
Ambushed and shot in the back
Last week B'Tselem excoriated Israeli Prime Minister Benjamin Netanyahu for "the transformation of police officers, and even of armed civilians, into judges and executioners."
The Israeli rights group also published an investigation into the 13 November killing of Lafi Awad, a 20-year-old community activist in the West Bank village of Budrus.
B'Tselem says Awad had been walking with other youths when a group of Israeli soldiers ambushed him. Awad "tried to free himself from their grip and the soldiers responded violently, kicking him and hitting him with their rifles," B'Tselem says.
While the soldiers were briefly distracted, firing rubber-coated steel bullets at other Palestinians, Awad managed to free himself.
"Awad took advantage of the opportunity and started to flee, but had gone only a few steps when a soldier shot him in the back," according to B'Tselem. He collapsed and the soldiers retreated. Awad's friends carried him away.
B'Tselem concludes that the killing of Lafi Awad closely resembles the ambush and killing of his good friend, 16-year-old Samir Awad, in almost the same spot in January 2013.
Revenge demolition
In addition to summary executions of Palestinians who present no immediate danger, Israel continues to demolish homes belonging to families of Palestinians whom it accuses of attacks.
On Wednesday, a massive group of Israeli occupation forces invaded and locked down Shuafat refugee camp in occupied East Jerusalem.
The forces demolished a home belonging to the family of Ibrahim al-Akkari, who was shot dead last year after driving his vehicle into pedestrians, killing an Israeli border policeman and injuring 13 other persons, two seriously, at a light rail station in occupied East Jerusalem.
One, a 60-year-old Palestinian, later died of injuries from the collision.
At least 13 Palestinians were shot and injured with rubber-coated steel bullets in confrontations with the Israeli forces who invaded the camp to carry out the demolition, Ma'an News Agency reported. Dozens more sought treatment after inhaling tear gas.
The United Nations and human rights groups say the practice of punitive home demolitions amounts to collective punishment and violates international law.
In November, two Palestinians were killed and dozens were left homeless in a series of Israeli revenge demolitions.
Light sentences for Israeli attackers
Meanwhile, a court in Jerusalem on Tuesday sentenced an Israeli to what Israel's Ynet termed a "fairly light sentence" for burning down a Jewish-Arab school in Jerusalem.
Yitzhak Gabai, 24, received two years in prison for setting fire to the bilingual Hand in Hand School in November 2014. He received an additional 10 months for possession of a knife.
Because he is Jewish, his family will not suffer retribution in the form of having its home demolished.
Israel does not carry out punitive demolitions of homes belonging to Jews accused or convicted of violent attacks, or their relatives.
When Gabai's two accomplices, brothers Nahman and Shlomo Twito, were sentenced to similarly light terms last July, they broke out in smiles and sang songs in praise of God, claiming that "it was worth it."
Prosecutors had sought sentences of at least four to seven years.
The youths were members of Lehava, a government-funded, anti-Palestinian group that campaigns against romantic relationships and marriages between Jewish women and Arab men.
One of the leaders of the extremist group, Bentzi Gopstein, has publicly called for the burning of churches.
Tags