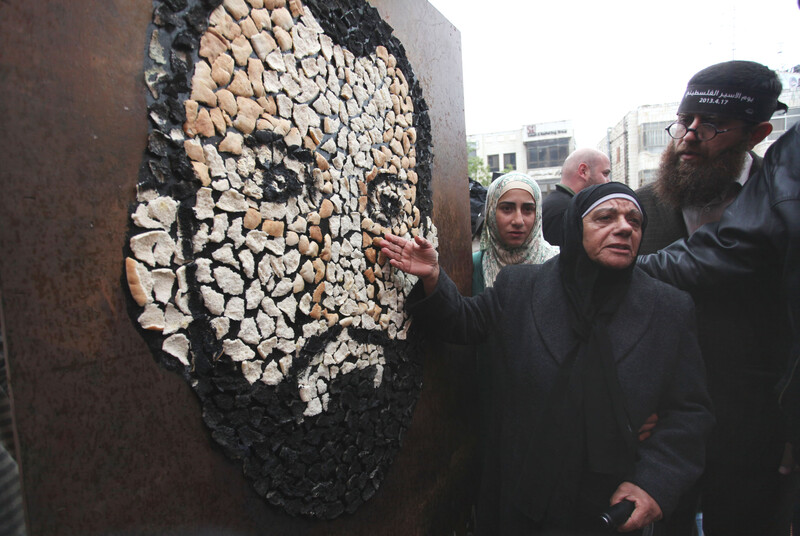 This week on The Electronic Intifada podcast:
Rush transcript: Ziad Abbas of the Middle East Children's Alliance on Palestinian Prisoners' Day
The Electronic Intifada: Ziad, today is Palestinian Prisoners' Day. What does this day mean to you and your family?
Ziad Abbas: Actually, April 17th makes me nervous. This is the day where we, the Palestinian community, and our allies, we try to show solidarity with our prisoners, especially inside Israeli jails. And with prisoners all over the world.
This day, on a personal level, yes. This day makes me nervous, because I experienced the jail a few times in my life since I was a child. And it makes me feel, at the same time, shame. Because I am out, and there are thousands of prisoners who are facing different kinds of persecution styles by the Israeli government. And we are not doing enough to release them.
At the same time today, [I have] mixed feelings, honestly, because today is another opportunity where the people can take a stand and they can protest, they can do some actions, they can raise their voices against the Israeli policy against Palestinian prisoners. And especially these days when Palestinian prisoners are facing death penalties — but it's not announced by the Israelis, the policy is that they keep the prisoners inside jail and they prevent the medical treatments. We saw what happened with Maysara Abuhamdia recently. On the other hand, they are torturing until death, like what happened with Arafat Jaradat.
So today this is the moment where we need to raise our voices, and today should be every day for us, until we release Palestinian political prisoners and all prisoners, not just in Palestine but everywhere.
EI: Ziad, what can say about what Linah Alsaafin, our contributor said a few weeks ago, about the new intifada that's happening within Israeli prisons, by Palestinian political prisoners — in terms of the mass hunger strikes, in terms of demanding their rights as human beings inside these detention facilities?
ZA: Absolutely, Palestinian people are frustrated from this issue, the problem is the leadership which has never paid attention to this issue. Like many other issues too. And they never insist to release the political prisoners. And we can see, since the Oslo agreement until now, how many prisoners were released. And we have prisoners who are in jail a long time before Oslo, and they signed this agreement.
This frustration absolutely leads to a new intifada. If not this moment, maybe tomorrow, after tomorrow. But we can smell — anyone in Palestine, or watching or following what's happening in Palestine, these are the indications that a new intifada is coming. Because the prisoners' issue, this is something that is very sensitive for Palestinian people, and for every family in fact all over the world.
When you have someone in jail, it doesn't make everyone relaxed. And watching Israelis for example torturing our youth, torturing until death like the case of Arafat Jaradat, or they torture them in other ways, like make them die in a slow way, this is something that's not accepted. And I think that the Palestinian community, in their way, reflect that in the streets … and in the history of Palestinian political movement, prisoners all the time have unified the Palestinian people.
And this is something very important. By the hunger strike, by the new styles as a collective political movement, or as individuals as prisoners — right now, the prisoners are very creative in their protests, very creative in their fightback, and especially in the case of Samer Issawi, almost nine months right now on hunger strike — this will absolutely influence the Palestinian street, and will influence the Palestinian families, the new generation, and they will not accept this kind of suffering anymore.
So, maybe the intifada already started, or we will see new waves of activity in the streets against the Israeli occupation.
EI: Ziad, what can you tell us about children prisoners in Israeli jails, and what they're going through on a daily basis, and the level of interrogation and torture and mistreatment that they're suffering?
ZA: We are working, in the Middle East Children's Alliance, [to] focus a lot on children. Right now, the last reports are coming from Palestine [say] 236 children are in jail. And among them, actually, 39 children are between 12 years old and 15 years old.
And this is something very high … where you find a political system, and you have a military system, they plan this. They have this kind of system to target the new generation in Palestine, and they try to kill the spirit, to break them down, break their spirit down when they are young. And they make them avoid any political activity in their future.
This is something like — it should go to the international court. Israel should [be brought] to the international court. And the international community need to take a stand. Our children are facing these kinds of policies since 1948. We saw prisoners arrested when they were 14 years old, and released from jail when they are 35 years old. And imagine — with all this power that Israel has; military power, interrogators, facing a child 14 years old, or 13 years old, and trying to put pressure on him to say something that maybe he never did, and in the end he will face a long time inside jail.
This is another indication that makes the people frustrated, because they can feel that the new generation are targeted. It reminds me when we were young and Israel established special jails to target the new generation. We were arrested when we were 13, 14 years old. And they used different kinds of torture styles with us, tried to break us down. But I don't think that all the prisoners will break down.
We can see how the political prisoners' movement is very creative; they continue their struggle and fight back through their protests and challenge the Israeli occupation.
EI: Finally, Ziad, you worked for decades as a leader in the community in Dheisheh camp, working especially with young children who were facing enormous obstacles just having a normal childhood in a refugee camp under occupation. Can you talk about the effect that this kind of — not just going to prison, but the threat of perhaps going to prison that faces every Palestinian child — how that affects a child's development, and also how Palestinians such as yourself, people in the communities are dealing with this ongoing trauma?
ZA: Actually, we need to be aware that being in the jail doesn't end the moment you're released from jail. Jail stays inside you. I am very far from Palestine, very far from the Israeli jails, and honestly I'm still affected by that. I still go to my psychiatrist, and I am trying to deal with this issue. This is on a personal level, I don't feel I should hide this. This is something I live with.
And I have tons of friends in Palestine who still face this issue. Because the torture they used against us when we were young, it affects us and influences our future. And it can affect us until the rest of our lives.
This is something the Palestinian community faces, and especially children. And we try as much as possible, because we can't handle this, we can't solve this problem. But maybe sometime through certain kinds of activities, you can reduce the effect, the impact through [different] kinds of programs. Like what we're dealing [with] right now in MECA, we fund and support projects in the Gaza Strip called Let Them Play and Heal. We use arts where the children can express their feelings, what they face and take the things out and feel more relaxed. But generally, we can't solve this problem.
The only way to solve this problem is to end the Israeli occupation, and to bring justice for the Palestinians. But we are not just waiting for this moment, we are struggling for that. And we try to offer something for our children. And to be honest with you, when we follow the history, when the victim became the victimizer, they know how to hurt. Our children are victims right now, and at the same time we don't want them in the future to be victimizers.
So we try to plant the seeds. But we try to do it … to plant the seeds for justice and for everyone. And we try to offer certain kinds of environments where they can taste the childhood and live the life. It's hard work, it's not something easy, and you know you will not solve this problem unless you end this kind of suffering and uproot the roots of this suffering by ending the Israeli occupation — and Palestinian children will have a future and return back to their own villages, and feel free.
Tags