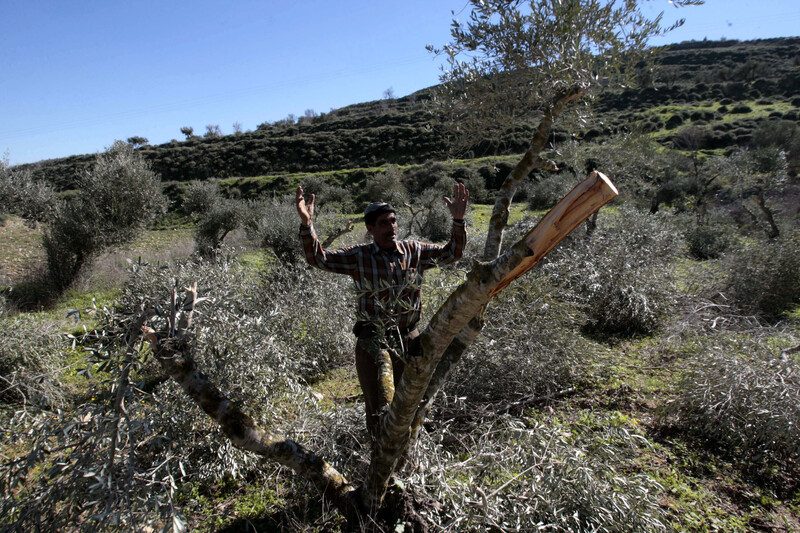 Large slabs of wood lay scattered on the brightly tiled floor. Ripped posters were still clinging to the walls by bits of tape. A handful of computer hard drives were ripped out, and lay haphazardly on their sides. The electricity wires were cut, and broken windowpanes let in what little light entered the room.
"[The Israeli interrogator] told me, 'We are now breaking your dream and your friends' dreams,'" said 23-year-old Ghassan al-Najjar, while standing on piece of a broken wooden desk. "They said, 'We will come back soon, but next time will be to take you and put you in the prison.'"
Al-Najjar founded the Bilal al-Najjar Martyrs Center with friends in his home village of Burin, in the northern occupied West Bank, in 2007.
Located in the heart of the village, the center provides language and computer classes, and other educational resources, to women, children, the elderly, and anyone else in Burin.
At 11:30pm Wednesday, at least 400 Israeli forces — among them, soldiers, border police and Shin Bet intelligence officers — stormed Burin, al-Najjar told The Electronic Intifada. At around 12:30am, they began ransacking the homes of some of the center's 400 volunteers.
In total, the homes of at least 50 volunteers were raided, and the center was completely trashed. Ten volunteers were beaten and 20 more were arrested; 17 were quickly released, and three remained in Israeli custody by early Thursday evening.
Al-Najjar said his home was raided. His parents, his sister and her three young children (three-year-old twins and a three-month-old baby), who were asleep at the time, were forced outside by a group of at least 60 soldiers.
"Normal for me"
"It's not the first time they came to my house," he said. "It's normal for me."
Israeli forces also raided the center twice before — in 2009 and 2010. The latest incursion was different though, al-Najjar said, adding that he was "so frustrated" by the level of destruction he saw.
Burin is located seven kilometers from the city of Nablus. It is sandwiched between the Israeli settlements of Bracha and Yitzhar, and is the site of frequent and violent settler attacks on local residents.
In February 2012, a group of 40 settlers from Yitzhar attacked a Palestinian home on the outskirts of Burin, traumatizing four young Palestinian children. "My grandchildren kept crying and shouting because they were terrified. They wet themselves, as they do every time we are attacked," 53-year-old Hanan Sofan told Defence for Children International-Palestine Section ("Sofan family - settler violence," 17 March 2012).
"Since the beginning of the second intifada, most of my children, if not all of them, have been beaten and had stones thrown at them by settlers and soldiers. My grandchildren live in fear," Sofan said.
Complaints ignored
According to a November 2011 report by the UN's Office for the Coordination of Humanitarian Affairs (OCHA), more than 90 percent of Palestinian complaints of settler violence filed to Israeli police have been closed without indictment.
More than 80 Palestinian communities — representing a population of almost 250,000 people — were vulnerable to Israeli settler violence, and of this, 76,000 Palestinians were deemed at high risk.
"Settler violence creates pressure and constant hardship on some Palestinian communities, particularly when combined with other difficulties, such as access and movement restrictions and house demolitions. Displacement has serious immediate and longer-term physical, socio-economic and emotional impacts on Palestinian families and communities," OCHA wrote ("Israeli settler violence in the West Bank," November 2011 [PDF]).
"We will rebuild"
Earlier this year, about 200 Palestinian activists from across the West Bank set up protest tents on Burin agricultural land that Israel intends to confiscate for settlement expansion. Israeli soldiers violently dispersed the activists and destroyed the structures shortly thereafter.
The new neighborhood, called al-Manatir, was the latest in a string of protest encampments built in the West Bank to draw attention to Israel's illegal settlement expansion and ongoing violent occupation.
For Ghassan al-Najjar, who was arrested in 2010 and spent 75 days in isolation at Israel's Jalameh detention center, and one year in Megiddo prison, the recent destruction of Burin's community center is the latest Israeli attempt to scare residents.
"They don't want anyone to work with the people. They don't want culture here," al-Najjar said. "But we will rebuild and continue to work. Even if they destroyed it another time, we will continue to work.
"We will be stronger than before. We are not doing anything wrong. This is our right."
Jillian Kestler-D'Amours is a reporter and documentary filmmaker based in Jerusalem. More of her work can be found at jkdamours.com.
Tags