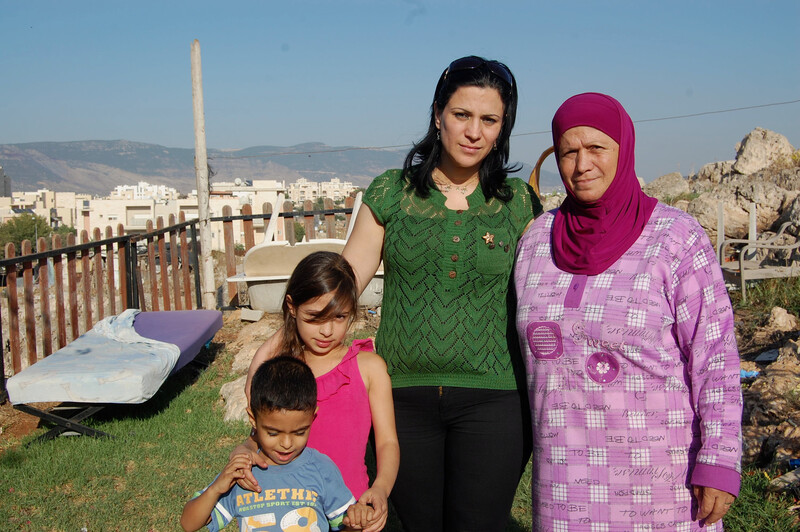 Plastic chairs, rusted children's toys, garbage and discarded household items lay strewn between dozens of tin sheds. Solar energy panels and satellite dishes are affixed to tin roofs, while animal pens cling haphazardly to the rocky ground, covered by thin plastic tarps.
Less than 100 meters away, across a narrow, residential street, stand six and seven-story apartment buildings, equipped with balconies and made of beige limestone. A bright yellow crane hovers between the structures, a sign of future development.
"There is Karmiel, and here is Karmiel," Haje Swaid, a 56-year-old mother of eight, said from the front yard of her home, looking towards the apartments. "We want to live like our neighbors. We're citizens; there's nothing different between us."
Swaid is one of approximately 150 Palestinian Bedouin citizens of Israel that live in the Ramiya neighborhood of Karmiel, a town of approximately 50,000 persons in the northern Galilee region of what is now called Israel.
She said that her family held deeds to the land dating back to Ottoman rule over the area. The Ramiya neighborhood existed before the State of Israel was created in 1948, and before expensive apartment blocs went up all around them.
Today, most residents of Ramiya live in basic structures that lack proper insulation and are exceedingly warm in summer and freezing in winter. Running water was only delivered to the neighborhood some 12 years ago through above-ground pipes that are exposed to the elements.
Ramiya is the only area in Karmiel that remains disconnected from the electricity grid.
"We get four or five hours of electricity per day," Haje said, explaining that nearly half of her family's income goes to paying for generators. "Our neighbors have electricity. At night, we see the lights."
"This is not democracy"
On a hillside not far from the Swaid family home, a field of overgrown grass sits empty, fenced in between a stone wall on one side, and a green metal railing on the other.
This is where the Israeli government hopes to move the residents of Ramiya. So far, only two out of 28 families have agreed to the relocation.
In 1995, under then-Israeli Prime Minister Yitzhak Rabin, the residents of Ramiya signed an agreement with the government to regulate their status. In exchange for moving from their ancestral lands, the Bedouin residents would receive plots of land on which to build new homes, financial compensation and additional agricultural lands.
The exact details of this agreement were never disclosed, however, and to date — almost 20 years after it was signed — the agreement has yet to be carried out.
"In Israel, the government still treats Arabs as second-class citizens, while maintaining laws for the Jewish majority. This is not democracy," said Dov Koller, a Jewish-Israeli activist living in Karmiel and a member of the Jewish-Arab Action Forum for the Residents of Ramiya.
Koller told The Electronic Intifada that most residents of Karmiel have been able to ignore the plight of their neighbors in Ramiya, despite the fact that the neighborhood is in the heart of their city.
"People put up defenses to cope with reality. When you see racism and apartheid, you have to take a stand or you make excuses," Koller said. "I have a television, hot water, computer everything. But I don't sleep well as long as [my neighbors in Ramiya] don't get their rights. I cannot turn my eyes away."
Dispossession
Recently, the people of Ramiya sent a letter to Israeli Prime Minister Benjamin Netanyahu, demanding that their homes be connected to the electricity grid before the coming winter.
"Ever since the city of Karmiel grew and extended itself up to the hill where we live, we are suffering harassment, exclusion, repression, disregard, contempt, and dispossession from our land — this being the attitude of the Karmiel municipality, the Israel Lands Administration, as well as the government agencies. They all regard us as 'invisible citizens,'" the letter stated.
"The denial of electricity is part of an abusive and inhuman campaign to which we are exposed. It is a means of psychological and physical pressure aimed to force our removal without any deal."
According to Amira Swaid, the 35-year-old daughter of Haje, the impact on her two young daughters is one of the most difficult consequences of living in Ramiya.
"[My daughter] understands the situation. She always asks about why we don't electricity and other things," Amira, who was born and grew up in the neighborhood, said.
"We want the minimum. If Jews lived this way, they wouldn't stand it. But we're Arabs," she added.
"[The Israeli government is] putting pressure on us. It's to get us to leave here. There's no other reason. We're persevering because we have to live."
Jillian Kestler-D'Amours is a reporter and documentary filmmaker based in Jerusalem. More of her work can be found at jkdamours.com.
Tags