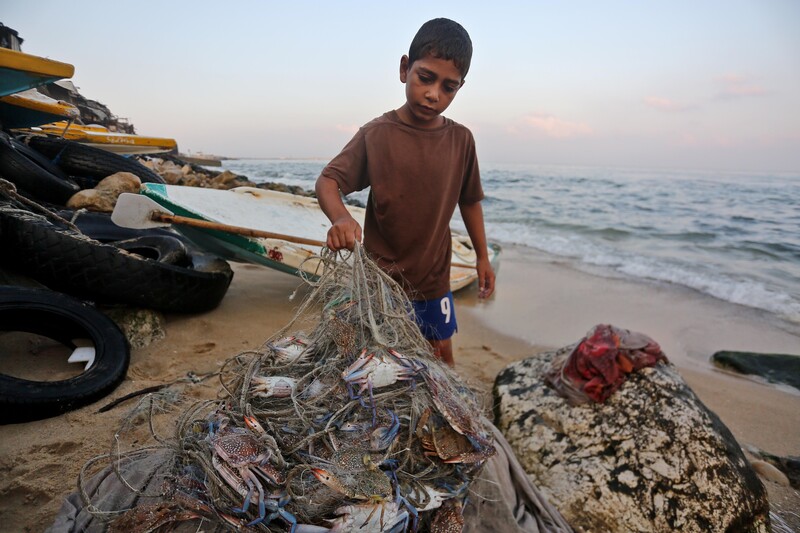 The new year has brought no respite for Gaza fishers, who continue to be targeted by Israeli occupation forces.
On Tuesday morning, Israeli gunboats opened fire on two fishing boats as they were approximately five nautical miles from the coast of northern Gaza and one mile from the Israel-Gaza maritime boundary, according to the human rights group Al Mezan.
The Israeli forces detained six fishers on board including two children.
Two of those detained – Akram Abu Foul, 34 and his son Muhammad, 11 – were featured in a photostory for The Electronic Intifada last October about the annual crab catch.
Boats, equipment seized
Israel took the fishers – all of them residents of Gaza's Beach refugee camp – to an unknown location and seized their boats and equipment, Al Mezan stated.
In a separate incident Monday morning, Israeli forces attacked another boat in the waters off northern Gaza and detained two fishers on board, Jihad Suheil Hasan Murad, 25, and Mustafa Muhammad Mustafa Murad, 18. Both are also residents of Beach camp.
Al Mezan stated that Jihad bore marks from six rubber-coated bullets fired by Israeli forces during the attack.
Israel reportedly released all but one of the eight fishers detained late Tuesday night at the Erez checkpoint on the boundary with Gaza, but has not returned their boats and equipment.
These were the latest incidents in Israel's regular attacks on Gaza fishers. In 2017 Israel killed two fishers, detained 39, seized 13 boats and destroyed seven others, according to Al Mezan.
Gaza fishers killed
Muhammad al-Hissi went missing and is presumed dead after the Israeli navy sank his fishing boat last January. The 33-year-old was a father of three children.
In May, Muhammad Majid Baker, 28, was fishing with his brother off the coast of northern Gaza when he was shot in the chest by Israeli forces. Baker was detained and died hours later in an Israeli hospital.
Al Mezan demanded the immediate release of any detained fishers and called on the international community to "undertake its moral and legal responsibility to protect Palestinian fishers and to compel [Israeli] occupation forces to halt their systematic violations and to respect international humanitarian and human rights law."
Fishing is a vital part of Gaza's culture, economy and nutrition. Under the Oslo accords signed by Israel and the Palestine Liberation Organization in 1993, Gaza fishers are supposed to be allowed to fish 20 nautical miles out from the coast.
But Israel has rarely permitted them to go more than a few miles out, firing at boats in order to enforce its arbitrary restrictions. As a result, the fishing economy has suffered drastic declines and fishers have lost their livelihoods and lives.
Tags