A Palestinian fisherman died hours after he was shot and injured by Israeli naval forces off the coast of northern Gaza on Monday morning. Muhammad Majid Baker, 28, was fishing with his brother when he was shot in the chest.
Umran Majid Fadil Baker told Al-Mezan, a human rights center in Gaza, that his brother was bleeding when occupation forces surrounded their vessel and arrested Muhammad, who later died in an Israeli hospital.
In the hours before Muhammad Baker was slain, Israeli forces detained six Palestinian fishermen and confiscated two boats.
Earlier this month, Israel declared a temporary expansion of the area off Gaza's coast in which it allows Palestinians to fish. The decision permits Palestinians to fish nine nautical miles off of Gaza's southern coast, but maintains a six-mile limit to the north.
For the past decade, Israel has imposed a strict blockade on Gaza, limiting Palestinian fishermen to sailing within a frequently changing limit ranging from three to six nautical miles off the coast.
However, the Oslo accords signed by Israel and the Palestine Liberation Organization in the mid-1990s stipulate that the fishing zone extends to 20 nautical miles.
Gaza fishermen are under constant Israeli fire.
Muhammad al-Hissi, a 33-year-old father of three, is presumed dead after he went missing when the Israeli navy sank the vessel on which he was working on 4 January.
The Palestinian Center for Human Rights recorded 126 incidents in which fishing vessels were fired on by Israel last year, and 130 arrests of Palestinians aboard fishing vessels during that period.
Following the killing of Muhammad Baker, Al-Mezan stated "these practices in the Gaza sea follow a systematic policy that result in denying fishermen their right to work, and involve ill-treatment and humiliation."
Jordanian national killed in Jerusalem
Two more Palestinians have been killed by Israeli forces in the occupied West Bank in recent days.

Muhammad al-Skaji, a 57-year-old Jordanian national of Palestinian origin, was shot dead in Jerusalem's Old City on Saturday after he stabbed a police officer who sustained moderate wounds.

A short video of the scene appears to show al-Skaji lunging at the officer, knocking him to the ground:

The above video does not appear to show the shooting of al-Skaji. Another video from the scene shows him lying on the ground after he was shot and an officer with a bloodied face – presumably the same officer who shot al-Skaji – holding his gun as other officers come to the scene: The video does not show anyone attempting to provide first aid to al-Skaji.

According to the Ma'an News Agency, a Palestinian media outlet, "Witnesses said an Israeli security guard at the scene also shot the attacker in the head, while backup police who arrived later slammed a table over the incapacitated man."

Ma'an added that police assaulted Palestinians in the area, and "a shop owner was detained for failing to help prevent the attack, according to Israeli police."

A witness told the outlet that al-Skaji was left on the ground for 45 minutes "without any medics coming near him" until the slain man's body was evacuated.

Al-Skaji had entered from Jordan on an Israeli tourist visa days before he was killed. Police reportedly raided the hotel where he had been staying and detained one of the tour organizers.

"Police are investigating whether the attack may have been driven by a personal grievance or a mental issue," the Tel Aviv newspaper Haaretz reported.

The Jordanian government condemned the slaying of al-Skaji as a "heinous crime," angering the Israeli prime minister.

Two other Jordanian citizens have been killed in recent years.

Said Amr, 28, was shot dead by Israeli police in the Old City of Jerusalem in September last year. The police claimed that Amr had attempted to stab an officer; no Israelis were injured during the incident.

Raed Zuaiter, a 38-year-old Jordanian judge of Palestinian origin, was killed by Israeli forces at the Allenby crossing between Jordan and the West Bank in March 2014. The Israeli military claimed that Zuaiter had tried to grab a soldier's weapon before he was shot dead.
Protester shot in chest
Israeli forces killed Saba Abu Ubeid, 23, in the West Bank village of Nabi Saleh on Friday during confrontations with soldiers following a march held in solidarity with hunger-striking Palestinian prisoners. Abu Ubeid, from the town of Salfit, was shot in the chest with a live bullet.

An army spokesperson confirmed to the Ma'an News Agency that Israeli forces used live ammunition against protesters who were throwing stones at soldiers.

Video from the scene shows Abu Ubeid falling to the ground after being hit:

Video from the march shows Israeli forces firing crowd-dispersing weapons at protesters, and women and girls attempting to block Israeli soldiers' rifles with their bodies. The military told Haaretz that one person was hit by a 22-caliber Ruger bullet during the incident, an allegedly less lethal, US-manufactured weapon that has killed several Palestinians and seriously injured hundreds more in the last two years, according to the Israeli rights group B'Tselem.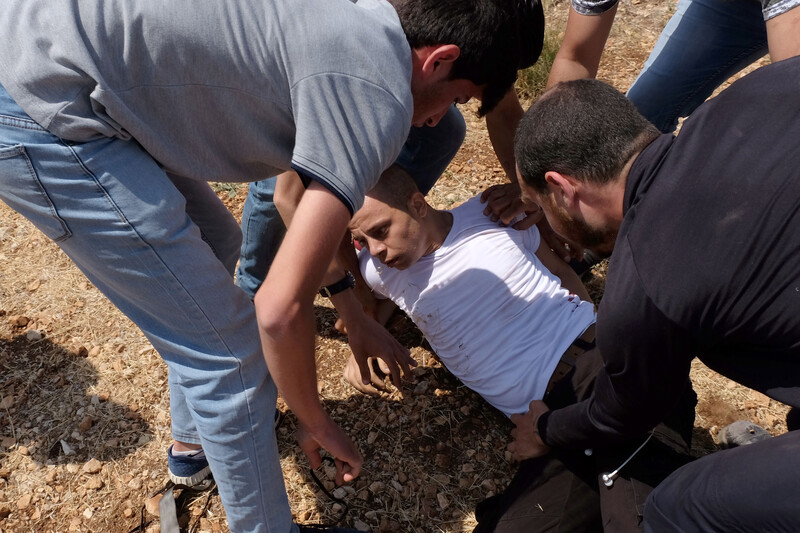 A Ruger rifle was used to kill a 13-year-old Palestinian boy in a Bethlehem-area refugee camp in October 2015 and a 19-year-old man in a Hebron-area refugee camp in August 2016.
Soldiers were shown on video shooting and killing a 17-year-old Palestinian with 22-caliber bullets fired by a Ruger rifle during confrontations in the Betlehem-area village of Tuqu earlier this year.
"Over the past two years … the military has almost routinely used these bullets as a means of crowd control, even when the troops on the ground are not in mortal danger," B'Tselem stated in March.
Israeli forces and armed civilians have killed 22 Palestinians, including Jordanian national Muhammad al-Skaji, so far this year. Six Israelis, most of them soldiers, as well as a British woman, have been killed by Palestinians during the same period.
Tags