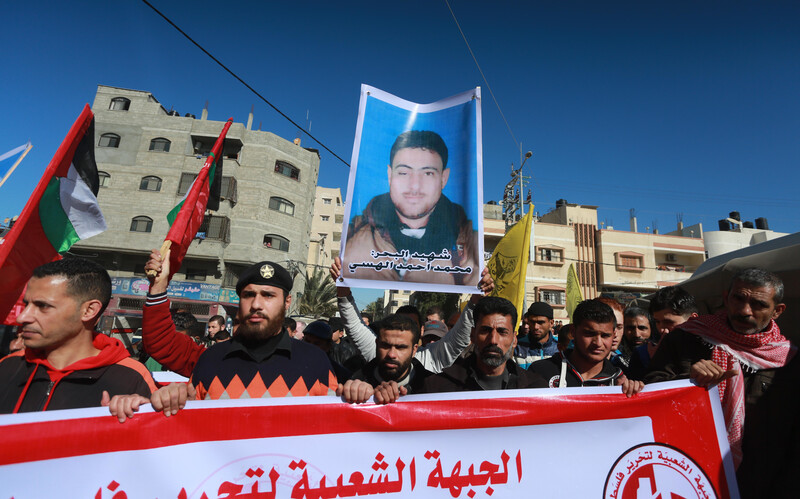 Gaza's fishermen have already endured regular Israeli attacks during the first few weeks of 2017.
On 4 January, Muhammad al-Hissi went missing after the Israeli navy sunk the vessel on which he worked. Although his body has not been recovered, members of his family have resigned themselves to the probability that al-Hissi was killed.
A memorial service was organized for al-Hissi a few days after he went missing, while his family issued a statement describing him as a "martyr for God's reward." Aged 33, he was the father of three children.
"He is an excellent swimmer – like all fishermen," said Muhammad's brother Wael. "He would have made it to the shore if he was alive."
The incident occurred off Sudaniya Beach in northern Gaza. An Israeli navy gunboat rammed directly into the fishing vessel, which belongs to Rashad al-Hissi, Muhammad's cousin, causing it to capsize. No warning was issued before the attack.
An Israeli army spokesperson told the Ma'an News Agency that "naval forces were escorting a Palestinian fishing boat which had deviated from the Israeli-designated fishing zone to a port … when 'the Israeli vessel collided with another Palestinian vessel which was not visible.'"
Safe area?
Jamal al-Hissi, also a cousin of Muhammad, was in another vessel a few hundred meters away at the time. He said that the vessel carrying Muhammad was shot at by live ammunition and flooded by water cannons.
"We were fishing around five nautical miles offshore, which is supposed to be a safe area," Jamal said. "In the blink of an eye, the vessel vanished and Muhammad disappeared."
Nizar Ayyash, head of the Gaza fishing union, accused the Israeli authorities of deception.
"The Israeli gunboat drowned the vessel," he said. "Then the Israelis lit flares, claiming to look for the missing fisherman."
A number of other attacks against fishermen have taken place since then.
On 12 January, Israeli naval ships opened fire at fishermen working off Khan Younis in southern Gaza.
Four days later, Israel shot at fishermen in the northern Gaza area. Five fishermen were taken into detention.
Anas Siyam and his father, Imad, were among those arrested. They were held until the following day.
"We were operating within the permitted fishing area," Anas said. "Yet they still arrested us and confiscated our net, power generator and the boat itself."
On 17 January, a fisherman was injured after the Israeli navy fired rubber-coated steel bullets at him. That incident, too, occurred in the northern Gaza area.
Another fisherman was shot in the head with a rubber-coated steel bullet six days later. The fisherman in question, Auranus al-Sultan, was one of those who had been detained by Israel the previous week.
Under the 1993 Oslo accords signed by Israel and the Palestine Liberation Organization, Israel is supposed to allow fishermen to work freely within 20 nautical miles of the Gaza coastline.
Israel has, however, used the tightened siege it imposed on Gaza in 2007 as a pretext to launch frequent – sometimes daily – attacks on the 4,000 fishermen living and working in the strip. Over the past decade, Israel has only allowed fishing within three to six nautical miles and has repeatedly changed the official limits.
On many occasions, Israel has attacked fishermen working inside the limits it has set.
The Palestinian Center for Human Rights recorded a total of 126 incidents in which fishing vessels were fired upon by Israel during 2016. More than 130 people were detained by Israeli forces while they were on fishing vessels last year, five of whom were children. Twelve of Gaza's fishermen were injured as a result of Israeli attacks.
Drop in earnings
Fayez al-Amoudi, a resident of Beach refugee camp in Gaza City, began his fishing career in the 1990s.
"I still remember the sudden drop in our earnings after the limit was shrunk to six nautical miles," he said. "Besides the physical harassment, we are continuously subjected to verbal and psychological harassment. The Israeli navy has flooded us with sewage water while we are on board our vessels."
Marwan al-Saidi has been working as a fisherman for more than four decades.
"The last 10 years have been the worst," he said. "I have no idea why the Israeli authorities designate fishing limits if they are intent on harassing fishermen working within the limits. They know that fishing is the only source of living for us. Our belongings are constantly confiscated and we are expected to stay silent about this treatment and take it."
Nesma Seyam is an interpreter, journalist and fixer based in Gaza. Twitter: @Nesma_Seyam
Tags