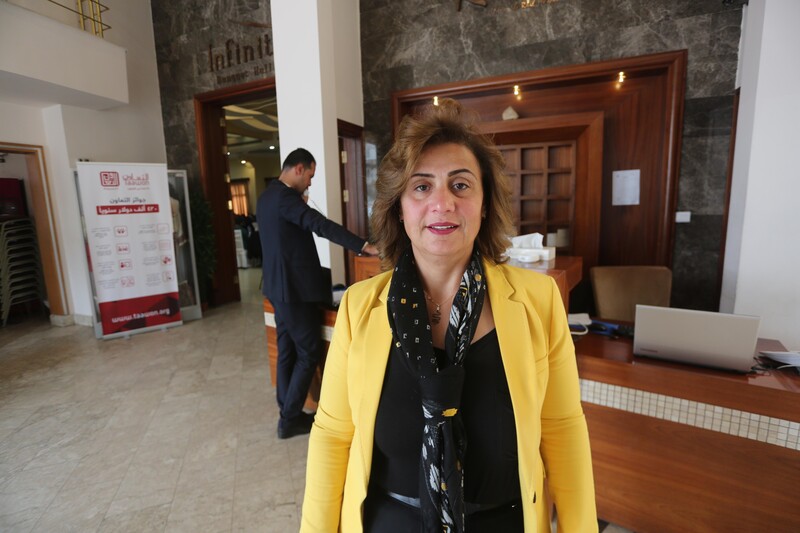 The Sea Breeze Hotel is special in more ways than one.
Its restaurant serves traditional dishes in a convivial atmosphere. It has managed to remain in operation despite Gaza's closure to the outside world. And it is among a small number of businesses in Gaza run by a woman.
Mona Adnan Ghalayini, who founded the hotel with a few business partners, has been working in the catering industry since 1995. She began as a hotel receptionist but was promoted to assistant manager six months later.
"I always wanted to be more than a regular employee," she said.
After five years as an assistant manager, she branched out on her own.
Ghalayini was born in 1969 and grew up in Gaza City's Beach refugee camp. The Sea Breeze was the first hotel that she was involved in founding.
Since then, she has taken on a number of other projects in catering and retail. She has worked in partnership with a number of men.
The projects have kept going against the odds.
Ghalayini was among the founders of the Big Bite restaurant, near Gaza's Al-Azhar University, in 2003. Four years later a bomb exploded at the entrance of that restaurant, amid fighting between rival armed groups.
By providing a local spinoff of Kentucky Fried Chicken, it has become a successful fast food café.
Ghalayini goes abroad a few times each year. Her status as a businessperson enables her to travel through Erez, the military checkpoint separating Gaza from Israel. She has tried to apply many things she has learned about the international catering trade to her own business investments.
Determined to stay
Even though life in Gaza presents many problems for a female entrepreneur, she is determined to stay.
"No matter where I go, my heart will always be in Gaza," she said. "It is my home."
Only around 1 percent of Gaza's entrepreneurs are female. Just 50 women registered with the local chamber of commerce between 2012 and last year.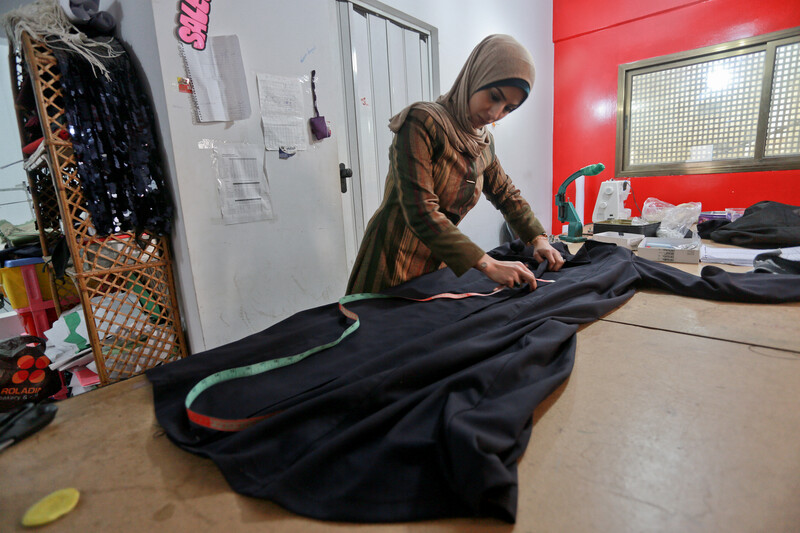 Nermin Demyati, a 30-year-old, had to overcome steep obstacles in order to open a clothes store.
Although she has been interested in fashion since her childhood, Demyati's family opposed the idea of her pursuing such a career.
Out of deference to their wishes, she did not study dress design in college, instead opting for history and archaeology. Yet as her interest in fashion deepened, her family eventually became supportive by reserving part of their house for her to set up a studio.
Today, Demyati runs a store called Voile Moda in the Tal al-Hawa neighborhood of Gaza City.
It was founded in 2013 after she borrowed enough money from friends outside Gaza to rent the premises and buy some essential equipment. "From the very beginning, this place has brought me luck," she said.
Sacrifices
Demyati's store sells clothes that she has designed and that are manufactured by her seven-strong staff. The selection is influenced by both traditional clothing and Western trends.
Her business is very much a niche one. The prices she charges are unaffordable for many. Some of the garments on sale have a price tag exceeding $300.
"Fashion design is considered a luxury by most people in Gaza," she said. "But some customers have a lot of respect for the value of fashion design. They know that it requires tremendous efforts and hard work. So they are willing to pay money for a quality design."
Hayfaa Shurrab, now aged 70, is one of the longest established businesswomen in Gaza.
She and her husband Hassan opened the Central Gaza Drug Store in 1983, and she now serves on its board of trustees. The couple had previously lived in Vienna, where Hassan studied pharmacy.
Setting up the store involved clearing societal hurdles.
Hayfaa's family was relatively well-off. Her father was opposed to her going out to work. He felt that doing so was beneath the family's status.
Her father grew to accept her work as she became a respected businessperson.
The siege imposed on Gaza for more than a decade has certainly increased the challenges she has faced. Yet the business has survived.
Most of the Shurrabs' children have studied pharmacy or business administration. Having more than one generation has helped their firm expand. As well as their drug store, they now have a medical manufacturing plant called Megapharm in the Beit Hanoun area of Gaza.
"Our work was about sacrifices," said Hayfaa. "But I always loved my work. I felt hope."
Nesma Seyam is an interpreter, journalist and fixer based in Gaza. Twitter: @Nesma_Seyam
Tags