Beach refugee camp in northern Gaza – home to many fishing families – is transformed each autumn with the arrival of crab season.
Being a fisherman in Gaza means to practice one of the world's most dangerous professions.
Israel severely restrains Palestinian fishermen's access to the sea and regularly fires on fishing crews, damaging and confiscating their boats, and often detaining the fishermen as well.
Two Palestinian fishermen have been killed by Israeli naval forces this year alone.
Because of Gaza's chronic electricity crisis, a direct result of Israel's repeated military assaults and decade-long blockade, 100,000 cubic meters of raw sewage are pumped into the Mediterranean Sea each day, polluting fishing waters.
A sharp increase in poverty since the siege was imposed means that fewer families can afford to put fish on the dinner table – half of Gaza's population of 2 million is moderately to severely food insecure.
All of this has taken a hard toll on Gaza's fishing industry, upon which more than 35,000 Palestinians still depend.
But crab season offers a respite – and rare period of profit – to Gaza's beleaguered fishing families.
All images by Mohammed Asad, a photojournalist based in the Gaza Strip.
Reportage by Tamara Aburamadan, a lawyer and a writer based in Gaza City.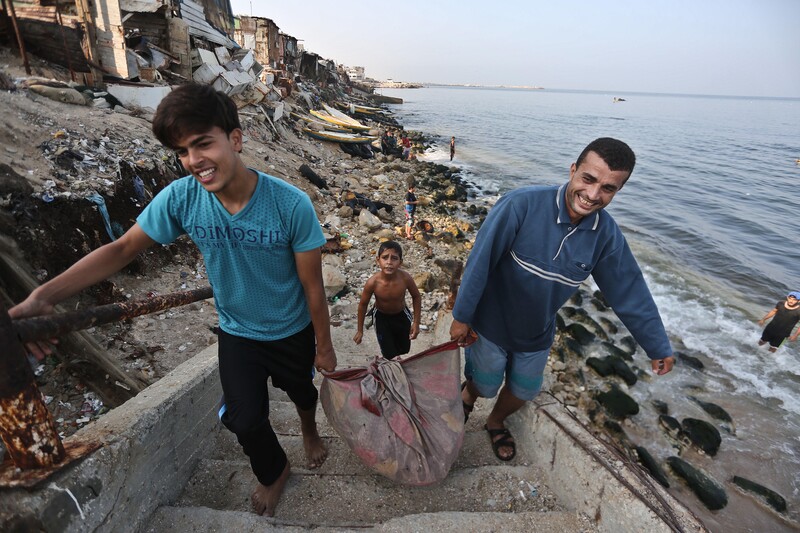 Akram Abu Foul (seen at right), 32, has worked as a fisherman for 15 years.
"I wake up at daybreak, take my paddle and head to the sea to pull in the fishing nets that I threw out the day before," Abu Foul told The Electronic Intifada.
During crab season Abu Foul needs to replace his nets every few days, as the animals' pincers tear them up when they are caught. Each net costs around $70.
"All fishing materials in Gaza are scarce because of the siege," Abu Foul said.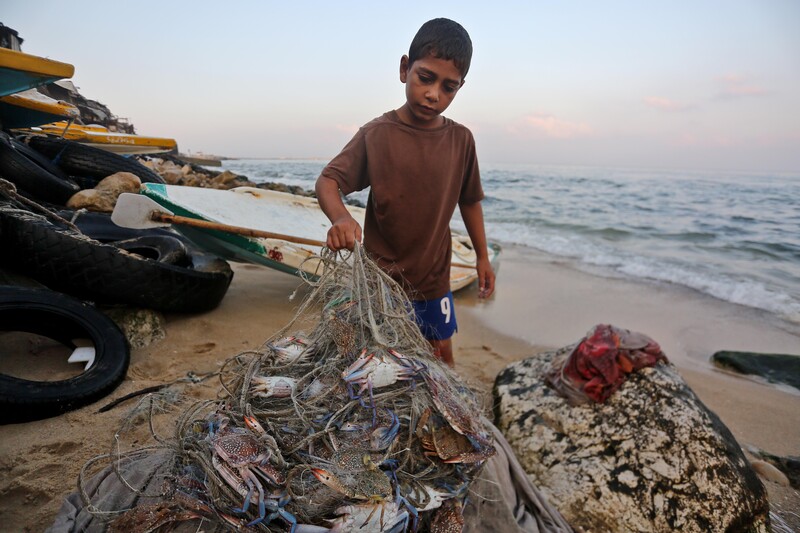 Abu Foul's 10-year-old son Muhammad helps his father with the catch.
Muhammad has been learning the fishing trade from his father since he was 7. The profession is traditionally passed down from one generation to the next.
"My father can depend on me to sail alone with the paddleboat," Muhammad said. "When I am off from school I rush to the sea and help him."
Some other children of fishermen, however, are not being encouraged to pursue the trade. Their families want them to continue their education to secure a white-collar job with a stable income.
But that's not the future Muhammad envisions for himself.
"I want to become a fisherman like my dad; my favorite thing to do is to catch fish and crabs with him," he said.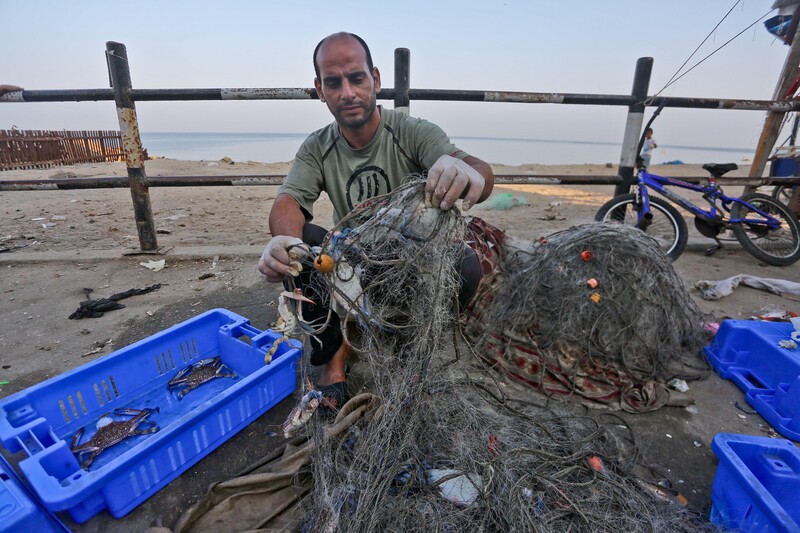 Mohammed Zidan, 36, has been fishing for 20 years.
"The amount of crab caught each time is not consistent; it depends on the luck of our catch," Zidan said. "Crab season is definitely our salvation. The rest of the year is so harsh; days and months might pass without catching or selling anything."
Sewage pollution initially deterred buyers this season.
"People were afraid at the beginning to buy crabs, thinking they are full of sewage, but it looks like they couldn't stand to go the whole season without tasting the gold of the sea," Zidan said.
Abdel Fattah Abd Rabou, a teacher of environmental sciences at the Islamic University in Gaza, said that it is safe to eat Gaza crab provided it is caught 200 to 300 meters from the shore. Raw sewage affects areas some 100 to 150 meters from the shore, which fishermen avoid.
"Many people were reluctant to buy fish this year, but as I've stated many times on public TV, it depends on the fishing area and it is mostly not dangerous to eat the fish as long as it is caught away from the sewage pumping area."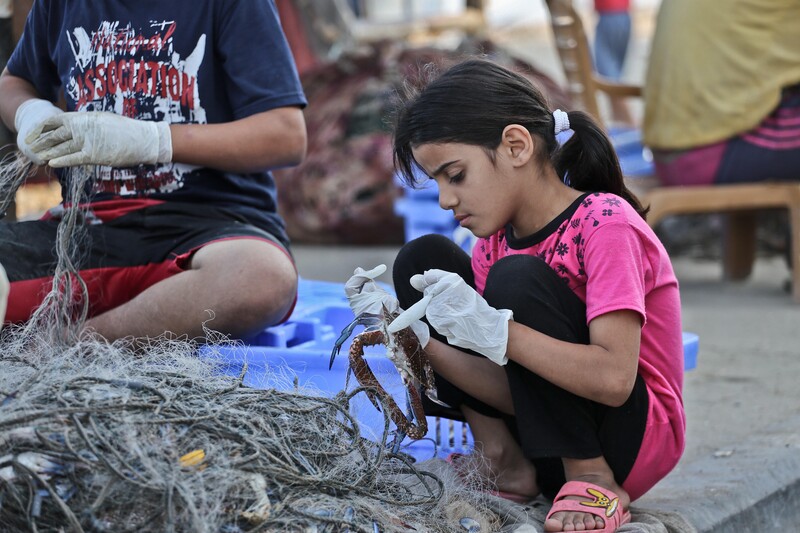 The crab harvest is a family affair.
Mohammed's 9-year-old daughter, Safaa, helps by untangling crabs from the fishing net.
"I enjoy helping my father during crab season; it is a festive time for our family," Safaa said.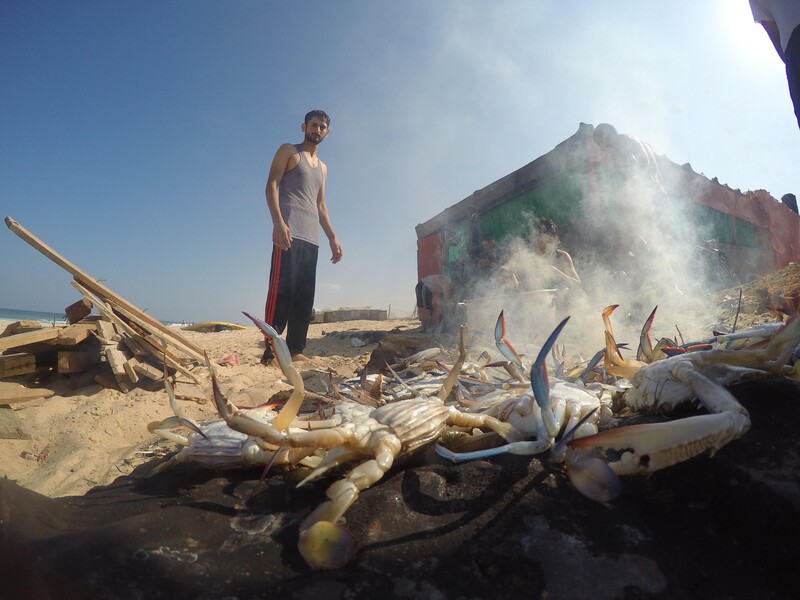 Fishermen grill crabs at a Gaza beach.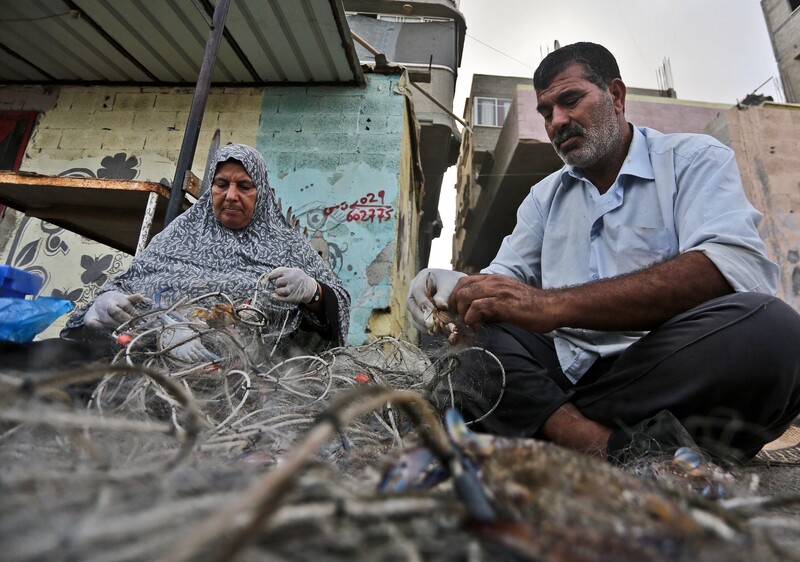 Mousa Abu Riyala, better known as Abu Hatem, has worked as a fisherman since 1973. The 54-year-old was arrested by Israel in 1987 and imprisoned until 1995.
Mousa and his 49-year-old wife Hanaa, nicknamed Um Hatem, sell crabs in front of their home in Beach refugee camp.
The couple is one of the camp's more successful sellers, and they are well known in their community.
"People in the camp call us 'the love birds' – we never leave each other's side. In the morning we're catching crabs from the sea, and in the afternoon we sit on the beach and have our cup of tea together," Um Hatem said.
None of the couple's five children will continue the family business. The Abu Riyalas worked hard to provide their children a high level of education and boosted socioeconomic status.
Outside of crab season, the couple can go days without catching anything, Abu Hatem said.
But during crab season, he explained, "in the worst case we make $6 a day, and in the best case, $85 a day."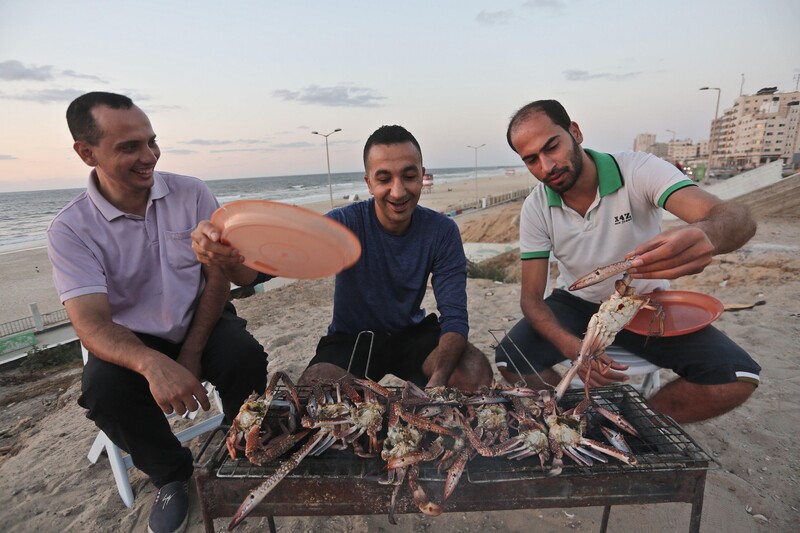 Izzedine Abu Hasira (center), 33, grills crabs on the beach in the company of his friends.
A seven-kilogram box of crabs costs around $15. It's a good deal for the average family in Gaza, and makes a sweet profit for fishermen, as the demand for crabs is higher than any other kind of catch.
"Imagine having a barbecue of crabs right on the coast with your friends; it's like a holiday by which we celebrate crab season," Abu Hasira said.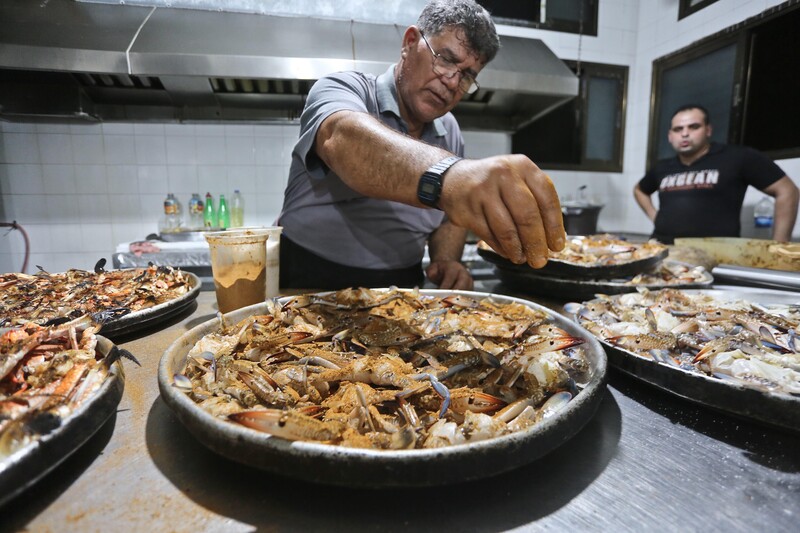 Nabil al-Ruwadi, 57, a chef at a Gaza City restaurant, dresses crabs with spices before cooking them in an oven.
Crabs are a traditional staple of Gaza cuisine. On Fridays, families gather for meals of fish, with a big dish of grilled crabs in the center of the table.
"This year's demand for crabs is higher than any other," al-Ruwadi said.
"Gazans have crabs as appetizers, not as the entrée. I believe this is why it's a successful and profitable business for fishermen: It's cheap and people buy them in big quantities all season long," he added.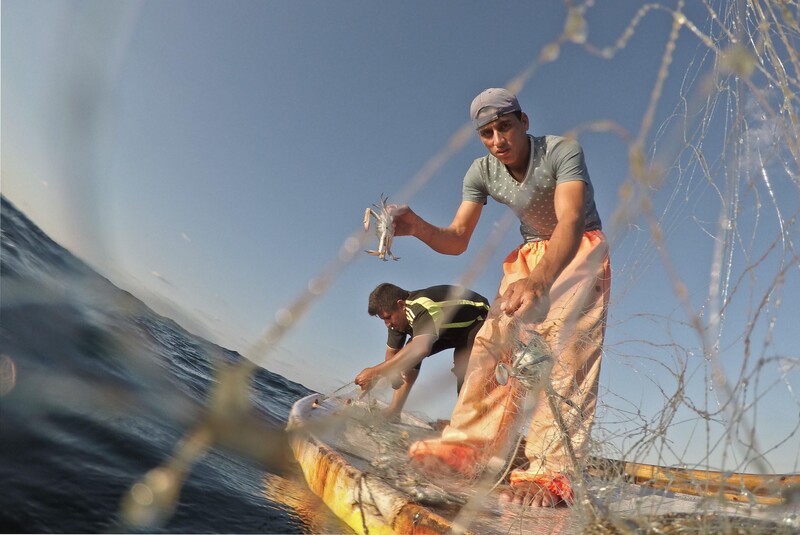 Ammar al-Sultan, 24, catches crabs with his brother, Abd al-Hafiz, 38.
Ammar has been arrested by the Israeli navy three times in the decade he has worked as a fisherman.
"I have worked at sea for 11 years now, and during that time I have witnessed Israeli naval forces arresting us, confiscating our fishing equipment and threatening to destroy our way of life," he said.
Ammar said that he was within the Israeli-designated six-nautical-mile fishing zone off Gaza's coast each time he was arrested.
The first time Ammar was arrested came in 2010, when he was a 17-year-old child, and the second in 2013. He was near Gaza's maritime boundary with Israel in both instances.
"They detained me for one day and confiscated my boat and fishing nets," he said.
Ammar's third arrest was a year ago when he was fishing with Abd al-Hafiz.
"Suddenly naval gunships surrounded our boat and started shooting rubber bullets toward us. I was shot in my leg," Ammar said. "Over their speakers they commanded us in broken Arabic to take off our clothes and jump in the water, and so we did."
The brothers were detained and interrogated separately.
"[The interrogation] was full of threats and offensive curses," Ammar recalled. "I was so afraid; it was the first time they arrested my brother, and I had a dark feeling that they would take him away."
He added: "After I was done being interrogated, they asked me to look at my brother and to say goodbye to him. His eyes were full of tears. At that moment I knew my brother was not coming back home with me."
Abd al-Hafiz was held without charge or trial for 30 days. He was detained in Ashkelon prison, located inside Israel.
The transfer of Palestinians arrested in the occupied West Bank and Gaza Strip to detention centers in Israel is "a flagrant violation of the Fourth Geneva Convention," according to Amnesty International.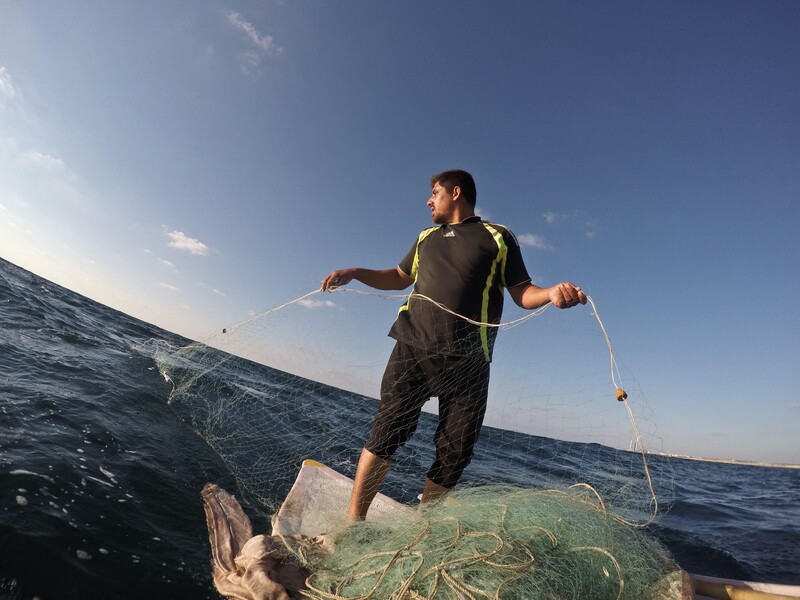 Despite his ordeal, Abd al-Hafiz al-Sultan insists on pursuing fishing as his livelihood.
"Regardless of all the restrictions, we will never give up, and we will keep sailing in our sea because this is our legitimate right as fishermen," he said.
Tags