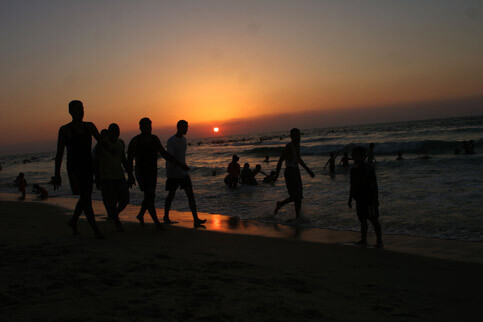 GAZA
CITY
- As some Palestinian fishermen were heading towards the sea for their daily fishing trips, 25-year-old Shadi Bakr waited anxiously at the pier for a boat owner to hire him for the day. Bakr's own boat was destroyed by the Israeli navy five weeks ago.
"I used to have my own motorboat. Now, I work as a day fisherman after Israeli gunboats destroyed it recently," Bakr said.
"My boat was worth US $8,000, and I used to make $300 a week, but now I only make $3 or $4 a day, which is not enough even to buy bread and salt for my family," he added.
Bakr's boat was a victim of Israeli restrictions on Palestinians fishing off the Gaza Strip coastline. These limit the fishing area allowed to the estimated 3,000 Palestinian fishermen to three miles from the shoreline. It used to be 20 miles.
The restrictions were put in place after an incident in November 2002 when two Palestinian militants blew up their explosives-laden fishing boat in a failed attack on an Israeli patrol boat, killing themselves and injuring four Israeli sailors in the process.
Israel imposed an immediate and complete ban on Palestinian fishing boats plying waters off the Gaza Strip coastline. It subsequently reduced the ban to a limit on how far out to sea Palestinian fishermen could sail.
Then, in March 2005, the Israeli navy thwarted two suicide bomb attacks against Israeli vessels sailing in the Gaza Sea. One Palestinian was killed during these failed operations.
"The Israeli navy shoots at any boat trying to exceed the three-mile fishing zone, which is stumpy and full of rocks in which fish take shelter," said Nizar Ayash, head of the Palestinian Fishery Union.
Adverse effects
The Israeli restrictions on Palestinian fishermen have adversely affected their livelihoods, according to industry sources.
"The restriction policy significantly scaled down the amount, size, and variety of fish that fishermen can catch," said Tareq Saqer, Director General of Fish Resources in the Palestinian Ministry of Agriculture. "The fishing sector [in oPt] has witnessed stern instability during the past three years. This is mainly because of Israeli restrictions imposed on fishermen."
Saqer said that the "unfair restrictions" placed on Palestinian fishermen cost the fishing sector millions of dollars in fishing equipment destroyed by Israeli naval forces in addition to millions more in lost income from fish sales.
Every Palestinian fisherman has his own story to tell about the consequences of the restrictions.
Fisherman Fayez Abu Fool, a 36-year-old father of 11, used to earn the equivalent of US $1,200 a month when he worked as a builder in Israel before the latest intifada [a Palestinian uprising from 2000 to 2005 against Israeli occupation].
After losing this job as a result of Israeli security concerns, he turned to fishing - a job he used to do when he was a young man.
"After I became jobless, I got depressed and went to sea because fishing is what I am good at," said Abu Fool.
He and his large family live in a rundown three-room house. For sustenance, they largely depend on food coupons provided by UNRWA, the UN agency for Palestine refugees.
"The situation is getting worse as we have not received the UNRWA aid for the past three months … because of the long-term closure of Gaza commercial crossings," Abu Fool added.
A Western-imposed economic embargo on the Hamas-led Palestinian government for the past six months has greatly delayed supplies reaching the Gaza Strip because all entry points, which are controlled by Israeli authorities, have been tightened or closed.
Hamas is considered a terrorist organisation by Israel and the West because it has refused to renounce violence and accept Israel's right to exist.
Israel has intensified its grip on Gaza since 25 June when one of its soldiers was captured by Palestinian militants. Critical entry points, such as the commercial Karni crossing and the Rafah border crossing with Egypt, have remained largely closed for what Israel says are security reasons.
Israeli authorities told IRIN they were in discussions to increase the distance out to sea that Gaza fishermen are allowed to fish.
Shlomo Dror, spokesman for Israel's Government Coordination Office, which monitors the humanitarian situation in the occupied territories, said that his office was trying to persuade the Israeli military to allow Palestinian fishermen to travel 15 miles out to sea to fish.
"We know that the fishing season is starting now and that the fish are bigger and there are more of them as you get further out to sea," Dror said.
"Our concern in restricting fishing is because we don't want Gilad Shalit [an Isreali soldier captured by militants in June] smuggled into Egypt by boat - and also for other security reasons, including smuggling weapons and ammunition into Gaza."
Alaa Kahlout, 32, a fisherman and the only supporter of 52 members of his extended family, is struggling to provide his dependents with the basic requirements they need. In light of Israel's restrictive policy, this has become very hard to do.
"We used to sail out tens of miles and could catch tons of fish" Kahlout said. "The situation was much better."
Kahlout bought a new boat but he needs fishing equipment and access to the deep sea to catch as much fish as he can to meet the payments on the new boat.
"Fishing is inherited in Gaza. I grew up knowing nothing else. I can be nothing but a fisherman," Kahlout said.
This item comes to you via IRIN, a UN humanitarian news and information service, but may not necessarily reflect the views of the United Nations or its agencies. All IRIN material may be reposted or reprinted free-of-charge; refer to the copyright page for conditions of use. IRIN is a project of the UN Office for the Coordination of Humanitarian Affairs.