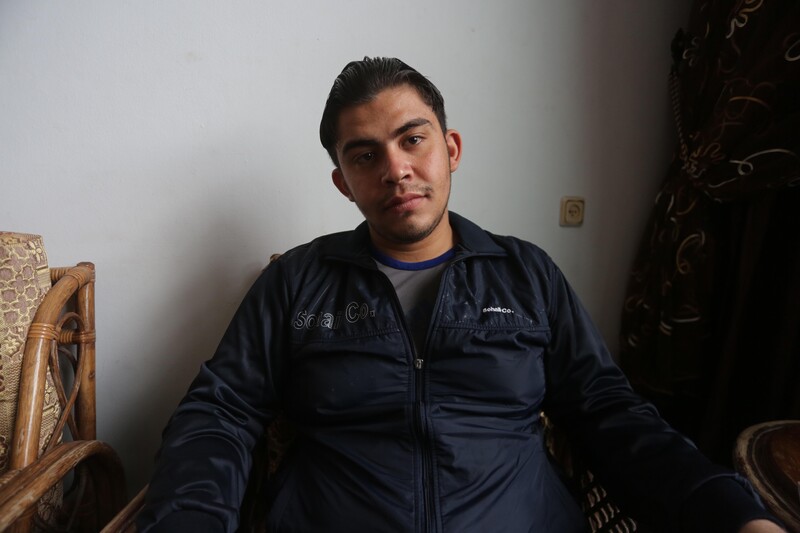 News that Augusta Victoria Hospital would no longer receive new patients has been extremely worrying for Khalil Abdullah.
The 21-year-old cancer patient from Jabaliya in the occupied Gaza Strip is the sole breadwinner for a family of six. A painter and decorator, Abdullah had to stop working when he was diagnosed with testicular cancer and underwent surgery.
"My father left us when I was very young," Abdullah told The Electronic Intifada. "Now my sisters and mother depend on me. I need to find treatment."
The only hospital in the West Bank and Gaza Strip that can provide the kind of care Abdullah needs is Augusta Victoria, in East Jerusalem, part of the occupied West Bank. But in late October, the hospital stopped receiving patients from the West Bank beyond East Jerusalem, as well as from Gaza, informing those with previous referrals not to try to make their way to Jerusalem.
Hospital administrators told the Palestinian Center for Human Rights that the decision had been made after the Palestinian Authority health ministry in the West Bank failed to pay monies owed to the private hospital.
According to the hospital's general manager, Walid Nammour, the PA owes the hospital approximately $35 million in outstanding debt.
A rumbling row
The debt has accumulated over four years and the PA is struggling to keep up. But while acknowledging the debt, the PA's response to the hospital decision to stop receiving patients has been terse.
In a statement carried by the Palestine News Network in October, the PA's finance ministry, which allocates funds to individual ministries including the health ministry, said it was engaged in a "unique effort" to support Augusta Victoria.
It announced the transfer of nearly $15 million directly to Augusta Victoria in October in addition to the approximately $2.2 million the health ministry pays monthly.
The finance ministry called on Augusta Victoria's administration to look at its own practices and scrutinize its operational costs, before decrying how the row has played out in the press and on social media, suggesting hospital administrators had chosen to battle it out in public.
Such mutual recriminations do little for patients like Abdullah, who has had to stop taking painkillers due to a congenital heart defect and now suffers painful sleepless nights.
The Palestinian Center for Human Rights has called on both the Palestinian Authority and Augusta Victoria to resolve the problem as quickly as possible.
Mohammed Bseiso, a lawyer with the rights group, told The Electronic Intifada that of the hundreds of patients referred to Augusta Victoria every month from Gaza, no more than "about 50-70 percent" are granted permits.
Indeed, in July 2017, the World Health Organization found there to be 547 referrals from Gaza to Augusta Victoria. The Israeli military – which controls Palestinian movement between the West Bank and Gaza Strip – granted permits to just 57 percent of those referrals to allow them across the Erez checkpoint to travel on for treatment.
The process by which a patient seeks both referral and an Israeli permit to leave Gaza is notoriously long and slow.
First, a doctor has to conclude that the patient cannot receive proper care in Gaza – not an unlikely scenario, as 10 years of an Israeli-imposed blockade, compounded by punitive Palestinian Authority sanctions on the Hamas-administered territory in place since last spring, have conspired to leave the impoverished coastal strip without 223 essential medicines, according to the World Health Organization.
Endless process
The patient's case is then passed on for approval to the Referral Abroad Department of Gaza's Ministry of Health – a bitter political impasse has resulted in separate Palestinian governments administering the internal affairs of the West Bank and Gaza Strip.
Referral department officials determine where the patient would be best served. Should the person need to travel through the Erez checkpoint for treatment in a West Bank or Israeli facility, an urgent request is submitted to the Palestinian Authority District Coordination Office, which in turn applies for a travel permit from its Israeli counterpart, the so-called Coordination of Government Activities in the Territories, or COGAT.
Patients in Gaza died last year after the Palestinian Authority health ministry in the West Bank delayed requests for transfer to Israeli or West Bank medical centers.
The West Bank health ministry must approve such requests before Israel does because it pays the medical bills of any referral cases it approves.
The process is a lengthy one, increasingly likely to end in disappointment. According to the World Health Organization, 2017 was on track through October to see the worst approval rate for patient applicants to leave Gaza since the organization began tracking such data in 2006.
Moreover, in October, Israel's COGAT published new guidelines for how long it should take to process a permit request, stating that "non-urgent" medical cases should expect to wait 23 working days before receiving an answer.
Abdullah has been through the whole process. He first applied for a travel permit in July 2017. But by the time of his scheduled hospital appointment, on 19 November, the only response he had received, as relayed by the Palestinian District Coordination Office, was: "Pending Security Check."
"I'm not a part of any armed group," Abdullah told The Electronic Intifada. "I'm only a cancer patient. What threat do I pose?"
The Palestinian Center for Human Rights, which provides legal aid and communicates with the Israeli side, is "fighting in two directions," Bseiso told The Electronic Intifada.
It is trying to help Palestinian patients untangle the complex Israeli procedures to reach hospitals outside of Gaza, while also battling Palestinian Authority procrastination in supporting hospitals to provide medical services.
So when Augusta Victoria called patients to ask them not to come to their appointments, the rights group went into overdrive.
"For sure, this has created a crisis for our work. We had to reschedule appointments and to restart the permit application process," said Bseiso.
All the time, however, Abdullah is worsening. A malignant tumor was also discovered in his lymph nodes, and he is in urgent need of treatment.
"This malignant cancer is swimming in my body. I'm dying slowly," he said. "All the while just waiting for an Israeli permit."
A race against time
At her house in Gaza's Beach refugee camp, Narjiss al-Hasani, 47, who has breast cancer, is also running out of time.
"Five months have passed and only one is left to get treatment," the mother of two told The Electronic Intifada.
Al-Hasani, a social studies teacher at a school administered by the United Nations in Beach camp, was diagnosed with cancer in January 2016, and had a mastectomy as well as eight chemotherapy sessions at a hospital in Gaza.
Now she needs radiotherapy, which means treatment at Augusta Victoria.
Khalid Thabet, head of the oncology department at al-Rantisi hospital in Gaza where al-Hasani had chemotherapy, told The Electronic Intifada that cancer patients have "a six-month window" to benefit from radiotherapy.
Since ending her chemotherapy, al-Hasani has applied three times for a travel permit. Each time the answer came back: "Pending Security Check."
"Receiving three deferments, and reading about Augusta Victoria, I feel devastated," al-Hasani said. "And the whole painful process of treatment I have already gone through might be in vain without radiotherapy."
Tamara Aburamadan is a human rights activist and writer based in Gaza.
Tags