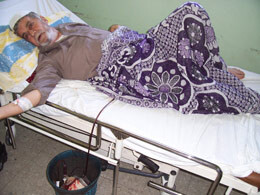 GAZA

CITY

, occupied Gaza Strip (

IRIN

) - Arafat Hamdona, 20, has been confined to the cancer unit of al-Shifa, Gaza's primary hospital, since he was diagnosed with maxillary skin tumors in June 2008. Red lesions protrude from his face, his features are distorted and his eyes swollen shut.

In April, Arafat was permitted to travel to Augusta Victoria Hospital in East Jerusalem where he received three series of chemotherapy and radiotherapy treatment. He was scheduled to return for further treatment, but has not been granted permission by the Israeli authorities to leave Gaza.

"He is only given pain killers," said Arafat's father, Faraj Hamdona, explaining that it is all al-Shifa has to offer.

According to a July 2009 report published by the World Health Organization (WHO) in Jerusalem, Gaza doctors and nurses do not have the medical equipment to respond to the health needs of the 1.5 million people living in the Gaza Strip.

Medical equipment is often broken, lacking spare parts, or outdated.

WHO attributes the dismal state of Gaza's healthcare system to the Israeli blockade of the territory, tightened in June 2007 after Hamas seized control. The poor organization of maintenance services in Gaza compounds the problem, reports WHO.

Medical equipment sits idle

Some 500 tons of donations of medical equipment which flooded the Strip after Israel's military offensive ended on 18 January sits idle in warehouses. Few donors consulted the health ministry or aid agencies working in Gaza to find out what provisions were needed. According to the health ministry, 20 percent of the donated medications had expired. WHO said much of the equipment sent was old and unusable due to a lack of spare parts.

WHO also said suppliers were unable to access medical equipment for repairs and maintenance and "since 2000, maintenance staff and clinical workers have not been able to leave the Strip for training in the use of medical devices."

The Israeli Defense Ministry says it is not obliged to allow into Gaza anything other than basic humanitarian supplies necessary for survival, and is concerned certain medical technology could be used for other more sinister means. Gaza's only other connection to the outside world is its border crossing with Egypt, which is closed most of the time.

The lack of proper medical care in Gaza can have dire consequences.

"The largest number of deaths due to the siege is among cancer patients," Gaza deputy health minister Hassan Halifa said. "Radiotherapy for cancer patients is not available due to the lack of equipment, and chemotherapy is generally not available due to the lack of drugs."

Lack of drugs, medical supplies

In July, 77 out of 480 essential drugs and 140 out of 700 essential medical supplies in Gaza's health ministry were out of stock, according to WHO.

Ismail Ahmed, a 66-year-old from Shejayiya, also lies in the cancer unit of al-Shifa, with a catheter for urination flowing into a wastebasket.

"We lack necessary equipment for the patients," Abdullah Farajullah, a nurse at the unit, said.

Suffering from bladder cancer, Ismail requires blood transfusions.

"There are not enough IV [intravenous] bags. The nurses put blood into plastic water bottles to transfer into my IV bag," Ismail said.

Due to a lack of equipment, he has been on a waiting list for over a month to have a CT (computed tomography) scan, and requires an MRI (magnetic resonance imaging) — although Gaza lacks a single working MRI scanner, according to WHO.

Al-Shifa lacks equipment for basic blood tests. Patients rely on family members to take their blood to certain clinics for testing.

Limited electricity

Another problem for medics in Gaza is the irregular electricity supply, which affects sensitive medical equipment such as incubators and kidney dialysis machines.

Hospitals in Gaza use uninterruptible power supply (UPS) systems as backups, but they require batteries which are often not available due to border closures with Israel and Egypt, according to WHO.

The International Committee of the Red Cross (ICRC) is funding and supplying 30 percent of medications and medical supplies in Gaza, said communications officer Mustafa Abu-Hassanain in Gaza.

"Most of the other 70 percent comes from the health ministry in Ramallah, paid for by the Palestinian Authority budget," said Tony Laurance, head of WHO's West Bank and Gaza Office in Jerusalem.

There is a dialogue between the health ministry in Gaza and the ministry in Ramallah (under Fatah's control). Deliveries must be approved by the Coordinator of Government Activities in the Territories (COGAT), a unit of the Israeli Ministry of Defense, before being allowed into Gaza, explained Laurance.

This supply chain is unpredictable and exacerbated by the conflict between Fatah and Hamas.

This item comes to you via IRIN, a UN humanitarian news and information service, but may not necessarily reflect the views of the United Nations or its agencies. All IRIN material may be reposted or reprinted free-of-charge; refer to the copyright page for conditions of use. IRIN is a project of the UN Office for the Coordination of Humanitarian Affairs.