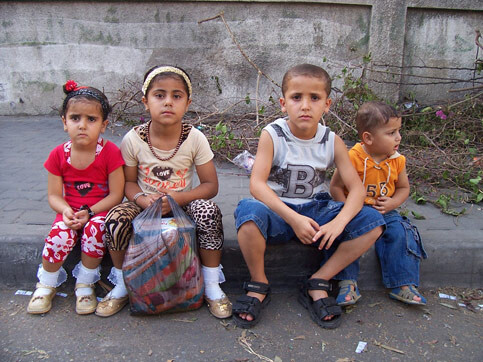 GAZA

CITY

, occupied Gaza Strip (

IRIN

) - Inadequate infrastructure, lack of equipment and a shortage of hospital staff are contributing to the deterioration of hospital care for mothers and newborns in Gaza, according to a July 2009 assessment by the World Health Organization (

WHO

) in Jerusalem.

WHO attributes the dismal state of Gaza's healthcare system to the Israeli blockade since June 2007, when Hamas took over control of the territory.

"The Israeli blockade affects the supply of medical equipment and conditions in the maternity wards, and perpetuates the isolation of healthcare professionals, making it difficult to maintain international standards of practice," said Tony Laurence, head of the WHO West Bank and Gaza Office in Jerusalem.

The maintenance and updating of equipment is not adequate, and the supply of drugs and laboratory materials is not constant, according to WHO.

"Ten types of essential medications for maternal care, like Prostin gel that induces labor, are out of stock," said Munir al-Bursh, head of Gaza's Department of Pharmaceuticals, adding that they were unable to import spare parts for ultra-sound equipment and Computed Tomography (CT) scanners.

Safa Ahmed, 21, gave birth to her baby girl Rataj this week at al-Shifa, Gaza's primary hospital, but was discharged just two hours after the delivery.

Mothers stay an average of two hours in Gaza hospitals after delivery due to a lack of beds, said the WHO report, which advocated that they stay in hospital for at least six hours after delivery for post-partum examinations.

Al-Shifa's overcrowded maternity unit deals with an average of 1,200 births a month.

"There were seven-eight women per room," said Safa. "My husband had to look in pharmacies outside the hospital for Prostin gel and blood thinners while I was delivering." Patients say those drugs are not readily available. If the drugs are provided by the hospital they are covered by the patient's insurance, but if bought at a pharmacy outside, the patient pays out of her own pocket.

The International Committee of the Red Cross (ICRC) provides some medications and medical supplies, but they are not always able to bring things in, said ICRC's communications officer in Gaza Mustafa Abu-Hassanain.

Few trained midwives

There is a lack of professional staff in maternity and neonatal wards, particularly trained midwives, said Lubna al-Sharif, a WHO officer in Gaza. "Knowledge is outdated regarding international standards of proper mother and child healthcare, due to the isolation created by prolonged border closures," said al-Sharif.

"There is a lack of working fetal monitors and incubator parts, like ultra-violet lamps," said al-Sharif, "and there are problems with infection control resulting from a lack of sinks, soaps and hand towels."

The blockade prohibits imports of construction materials like cement — without which it is difficult to rehabilitate and maintain hospitals, according to WHO.

Shlomo Dror, a spokesperson for Israel's Ministry of Defense, said: "Medical supplies have priority [as imports into Gaza], and secondly is food from international organizations. There is a government decision not to allow a humanitarian crisis to occur in Gaza."

The Israeli Defense Ministry says it is not obliged to allow into Gaza anything other than basic humanitarian supplies necessary for survival, and is concerned certain medical technologies could be used for other more sinister means.

This item comes to you via IRIN, a UN humanitarian news and information service, but may not necessarily reflect the views of the United Nations or its agencies. All IRIN material may be reposted or reprinted free-of-charge; refer to the copyright page for conditions of use. IRIN is a project of the UN Office for the Coordination of Humanitarian Affairs.