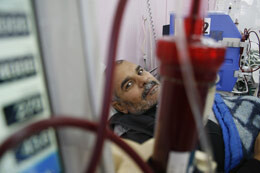 GAZA

CITY

, occupied Gaza Strip (

IRIN

) - Gaza's main hospital, al-Shifa, is struggling to cope with the influx of people injured in the Israeli air strikes which started on 27 December, according to medical sources.

Staff and patients are also fearful Israel might target it, as the leaders of Hamas, the Islamist movement that controls the enclave, have held press conferences there.

The hospital has already moved some medical facilities below ground.

The head of the international cooperation department of Gaza's health ministry, Medhat Abbas, told IRIN: "Al-Shifa has never received hundreds of patients all at once. Hospital staff are using sheets to staunch bleeding, and many patients have died because of the lack of supplies and equipment."

A statement issued by the Israeli branch of Physicians For Human Rights, a non-governmental organization, on 30 December said: "The Israeli attack finds the current health system in the Gaza Strip in a state of total collapse due to the harsh siege imposed on the Gaza Strip for a year and a half, and the closure preceding it."

Abbas reported a shortage of staff, including nurses and surgeons, at al-Shifa, which is in desperate need of antibiotics, tubes, urine bags, dressings and gloves for emergency operations. The hospital was already facing shortages of medicines and medical supplies due to the Israeli blockade.

Generators at al-Shifa, designed to operate two or three hours daily, are operating 12-16 hours a day due to the rolling blackouts, said Abbas. He feared they could overheat and malfunction.

Medical aid via Egypt

Egypt briefly opened the Rafah border between Gaza and Egypt on Sunday (28 December) to allow nine trucks of medical aid from the Egyptian Red Crescent and Health Ministry to enter Gaza. It also opened the border on 29 December to allow in truckloads of Qatari aid. Such aid, though helpful, cannot fill the gap, according to medical sources.

"The Rafah border must be opened," said Abbas. "Israel is trying to destroy us."

"Our capabilities are limited. Since August we have not received basic medications. The ICRC [International Committee of the Red Cross] … has been unable to deliver a shipment [of medicines] for one month," said health ministry spokesperson Hamam Nasman. "One hundred and five drugs and 230 basic supplies, such as alcohol, cotton and needles … are out of stock."

Bodies piling up

Over 1,330 people had been injured, and 180 were in a critical condition, according to the health ministry.

Although the hospital's morgue was said by hospital officials to be adequate, bodies were piling up outside the hospital as additional make-shift intensive care units were created to treat the flow of emergency cases, said an IRIN journalist at the scene.

There are usually six functional operating rooms at al-Shifa hospital. "Six additional operating rooms were opened and we began sending victims to other lesser endowed hospitals for treatment after all the beds were full," hospital director Hussein Ashur told IRIN. He said there was a shortage of blood for transfusions.

Fatimah Salem, 53, lies in a coma in al-Shifa hospital, torn apart by debris while at work for a local charity near the targeted prison in Gaza City. "My mother was not firing rockets at Israel," said her son, Majed.

This item comes to you via IRIN, a UN humanitarian news and information service, but may not necessarily reflect the views of the United Nations or its agencies. All IRIN material may be reposted or reprinted free-of-charge; refer to the copyright page for conditions of use. IRIN is a project of the UN Office for the Coordination of Humanitarian Affairs.