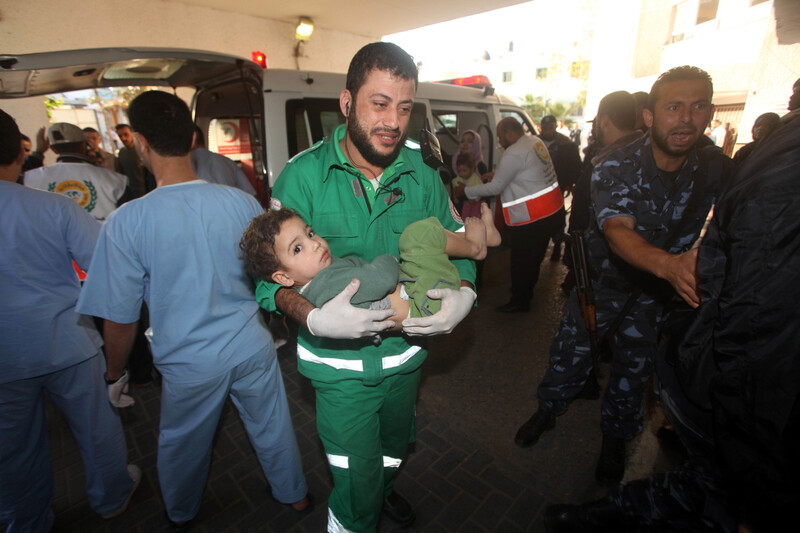 GAZA (IRIN) - The nurses at al-Shifa hospital in the Gaza Strip have seen bombing casualties before, but never on this scale.
"I was here when the [23-day] 2008-09 war took place, and I think this one is more difficult in [terms of] injuries and the type of demanding work we do," said Talaat al-Ejla, a 30-year-old nurse.
Nurses work 12-hour shifts, but it is the night-time shifts that have been the hardest these last few days.
"It's very hard now, with many injured people coming every hour. Women and children outnumbered men, especially with the new wave [of attacks] targeting houses and civilian buildings," said Ibrahim Jirjawi, a nurse on the orthopedic ward, who has worked here for seven years.
"It's more dangerous now than before, and we expect that things will be worse if ground operations start," he said.
So far more than 139 Palestinians have been killed in the Israeli bombardment, according to the Ma'an News Agency ("Israeli strikes on Gaza kill 2 children, 12 others").
"The health ministry [in Gaza] was facing severe shortages of medicines before this recent crisis," said Mahmud Daher, the current head of the World Health Organization's (WHO) office in Gaza.
He said the number of injured persons arriving at Gaza hospitals had "dramatically increased in the last 24 hours," with more than 700 visiting hospital, 252 of them children.
Many of the drugs that have run out are life-saving, according to the WHO ("World Health Organization concerned over the emergency situation in Gaza," 17 November).
Catastrophic
Meanwhile, an Israeli military spokesperson said on Twitter on 19 November: "We continue to transfer goods & gas to #Gaza," adding that the previous day 16 trucks carrying medical supplies entered Gaza, while 26 patients in Gaza were evacuated to Israel.
But the head of al-Shifa hospital, Medhat Abbas, said it was still lacking about 40 percent of the drugs needed.
"The shortage, of course, affects the quality of our work. However, our staff are working to the maximum to fulfill needs in this catastrophic situation," he said.
Outside the hospital, ambulances line up to ferry patients over the Rafah border crossing to Egypt.
The crossing has been open throughout the bombardment, and government officials in Gaza say the Egyptian authorities have said the border will remain open.
Aid in Egypt
The Egyptian interior ministry has deployed ten ambulances at the crossing to receive Palestinian victims of the Israeli air raids. When casualties arrive, they are taken by ambulance to a hospital in al-Arish, the largest town in northern Sinai, close to the Israeli border.
"Palestinian victims have been arriving here since Friday," said Tarek Khatir, a senior Egyptian health ministry official in northern Sinai.
"When they come to us, we take them to al-Arish Hospital for first aid, then we decide whether they need more treatment at other hospitals, either in Cairo or in other governorates."
He said two doctors specializing in such emergencies had been sent to hospitals in the Egyptian border region.
Medical aid and food has also been sent into Gaza from the Egyptian side. The Egyptian Red Crescent sent in medical materials and medicines on 17 November.
The Arab Medical Union also sent in medical supplies. Several union members had visited the Gaza Strip in recent days to get first-hand experience of the needs there.
"The teams include orthopedic surgeons and neurologists," said Ahmed Abdel Razik, medical coordinator with the Arab Medical Union.
This item comes to you via IRIN, a UN humanitarian news and information service, but may not necessarily reflect the views of the United Nations or its agencies. All IRIN material may be reposted or reprinted free-of-charge; refer to the copyright page for conditions of use. IRIN is a project of the UN Office for the Coordination of Humanitarian Affairs.
Tags