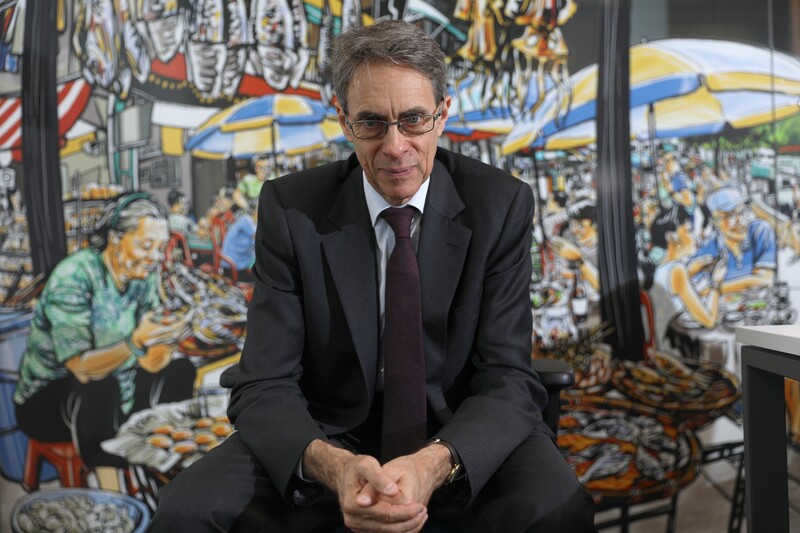 On Thursday, news broke that Harvard University's Kennedy School of Government reinstated its offer of a fellowship to Kenneth Roth, the former director of Human Rights Watch.
The school's dean, Douglas Elmendorf, blocked the fellowship last month due to pressure – Roth charges – from pro-Israel donors unhappy about Human Rights Watch's criticisms of the apartheid state.
That set off a firestorm against Harvard over Israel lobby interference and censorship.
Before Harvard backed down, I recorded an interview with Margaret Kimberley for Black Agenda Radio.
You can listen to it in this SoundCloud player:
Kimberley and I talked about how much of the furore around the case has portrayed Roth as the victim of unjustified censorship by pro-Israel interests – which he clearly was.
Harvard's initial cave-in to pressure was cowardly and reprehensible. But as I told Kimberley, this is nothing new.
In an interview with NPR earlier this week – also before Harvard backtracked – Roth said that the matter was "about far more than just my fellowship."
"I've been the director of Human Rights Watch for 30 years," Roth added. "This is not going to impede my future. But what I worry about are younger academics who take from this the lesson that if you dare to criticize Israel, your career could be compromised."
On its face that's a crucial point.
But I told Kimberley that it was odd that Roth has been speaking about this sort of censorship as a hypothetical possibility rather than a longstanding reality for many academics and students, particularly Palestinians.
Lack of outcry
While it is good that the backlash was so strong that Harvard had to reverse course on Roth – dealing the Israel lobby an embarrassing defeat – this sort of response was absent for Steven Salaita, David Miller and Shahd Abusalama – all academics unjustly fired or effectively hounded out of their universities after Israel lobby smear campaigns falsely accusing them of anti-Semitism.

Nor was there such an outcry when in 2016 the University of California, Berkeley's then chancellor Nicholas Dirks bowed to Israel lobby pressure and banned a course led by a Palestinian American student focusing on Israeli settler-colonialism.

Notably, before his brief and scandal-plagued tenure at Berkeley, Dirks had been vice-president for arts and sciences at Columbia University in New York.

At Columbia, Dirks had acted as an inquisitor against academics who were being targeted by the Israel lobby, chief among them professor Joseph Massad.

Although an investigative committee Dirks set up found no evidence of anti-Semitism and dismissed the Israel lobby allegations, Dirks himself endorsed the lies against Columbia faculty a few years later.

Dirks made the statements reviving the false and disproven allegations in 2012 just as he was about to take up his new role at Berkeley – as if to signal to the Israel lobby that he could be relied on to do their bidding. And that's exactly what he did when he blocked the course on Israeli settler-colonialism.

Unlike Roth and Human Rights Watch, these academics have been vocal critics of Israel's racist founding ideology, Zionism.

Roth, in fact, has asserted that "nobody's ever questioned the right of Israel to exist" and has affirmed that it should be allowed to define itself as "Jewish" – albeit while remaining "democratic." These are standard liberal Zionist positions.

Also unlike Roth, who quickly landed another position at the University of Pennsylvania, Salaita, for instance, had his academic career destroyed, at least in the United States. (Years after his firing by the University of Illinois, Salaita has been able to return to teaching at the American University of Cairo.)

To be fair, Roth and Human Rights Watch did speak out in 2021 when the University of Toronto, under pressure from pro-Israel donors, reversed the appointment of human rights expert Valentina Azarova.

And in a letter to Harvard president Lawrence Bacow on 10 January, Human Rights Watch's acting director Tirana Hassan stated that the original decision to rescind Roth's fellowship "will have a lasting impact on scholars and activists, particularly Palestinians, who should not have to fear professional repercussions from Harvard University or another institution if they write or speak critically about the Israeli government."

Recognizing the harm to Palestinian scholars is a good start, but an acknowledgment that this kind of censorship has already been going on for decades would have been more truthful.
Cold War tool
As I told Black Agenda Radio, Human Rights Watch does produce important documentation of Israel's crimes, but its criticisms of Israel and the frameworks it uses are narrow, with the result that it ultimately favors Israel.

It's no surprise that Human Rights Watch would favor Israel given its historic role in buttressing US imperialism.

Recall that Human Rights Watch was originally founded as Helsinki Watch in the 1970s – a propaganda arm of the United States during the Cold War to criticize the Soviet Union and its allies over alleged human rights abuses, while ignoring the crimes of the United States and its client regimes.

Only later did Helsinki Watch start to criticize the US and its allies in order, as one scholar puts it, "to defend its legitimacy and prove the authenticity of its principles."

And that is very much how Human Rights Watch continued to operate during Roth's 30-year tenure as director, laundering dubious accusations against official US adversaries – like China and left-wing governments in Latin America – while being ultra-cautious and circumspect in criticizing Israel.

Hopefully Harvard's reversal over Roth marks a decisive defeat for the Israel lobby's outsize influence on public and academic discourse at US institutions.

But that won't be clear until Palestinian academics and those who support full rights for Palestinians – which cannot be achieved under Zionism – enjoy a similar level of protection and support.
Tags