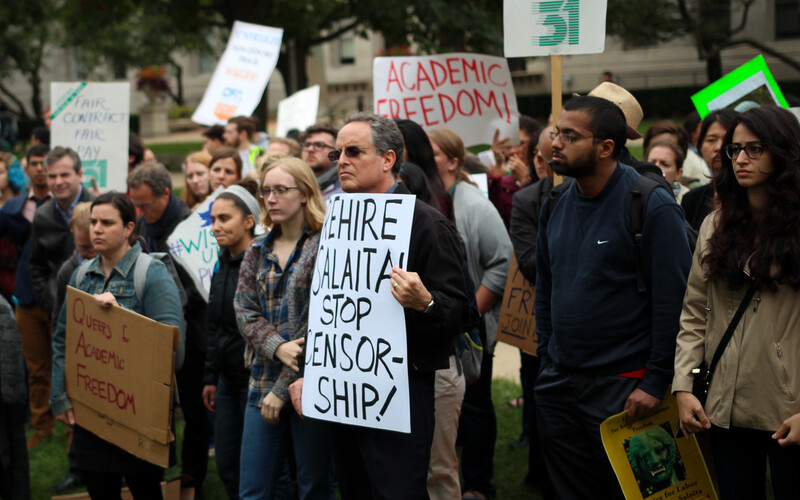 Hundreds of academics have expressed concern in the wake of the $875,000 settlement reached last week between Steven Salaita and the University of Illinois.
They are urging the American Association of University Professors not to remove the university's Urbana-Champaign campus from its list of institutions censured for grave violations of academic freedom.
Questions are also being raised about the future of the boycott of the university, launched after Salaita was fired in August 2014 over tweets critical of Israel's attack on Gaza.
"Illegally terminated"
More than 900 academics have signed a statement declaring that they are "pleased that the University of Illinois trustees, through the payment of a substantial monetary settlement to Professor Salaita, have acknowledged how Professor Salaita's termination amounted to a serious violation of both his constitutional right to free speech on matters of public concern, and principles of academic freedom."
The academics say that by agreeing to a monetary settlement equivalent to about 10 times Salaita's annual salary, trustees implicitly conceded that he was "illegally terminated in retaliation for his comments in connection with the Israeli war on Gaza," and that the decision was motivated in part by pressure from large pro-Israel donors, as released university emails revealed.
At the same time, they express concern that "a cash settlement without an offer of reinstatement leaves unaddressed the unjust terms by which his employment was terminated."
They also note that the university's "unlawful treatment of Professor Salaita has had implications well beyond Professor Salaita individually."
In particular, the "decimation of the American Indian Studies Program at UIUC has been an additional price tag paid by the university's capitulation to internal and external forces that disapproved of Professor Salaita's exercise of constitutionally protected rights to free speech."
Maintain censure
The academics urge the American Association of University Professors (AAUP) to maintain its censure of the University of Illinois at Urbana-Champaign (UIUC), where Salaita was due to teach, "until such time as UIUC adequately addresses the larger pall of uncertainty that has been cast over the manner in which academic freedom is understood and respected at UIUC."
Among the academics who signed the statement are the University of California, Berkeley's Judith Butler, Columbia University's Joseph Massad, Yale University's Inderpal Grewal, Purdue University's Tithi Bhattacharya, UIUC's Bruce Levine and Stanford University's David Palumbo-Liu.
Will the boycott end?
The statement does not address whether the boycott on UIUC should now end.
"I think this issue deserves a deeper conversation, especially with our colleagues at UIUC, before taking a public position on it," Katherine Franke, the Columbia University law professor who initiated the statement, told The Electronic Intifada.
"In my view many of the wrongs that underwrote the boycott have not been addressed by the settlement," Franke added, "On the other hand we may be exacting too high a price from the students and faculty at UIUC by continuing this boycott."
She says that like any tactic, the boycott "would need to be reassessed periodically to evaluate its effectiveness and costs."
Franke noted that some academics "have decided on their own to declare an end to the need for a boycott – of course they speak only for themselves."
"Many of us had hoped that a settlement would include Steven getting his job back. For his sake and ours: to vindicate principles we all hold dear," Brooklyn College political science professor Corey Robin wrote last week. "I would be less than honest if I didn't say I was disappointed."
But Robin has acknowledged the difficult personal predicament Salaita was in and has backed his decision. Salaita, Robin said, represented those invested in the issue with "dignity and decency."
Robin, who arguably did more than any individual to mobilize support for the boycott, now says it should end.
"I know the boycott has been tremendously hard on many departments at UIUC, particularly those departments that were most in support of [Salaita]," Robin wrote. "For all these reasons, I see no reason to continue it. Others may reach different conclusions. I respect their decisions."
For Franke, those most affected should take the lead: "We need to reaffirm our commitment to stand with our colleagues at UIUC and support their efforts to defend core principles of academic freedom and faculty governance."
As of now, the University of Illinois remains under censure from the AAUP. And for the reasons laid out in the academics' statement, Salaita's settlement is a vindication as well as a relief from the personal agony and uncertainty he and his family have endured for more than a year.
Although Salaita has settled, the question of how to keep up the pressure so the University of Illinois and others are deterred from future violations remains very much alive.
Tags