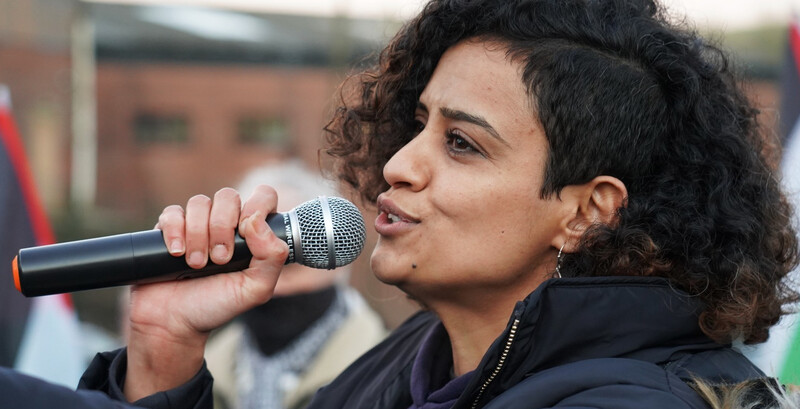 A UK-based Palestinian educator and activist is once again fighting a relentless smear campaign by Israel lobby groups and right-wing media who have baselessly accused her of anti-Jewish bigotry.

Shahd Abusalama says that Sheffield Hallam University, where she worked, has only fed the attacks instead of protecting her against them – even as the university itself exonerated her of all claims of anti-Semitism after a series of internal investigations.

But students, anti-racist activists and the local University and College Union branch are standing beside her.

Abusalama recently graduated from a PhD program at Sheffield Hallam, and was an associate lecturer until the university agreed to settle her discrimination claim.

"I accepted the settlement in the context of the harassment and bullying I had faced at [Sheffield Hallam University], wanting to start a new chapter with an institution committed to academic integrity and the wellbeing of its staff and students," Abusalama stated on 21 November.

The ongoing attacks were bolstered by an article in the right-wing Jewish Chronicle which inferred that Abusalama had left as a result of the university's latest investigation against her – failing to mention that she was cleared of all claims of anti-Semitism.

The university is planning to build a satellite branch in North London, in an area with a high Jewish population. Together with real estate developers, Sheffield Hallam's vice chancellor "reached out" to the Jewish Chronicle, the publication noted, "explicitly stating that they wished to address [Abusalama's] case."

The campus satellite project is part of a $9.7 billion development plan.

In contacting the publication, Sheffield Hallam University (SHU) breached the confidentiality agreement it signed under the terms of the settlement.

"Sheffield Hallam University was recently complicit in smearing me through communicating with pro-Israel publication the Jewish Chronicle," Abusalama stated.

That breach, she added, means that "I am now free to disclose the truth. SHU's conduct shows they cannot be taken at their word."

She says she is now pursuing legal action against the university.

"As a Palestinian woman, I want to be able to articulate my story and political views without being harassed and subject to discrimination. But this is not just my lawsuit," she said in a statement.

"With this legal fight, we will make sure that no other individual faces persecution for their legitimate beliefs. We should all be able to engage in criticism of the apartheid state of Israel without risks of harassment or interference from our employers," Abusalama added.

Abusalama has been a contributor to The Electronic Intifada.

She has written about her experiences in the Gaza Strip, where she was born and grew up under Israeli occupation, siege and military assaults.

She has also written about the terror of being separated from her family in Gaza while they were under Israeli bombardment in 2014.
A year of attacks
In December 2021, Abusalama was attacked by the right-wing publication Jewish News and the Israel lobby group Campaign Against Antisemitism, which accused her of fostering hostility towards Jews.
Without informing her, the university launched an investigation into Abusalama's social media posts. Administrators did not give her an opportunity to refute the defamatory claims, she said.
The administration suspended her and canceled her classes, but after sustained protests from students and the university union, her teaching position was reinstated at the end of January 2022.
Shortly thereafter, the university dropped its investigation and offered Abusalama a more secure contract.
But the administration ended up launching another investigation into Abusalama's conduct, and disclosed to the Jewish Chronicle that it had done so.
Union admonishes university management
Members of the University and College Union branch at Sheffield Hallam University are not taking the university's actions lightly.
On 14 December, the union passed an emergency motion defending Abusalama's reputation and demanding that the university grant her a public apology – along with a statement detailing the university's exoneration of Abusalama from all accusations of anti-Semitism.
The motion also called for a moratorium on the further use of the IHRA definition of anti-Semitism, which falsely conflates criticism of Israel with anti-Jewish bigotry, "and a full, open and transparent investigation into the events that have transpired over the last calendar year as a result of its application."
The IHRA definition is frequently used by Israel lobby groups to smear and censor supporters of Palestinian rights.
Abusalama has long been an organizer against the adoption of the IHRA definition.
Abusalama told The Electronic Intifada earlier this year that her public activism against the IHRA campaign has been a focus of attacks by Israel lobby groups and publications.
The University and College Union noted that the article in the Jewish Chronicle, "whether by accident or design," had insinuated that Abusalama still had to answer for the claims of anti-Jewish bigotry or that the latest investigation had found her guilty of those accusations.
"Both claims are false, and we are deeply concerned by the fact that the employer has not sought to set the record straight. Furthermore, it is wrong for SHU to have linked an internal disciplinary investigation to the proposed new campus in Brent Cross," the union explained.
"These latest episodes again underline the fact that the controversial IHRA definition is open to abuse and not fit for purpose."
Tags