Virgin Atlantic has removed the word "Palestinian" from the description of a dish on its in-flight menu, following complaints from Israel-supporting customers.
The airline acknowledged that the dish was a Palestinian recipe, but simultaneously apologized for "offense caused" by its use of the word.
The dish was offered on the airline's menu for economy class passengers in late 2017 and was described as "Palestinian couscous salad."
One customer giving the name Dani Williams took to social media to accuse the company of being "terrorist sympathizers" for using the descriptor. In a tweet, Williams posted a photograph of the menu and wrote: "last time you get my money."
Other pro-Israel social media users responded to the in-flight meal by claiming couscous was not Palestinian.
One tweet suggested that the dish should be called "Jewish salad."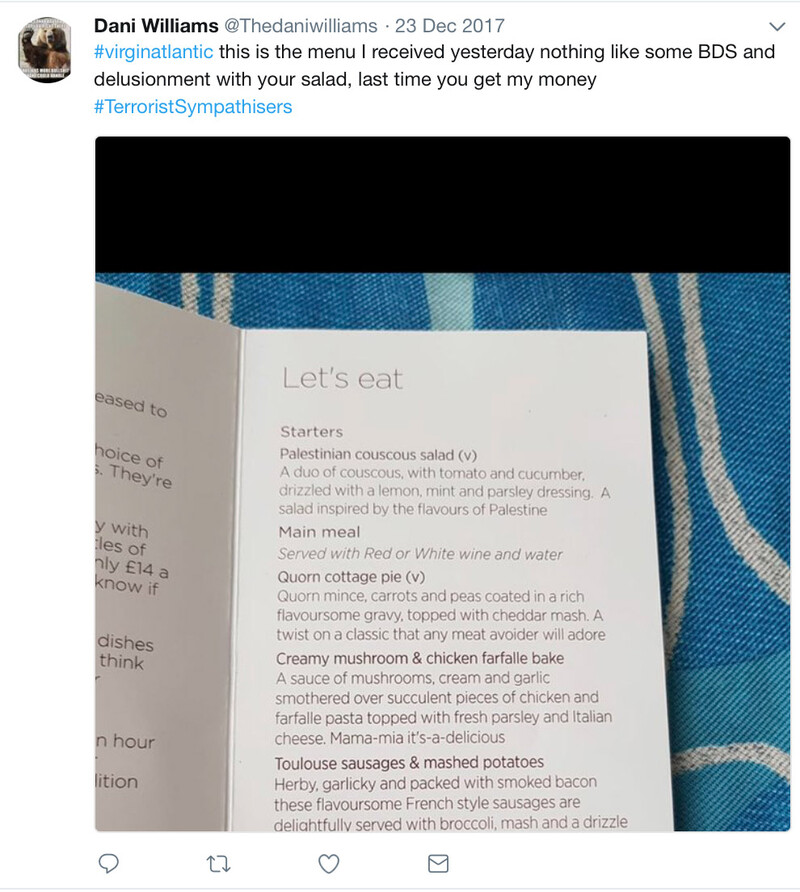 A photograph of the menu was also posted on the Facebook page of a group called the Israel Advocacy Movement. An accompanying comment read: "I thought this was an Israeli salad."
David Garnelas, the man who made the comment, also accused Richard Branson, Virgin Atlantic's founder, of "showing his true colors," adding that "Israelis must boycott Virgin and Israel must ask for an explanation."
Since these complaints were made, Virgin Atlantic has renamed the dish "couscous salad," with the word "Palestinian" deleted.
The airline, which flies from Britain to multiple US cities, would not reveal whether any Israeli state representatives had lobbied the company about the menu.
A spokesperson for the airline told The Electronic Intifada it had deleted the reference to Palestinian cuisine "as a result of feedback," including an approach from an unnamed journalist.
The company would not reveal how many complaints had been received.
Doing the right thing?
Virgin Atlantic acknowledged that the dish was indeed a Palestinian recipe. The spokesperson said:
"Our salad is made using a mix of maftoul (traditional Palestinian couscous) and couscous, which is complemented by tomatoes and cucumber which really helps lift the salad from a visual perspective and is seasoned with a parsley, mint and lemon vinaigrette. However, we always want to do the right thing for our customers and as a result of feedback, we have renamed this menu item from our food offering at the end of last year and we're extremely sorry for any offense caused."
The company's spokesperson was not able to explain why it was offensive to describe as Palestinian a dish that it had itself explicitly affirmed was Palestinian cuisine.
The decision by Virgin Atlantic is the latest episode in a pattern of attempts by Israel and its supporters to either erase – or appropriate as "Israeli" – Palestinian cuisine and culture.
Christiane Dabdoub Nasser, author of Classic Palestinian Cuisine, told The Electronic Intifada: "The world is a sad place when people get offended by the word 'Palestinian' and when a company like Virgin Atlantic considers removing that very same word in order to do 'right by its customers.'"
"Maftoul is Palestinian, just like pasties are Cornish and pâté de foie gras is French," she added.
"No one can deny that and yet the airline, to add insult to injury, apologizes for the offense that the mention of Palestinian maftoul might have caused," Nasser said.
"There is always pressure to kowtow to Israel and to the Zionists under the erroneous, not to say perverse, belief that acknowledging Palestine or anything Palestinian is offensive to Israel or could even be considered anti-Semitic. This is the result of decades of Israeli propaganda, which not only tries to deny the very existence of the Palestinian people, but also their culture, their history and their memory."
The episode bears similarities to how the celebrity chef Rachael Ray recently tweeted photos of an "Israeli nite" spread featuring Palestinian and Levantine foods, including hummus and tabouli.
Gastro-diplomacy
The Israeli state itself has embarked on a propaganda strategy of gastro-diplomacy, using food culture to promote the country's image abroad.
In 2015, the UK supermarket chain Waitrose faced a backlash for distributing its Taste of Israel magazine, which was produced in collaboration with the Israel Government Tourist Office and described Palestinian and Arab foods, including tahini and zaatar, as Israeli.
A "Round Tables" tour, supported by Israel's foreign and tourism ministries, has seen leading chefs from around the world invited to cook in Tel Aviv restaurants.
The project was targeted by the Palestinian-led boycott, divestment and sanctions movement, resulting in protests outside participating chefs' restaurants. Some restaurants and chefs subsequently withdrew from the event.
Richard Branson, the largest individual investor in Virgin Atlantic, has taken part in activities run by The Elders, a group of prominent figures that has repeatedly spoken out in favor of "justice" in Palestine.
Branson's ongoing association with the carrier – albeit without a controlling stake since July 2017 – might raise eyebrows among members of The Elders, including Desmond Tutu, the South African archbishop and passionate critic of Israeli apartheid. Branson is a member of the Elders' advisory council.
Other companies with major stakes in Virgin Atlantic include Air France-KLM and the US airline Delta.
Branson's disposal of his majority stake in the airline failed to shield him from accusations made by Israel's supporters.
A tweet from an account called Hummus Sapien blamed Branson for how Virgin Atlantic was "serving Palestinian couscous."
Gawan Mac Greigair is a freelance writer whose interests include Palestine, refugees and migration, food systems and conservation. He has written for The New Arab, The Ecologist and Stir, among others.
Tags