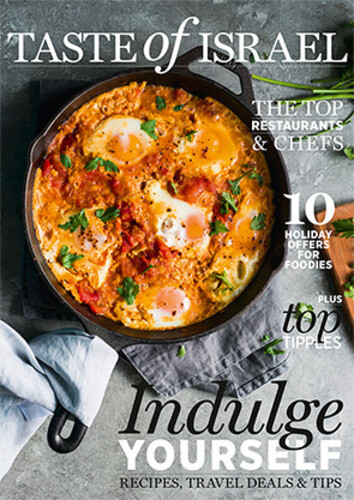 A UK supermarket chain's promotion of Israel as a food-lover's paradise has backfired following a massive backlash on social media.

The deluge of Facebook and Twitter messages directed at Waitrose, criticizing its distribution of a brochure titled Taste of Israel in February, has also attracted attention from the mainstream media in the last two weeks, adding to the supermarket's PR woes.

And the brochure itself has been the subject of a complaint to Britain's Advertising Standards Authority, by the Palestine Solidarity Campaign (PSC), on the grounds of false advertising.

In its letter to the advertising watchdog, the PSC cited the brochure's references to Jerusalem and the Golan Heights as being in Israel, and the listing of Palestinian and Arab foods, such as tahini and zaatar, as being Israeli.

The brochure, which promotes Israel as a travel destination, is a mix of recipes, wine recommendations and descriptions of tourist towns in Israel.

Waitrose initially ignored emails it received at the end of February and early March asking why it had accepted money from the Israeli Government Tourist Office — which produced Taste of Israel — to distribute the brochure as a supplement in its in-house magazine, Kitchen.

Many of those who wrote forwarded their emails to the PSC, and said they had received no reply. The PSC encouraged them to approach Waitrose by posting on the store's Facebook page and via Twitter.

One of those who posted on the Waitrose Facebook page was Ayman Abuawwad, a Palestinian living in London.

Abuawwad wrote: "I am a Palestinian from Gaza. How dare Waitrose promote the theft of my Palestinian heritage, my culture, my food and call it Israeli … Shame on you Waitrose for canceling a whole nation, a whole culture for profit."
"Side order of apartheid"
It was when Waitrose deleted Abuawwad's post and then blocked him from posting on its page again — a ban which was publicized by the PSC — that the steady stream of critical social media comments became a flood.
The novelist and commentator Ahdaf Soueif was among the many hundreds who took over Waitrose's Facebook page on the day Abuawwad's ban became public. She referred to how Waitrose is part of the John Lewis Partnership, an employee-owned firm. 
She wrote: "Dear Waitrose, I have been your loyal and even loving customer for thirty years. Partly because I like the John Lewis ethic. But this ethic does not square with your recent attitude re. Palestine. It's all very well to make a mistake, but to insist on it is wrong and not worthy of you. Please give us a sign that you are the fair and ethical organization we thought you were."
Many, many others who posted or tweeted said they would be boycotting the store. Still others copied and posted Abuawwad's original comment — which the PSC had made available on its website — and dared Waitrose to ban them too.
The story hit mainstream UK newspapers the same day, with a headline in Metro proclaiming: "Waitrose is getting a battering over running a 'Taste of Israel' advert."
The article included photos of a devastated Gaza following last summer's Israeli massacre and embedded tweets into the text, including one which jibed that there was "nothing like the taste of falafel, with a side order of apartheid."
Other newspapers and websites followed, including the The Independent, The Daily Mail, The Huffington Post and two trade magazines aimed at PR professionals, Campaign and Media Week.
All embedded tweets critical of Waitrose and the Taste of Israel supplement into their articles, and included some, or all, of this quotation taken from the PSC's website: "The booklet is a prime example of Israeli government propaganda, highlighting its efforts to distract the public abroad from its brutal military occupation of Palestinian land by replacing the image of an apartheid regime with that of a tourist-friendly, culture-loving country."
"It is also a shocking example of the Israeli appropriation of Palestinian culture – in this case, food – in an attempt to erase the memory of Palestine from the land and replace it with Israel."
Burying head in sand
Waitrose responded by burying its head in the sand. Instead of engaging with its detractors on social media, the supermarket chain hit out by deleting many critical comments on its Facebook page and blocking commentators, including me, on both Facebook and Twitter.
Commenting underneath a Waitrose-related post on the PSC's Facebook page, Christina Murphy wrote: "Last time I looked there were tons of compIaints on their FB page. Now, they've all been removed. They seem to think that if they close their eyes and press delete, it will all go away. Well, it won't. Waitrose have handled this very poorIy. If they had responded to intial emails, this would have been a minor matter. Now it's reached the mainstream press and the row shows no sign of abating. They brought this entireIy on themselves."
The John Lewis Partnership is no stranger to controversy when it comes to the Israeli occupation of Palestinian land.
The flagship John Lewis store in London's Oxford Street was the site of fortnightly protests organised by the PSC and the London BDS Group during 2014 because it sold SodaStream's machines for making fizzy drinks — products manufactured in SodaStream's factory in Maale Adumim, an Israeli settlement in the occupied West Bank.
Regional campaigns targeted other John Lewis stores around the country and, at the beginning of July 2014, John Lewis took SodaStream products off all its shelves, including in its London store.
However, then, as now, the John Lewis Partnership refused to engage with pro-Palestinian activists, despite direct approaches from the PSC.
Last week, Sarah Colborne, director of the PSC, wrote to Mark Price, the managing director of Waitrose, offering a meeting to discuss the Taste of Israel debacle.
The letter brought Price's attention to Israel's slaughter of more than 2,200 Palestinians in Gaza, including 504 children, over fifty days last summer. It highlighted Israel's brutal military occupation of the West Bank — including East Jerusalem — and Gaza. And it reminded Waitrose that the blockade of Gaza denies adequate food, medical, water and fuel supplies to a civilian population of 1.8 million people.
Colborne wrote: "Given this, we cannot see how your promotion of Israel, for which you would have been paid by the Israeli state tourist office, squares with your proclaimed ethical values and your support for the Fairtrade Foundation."
Colborne has yet to hear back from Price and it remains to be seen whether the John Lewis Partnership will, on this occasion, engage positively with an organization which calls for the upholding of Palestinian human rights and respect for international law.
But two things are certain. The John Lewis brand has suffered from its promotion of Israel and its subsequent disastrous handling of the row which ensued. And other companies will surely have taken note of what could happen should they choose to participate in the promotion of a state which imposes occupation, apartheid and siege on the Palestinian people.
Tags