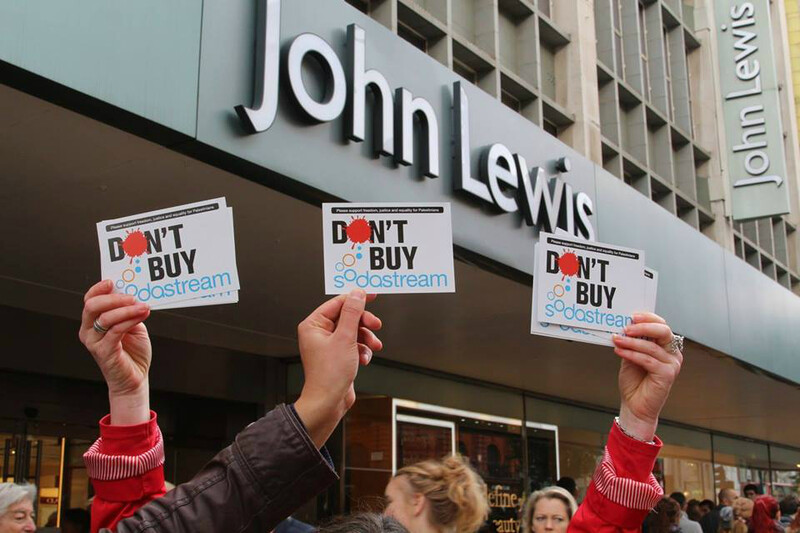 Last week's announcement that the Organization for Economic Cooperation and Development (OECD) is to investigate G4S for its work in supplying the Israeli security services in the occupied West Bank sent an important message to all companies trading in the Israeli occupation: they are under new scrutiny.
For years, G4S has been providing security systems to the Israeli jails where Palestinian children, women and men are held and often tortured, and to the West Bank checkpoints which render Palestinian freedom of movement almost impossible.
However, the news from the OECD, combined with December's UK government guidance to companies to consider their "reputational damage" if trading with illegal Israeli settlements, suggests that a turning point has been reached which may push companies such as G4S to reconsider their links with the occupation.
One company which should reconsider urgently is the John Lewis Partnership, which describes its two brands — the department store John Lewis and the supermarket Waitrose — as "the leading UK retail businesses."
John Lewis, with 30 stores around the UK, is a major carrier of SodaStream, the carbonated beverage manufacturer which has its main factory in the Mishor Adumim industrial sector of the illegal Israeli settlement of Maale Adumim.
In 2013, the Palestine Solidarity Campaign UK (PSC) focused on John Lewis as part of its boycott, divestment and sanctions (BDS) work, launching an ongoing campaign to persuade the company to cut its settlement ties and stop stocking SodaStream.
Misleading customers
Protests are held outside its flagship London store every other Saturday, and shoppers are informed before going in that John Lewis, through its sale of SodaStream, is profiting from Israel's theft and occupation of Palestinian land.
While most shoppers are keen to hear the message, John Lewis management is not so receptive.
A chain of correspondence between the PSC's director, Sarah Colborne and Stephen Cawley, head of sustainability and responsible sourcing at John Lewis, reveals what appears to be a commitment by the company to ignore, not just its own Responsible Sourcing Code of Practice, but also international law regarding the Israeli occupation and the settlements.
In a September 2013 email to the PSC, Cawley wrote: "John Lewis is aware that the International Court of Justice regards Israel as occupying the West Bank in violation of international law. Equally, we understand that the Israeli High Court of Justice recognizes that Israel holds this territory under 'belligerent occupation,' although does not recognize they do so illegally. Having said this, there is currently no international ban on trading with Israel or Israeli companies."
Having made a point of dismissing the occupation — and its resultant suffering — as being of no concern to John Lewis, Cawley went on to make a number of illogical and contradictory remarks to defend the company's settlement links. 
John Lewis, he wrote, "recognize[s] that many customers will want to know where the products they buy come from."
He added: "SodaStream products carry no indication of country of origin, apart from the syrups, which as a food item require country of origin labelling. The syrups are made in a factory in Ashkelon, a coastal Israeli town whose ownership is not under dispute and are correctly labelled 'Made in Israel.' Therefore, SodaStream is in no way misleading customers."
But SodaStream, by not labelling its drink-machine products with their place of manufacture, is misleading those customers who wish to boycott settlement goods, as they may buy a SodaStream machine unaware of its settlement origins. And John Lewis is playing a part in this mis-selling by not making the information available to its shoppers, so that they can make an informed choice.
The echo of hasbara
Cawley also wrote: "We do not discriminate against or boycott companies that obey the law, and respect the rights, interests and well-being of their employees, their communities and the environment."
The sentence is nonsensical. Settlements breach UN Resolution 446, which states that they have "no legal validity." The European Union is equally clear, stating that settlements are "illegal under international law, constitute an obstacle to peace and threaten to make a two-state solution impossible." Companies which operate from settlements, including SodaStream, patently have no regard for the law.
Do they respect the environment? Seven Palestinian towns — Abu Dis, Azarya, Atur, Issauya, Han El-Akhmar, Anata and Nebbi Muss — were destroyed and their inhabitants cleansed to build Maale Addumim. Like all of Israel's settlements, this one was as destructive to its surroundings as it is possible to be.
And why does Cawley believe that SodaStream respects the "rights, interests and well-being" of the hundreds of its employees who are drawn from Palestinian towns and villages?
An email to the Palestine Solidarity Campaign UK sent in December sheds some light on this, with the information seeming to come straight from SodaStream's handbook of hasbara (propaganda).
Cawley wrote: "From my research, I understand that the SodaStream factory currently employs around 500 men and women from the area surrounding Mishor Adumim and that they generally earn considerably more than the average Palestinian worker elsewhere within the Palestinian Authority's borders."
His words echo those of SodaStream's chief executive, Daniel Birnbaum, in a video which attempts to counter negative publicity surrounding SodaStream's exploitation of Palestinian workers. At the beginning of the eight-minute video, Birnbaum describes how Palestinians working for SodaStream are "well-received and well-respected and well-paid."
Aiding the occupation
The truth, of course, is that the Israeli occupation has destroyed the Palestinian economy and jobs in West Bank towns are scarce. Palestinians are forced into working for settlement employers, for lower pay than their Israeli counterparts, without benefits such as holiday or sick pay, and without the right to form trade unions.
And while the Israeli workers' rights organization, Kav LaOved, fought to obtain better pay and working conditions for Palestinians working at the SodaStream plant, those Palestinians remained, according to Kav LaOved in 2010, "at the bottom of the hierarchy in the factory and constantly fear their dismissal."
John Lewis chooses to ignore this, along with the fact that its Responsible Sourcing Code of Practice states, "Suppliers shall recognize and respect the rights of workers to freely join associations."
Instead, in his December email, Cawley seemed to take a colonial stance on occupation and professed concern for Palestinian workers on the grounds that a boycott of SodaStream would harm their income and adversely affect their families.
He added: "You will understand, therefore, that it is our view that it would be irresponsible of John Lewis to boycott SodaStream."
In reality, the irresponsibility lies in doing business with a company which, through the financial benefits it brings to the settlement of Maale Adumim, is helping to cement Israel's illegal occupation of Palestinian land and is denying the Palestinians the right to self-determination — to build their own state, to create their own factories and jobs, to run their own economy.
In effect, John Lewis is playing its own part in aiding the continuation of the occupation.
This is unacceptable from a company which prides itself on being ethically aware and, as is noted on its website, having a "keen sense of civic responsibility."
But Cawley's final email to the PSC ignored ethics and ended with these words: "John Lewis will continue to sell SodaStream products, and any decision to stop stocking them in the future would be made solely on commercial grounds."
Defiant words — but Cawley and the John Lewis Partnership should take note of the OECD's investigation of G4S, of the UK government guidance to companies, and also of the UN Human Rights Council's 2013 report on settlements, which states: "Private companies must assess the human rights impact of their activities and take all necessary steps — including by terminating their business interests in the settlements — to ensure they are not adversely impacting the human rights of the Palestinian people in conformity with international law."
The international tolerance of companies linked in any way to the Israeli occupation is coming to an end, and a change of practice is in order. John Lewis, take note.
Click here to find out the date of the next protest outside John Lewis's flagship London store.
Tags