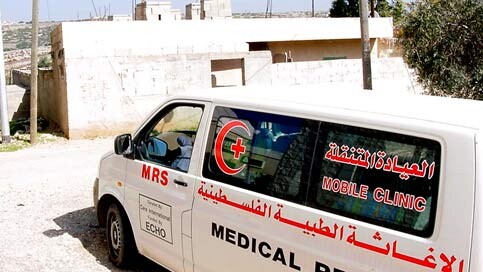 11 November 2006 in Jenin
I am here in the local Jenin district office of Palestine Medical Relief Society (PMRS) with Dr. Jameel Hamad, the district manager.
The City of Jenin has a total population of about 50,000, of which 13,000 live in the Jenin refugee camp. The entire district of Jenin has 300,000 inhabitants.
Dr. Jameel says that the Jenin district now has the worst economic situation in the entire West Bank. Before 1948, the economy consisted largely of traditional farming and sheep herding. After the creation of Israel and up until the second intifada, the economy was dominated by economic trade with Palestinian Arab towns in Israel and also menial labor jobs in Israel.
The green line with Israel and the Arab villages in Galilee are just to the north and west of here. Now with the annexation barrier and checkpoints, there is a major economic depression. Many are out of work, and many are in Israeli prisons.
In terms of health care, the main provider of health services until recently has been the Ministry of Health under direction of the Palestinian Authority. It runs the main hospital in Jenin, as well as many primary health care centers in the city.

Unfortunately, because of the Israeli/American/EU sanctions, which were the West's reaction to a democratically elected Hamas majority in the Legislative Counsel, the PA's health systems are falling apart. Many health care workers have been on strike, because they are not being paid.

Consequently, patient demand for services is shifting to Non Governmental Organizations (NGO's) like PMRS, UHWC (Union of Health Work Committees) and a local NGO called Patient Friends Society.

These NGO's receive financial assistence through a variety of sources: through the European Commision on Humanitarian Aid (ECHO), through an organization called INTEL, through the Swedish government, and through CARE International.

With the collapse of PA health services, the PMRS and UHWC clinics have gotten much busier. PMRS charges 3 shekels (about 70 cents) per doctor visit.

We visit Jenin camp, where sixty people, about half of them civilians, were killed, and 2000 were made homeless during an Israeli incursion in March 2002. Dr. Jameel says there is not much to see now, because all of the destruction has been rebuilt.

At the entrance to the camp now stands a memorial, a statue of a horse built from metal scraps left over from all the destruction in Jenin Camp. On the horse's flank are the words "Al Hilal al Ammar" written in Arabic. This piece is all that remains of a Red Cresent Ambulance that was destroyed by the IOF, killing and injuring ambulance crew members who were inside.

12 November 2006

I am here in the

PMRS

mobile health van heading out to small villages within Jenin District. My Palestinian colleagues this morning are Drs. Ameer and Eyad, who are family physicians, and Dr. Nadwa who is an

OB

/

GYN

or women's health care specialist. Additionally we have Hana and Zakiah who are medical aides, and Fida', who is our driver.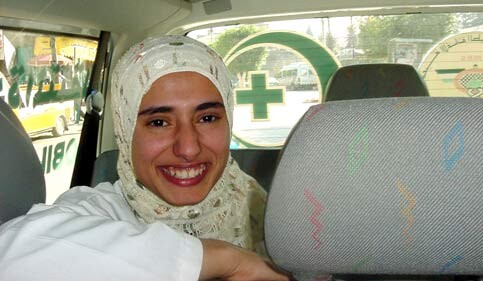 All of the doctors with me today were trained in nations affiliated with the former Soviet bloc. In fact 51% of all the physicians currently working in the Occupied Palestinian Territories were trained in Eastern Bloc countries. In

PMRS

, that number is 70%. In the Jenin area it is 90%, and in my personal experience with

PMRS

, it is almost 100%. Only Dr. Imad Barakeh in Tulkarem was trained in the West: in Italy. All the rest of my Palestinian colleages so far were trained in the Eastern Bloc.

I am the son of an Air Force colonel, who was intimately involved in the arms race against the Soviets. I tell them so, and in spite of this, we get along just fine.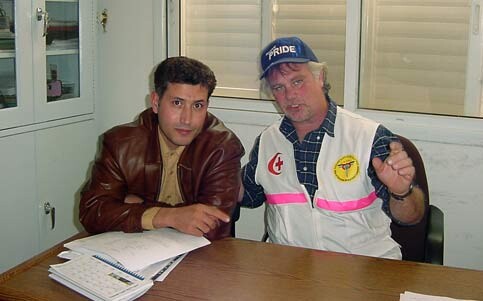 Dr. Amir has fond memories of Russia and of Russian women. He was married to a Russian woman while he was living there during his medical training. But now since returning home and especially since the second intifada, he can no longer visit Russia, and she is not allowed to come here. They still love each other, but for political and Israeli governmental bureaucratic reasons, they have been forced to seperate.

Dr. Amir is a bit of a clown and so am I. Before to long, we have the whole van exploding in laughter from our Eastern/Western schtick. We both agree that given all the sorrow and tragedy we must face in our lives, humor and laughter are some of the more important coping mechanisms that we have.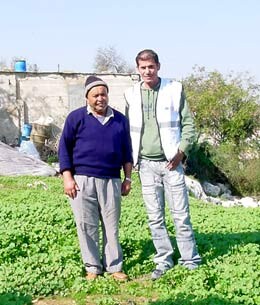 Now we are approachintg Al Arrabi Checkpoint. Our ambulance passes the cue of cars on the left side and goes right up to the Israeli soldiers. These post-pubescent soldiers who currently control our lives are not in a particularly giving mood this morning. So they make Fida', our driver, back the mobile health van up 300 meters in reverse to the back of the cue to wait like everyone else. The patients waiting in the villages will have to wait longer too. The Hebrew word for checkpoint is machsom; in Arabic it is hajiz. My Palestinian colleagues prefer to use the term machsom, because it is not of their doing, it the doing of Israel.

There is nothing we can do about it, so we pass the time sharing tongue twisters: In Arabic and in English, in Spanish and in Russian. We are like children in the back of our parents' station wagon entertaining ourselves while our parents take us on a long road trip. The problem is that this trip to the villages used to take only 20 minutes before the annexation barrier and the checkpoints.

This checkpoint has delayed our arrival in the villages by over one-half hour. We finally show up at the village of Al Khlijan, population 1000. The village health worker was waiting at the Mosque/Community center for us. Then she was not sure if we were coming or not, so she finally went home.
We summon her back; clinic services are announced througout the village via the mosque's loudspeaker, and patients begin to show up. We leave Dr. Amir, Dr. Nadwa and Hana here, and move on to the next village, Um Dar, population 500. Dr. Eyad and Zakiah set up a mobile clinic here and start seeing patients, while Fida' takes me on a walking tour of this village.

Like many Palestinian villages, much of Um Dar's land has been taken by the Annexation Barrier. The nearby Israeli settlement of Rehan, built in 1981 has 60 families, about 200 people, and now most of Um Dar's land, as well as most of another nearby Palestinian village's land, that of Um Rehan, is now on the Israeli side of the barrier.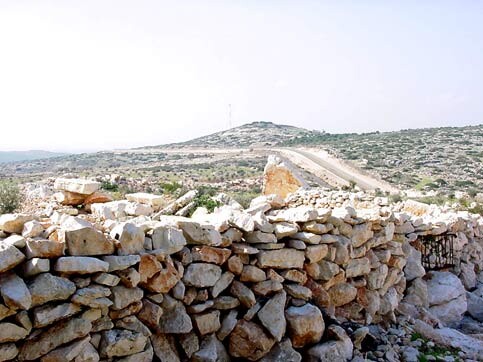 Abdel Fatha, a village elder explains the village's utility situation to me. The village relies heavily on solar water heating and on some photovoltaic solar panels for electricity. The rest of its electricity and potable water it recieves from the nearby Tulkarem district. But since the annexation barrier and checkpoints, utilities are less reliable than before. This village only has electricity from 5-12 pm every day, and for 3 days during the past month, there was no electricity at all.

Next, we jouney to another village called Zabda, population about 1000, and set up another mobile health clinic. I tour a school and an olive oil factory.

At the end of the day, we head back to Jenin. The delay at Al Arrabi checkpoint is only about 15 minutes going back.

Dr. Bill Dienst is a rural family and emergency room physician from Omak, Washington, USA.