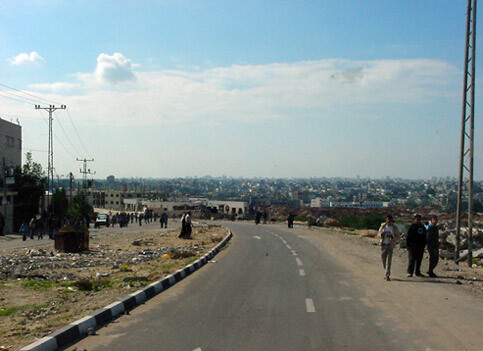 November 18, 2006, continued …
Our mobile health van drives just north of Beit Lahiya where we see a large crowd of people fleeing from the attack.
We drive further north toward the village of Um Nasser, located right on the border with Israel, and right underneath the attack helicopters which are hovering about 1000 meters above us.
We arrive at the village clinic. Because of the attack helicopters, patients are not showing up to be seen today.
I am not as scared as I was on the first night at Hotel Al Deira, though we are in a more dangerous spot. I am strangely getting used to this. Fear is a powerful stimulant which makes you feel excited and euphoric about still being alive, when death and destruction are so near, and hopeful that you will remain so. The grief and depression come later as you withdraw from the euphoria. Right now, I am feeling more curious really.
I ask where we might better view the helicopters. What about the rooftop? Not a good idea, says Dr. Hatem; we might become targets there. We look out from the windows and finally go out in the yard in front of the clinic. We can hide behind the clinic's walls or jump inside if we are threatened. There we have Arabic coffee and cigarettes while we watch the attack helicopters shoot toward the south. We can also hear and see Israeli tanks on the beach to the west of us.
Patients are not coming, and the choppers finally withdraw, so we head south to Kamal Adwan Hospital in Beit Lahiya to be in the Emergency Room with the trauma team.
We have time to meet briefly with Dr. Sa'id Joodah who is an orthopedic surgeon and clinical administrator at Kamal Adwan Hospital. We are awaiting the arrival of two youths who were injured a half kilometer away. Triage patterns for trauma victims in the Northern Gaza Strip have evolved such that the main trauma center Al Shifa Hospital in Gaza City handles the brain injury and major chest cases. That is, if there is time to transfer those patients; often there is not, so major chest cases are also handled here.
In 2002, the Palestinian Authority designated community district hospitals to handle the second tier of trauma care: at hospitals in Rafah, Deir Al Balah in the central Gaza Strip, and here in the Northern Gaza Strip this hospital, Kamal Adwan.
The reality is that there have been so many traumas here in Northern Gaza that this hospital partners with Al Awda Hospital in Jabalya Refugee Camp. Al Awda is run by the Union of Health Workers Committee, an NGO.
These hospitals are much more than just primary care hospitals that simple stabilize the trauma patient and transfer. This hospital has a neurosurgical team who are currently in the operating room with a young man suffering from a gunshot wound to his flank and spinal cord.
This hospital routinely handles both primary and secondary levels of trauma care. It is authorized for 70 beds but handles about 130 inpatients daily, consistently above 100 percent capacity. It has a five bed Intensive Care Unit and is staffed by General Surgery and Internal Medicine specialists. The hospital handles an average of 500 operations per month; its emergency room sees about 230 patients per day.
Now the two patients are arriving in the ER, so we go there. The first one, Tha'er Al-Masri, age 16 has a gunshot wound through his right neck and is dead on arrival. There is nothing we can do for him. We don't have time to grieve. That will be left to his family.

Our therapeutic distancing takes us to the next young man whom we may still be able to help, Muheed Suleiman, age 20 who has large gunshot wound to his right chest. The gap in his chest wall was covered in the field. A chest tube is placed while two

IV

's are started and he receives breathing support through a bag valve mask and then through a breathing tube. He is suffering from severe hemorrhagic shock due to internal bleeding. He is given blood transfusions and I can hear his heartbeat come back with my stethoscope.

He regains consciousness and tries to sit up and starts fighting the breathing tube so we must sedate him. His heart is beating real fast at 140 beats per minute. He is still in serious trouble and needs an immediate operation to his chest and abdomen to stop the bleeding.

Unfortunately, the two operating theaters here are already full with two other trauma cases from this same Israeli attack: the young man with spinal cord trauma, and another young man who is having his abdomen opened to stop bleeding. So we put Muheed in an ambulance and transfer him to Al Awda Hospital in Jabalya about half a kilometer away.

Dr. Sa'id Joodah calls report to the receiving surgeon at Al Awda Hospital and explains the need for immediate thoracotomy and laparotomy. We can only hope and pray now that Muheed will make it.

Back at Hotel Al Deira, Al Jazeera in English is reporting that three Israeli soldiers were injured by anti-tank weapons. Two Palestinians were killed and three were injured.

November 19

Today nine people were injured here in Gaza when an Israeli rocket hit a car. Two Hamas members survived the attack. Last night a family's apartment in Jabalya camp was threatened by phone. The IOF called and stated that it was to be destroyed by rocket attack in a few minutes. Local residents overcame their fear and at least 50 assembled on the rooftop. The IOF called off the attack after deciding that two Gaza massacres in one month would not go over well at the UN.

November 20

After a day in Rafah, I go back to Beit Hanoun and Um Nasser Village for a final time. The news from two days ago is not good. Only one of the five Palestinians who were hit during the Israeli helicopter and tank incursion has survived.

Muheed, the young man we resuscitated from hemorrhagic shock and transferred to Al Awda Hospital, died in surgery as they were unable to control his bleeding in time. Muhammad Abu Jalghoun, the young man was receiving spinal surgery at Kamal Adwan Hospital when we arrived, also died of associated wounds. Sa'id Hujooj is from Um Nasser Village. He died in Beit Lahiya resisting this incursion. We will be attending his funeral wake later today.

Tha'er Al Masri is the 16-year-old boy we saw dead from a gunshot wound to the neck. Only Abella Keelawnee, the young man undergoing the abdominal operation at Kamal Adwan, has survived.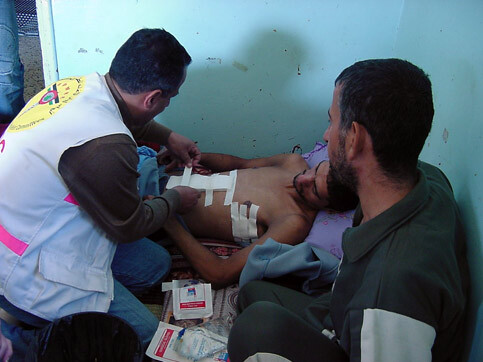 Israeli tanks are on the eastern and northern perimeters of Beit Hanoun as we enter from the southwest. As we treat Mahmood, a 15-year-old suffering from a shrapnel would he received to his chest last week, we can hear a sound volley from artillery shells being fired from a tank in the distance.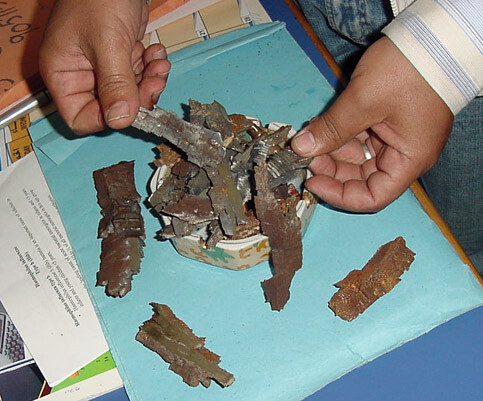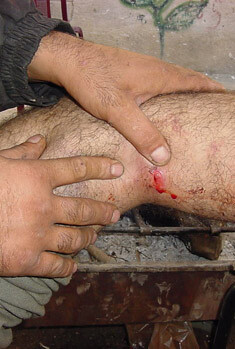 We return to the al-Athamina family neighborhood and treat a middle aged man for fresh shrapnel wounds to his leg which he received this morning from the tanks. His leg also shows bruising that is over a week old — this from wounds he received before on the day of the massacre.

Now we return to Um Nasser village to attend the wake of Sa'id Hujooj, age 20, who was killed by the

IOF

.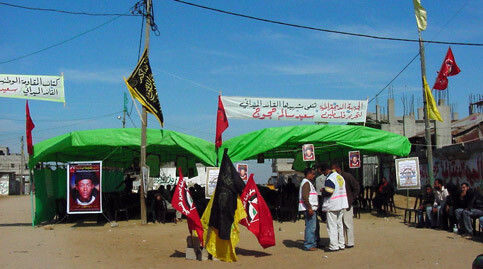 As we approach the wake, we see a banner from Democratic Front for the Liberation of Palestine (

DFLP

) which reads in Arabic, "We promise our martyr to continue the Intifada to build the Palestinian State and free Jerusalem."

As we enter the wake, recordings of the Koran are being sung over the loud speaker in a very spiritual way. If we stand up, we can see Israeli tanks to the north. I am told to sit down so the tanks will not see us.

Sa'id's friends and family tell me he finished secondary school, was working toward getting a good job and was working on his home and hoping soon to marry. He was a very ethical person who had good relations with his neighbors, both young and old. He always tried to help anyone in need says Dr. Muhammad Ya'aghi, who also remembers he had a constant special smile.

His father Abu Khalid says Sa'id was a very good person, sincere and sensitive. Abu Khalid learned about his son's death while he was watching

TV

and saw Sa'id's body on the news. His mother Um Khalid was in the clinic today complaining of not eating or sleeping for two days and crying. She was treated with tranquilizers and will be referred for grief counseling.

We head to Beit Lahiya and briefly visit the Muhammad A-Durah Pediatric Hospital, which is named after the young Palestinian boy who was killed in his father's arms by IOF soldiers here in Gaza while his father was trying to protect him in September 2000, during the beginning of the current intifada.

Like other stimulant drugs, chronic fear and suffering is hazardous to one's health. It stunts normal growth and development and causes chronic psychological problems. It causes premature aging with its consequent adverse health effects. It also produces internecine conflict between Palestinian factions.

There are elements within the Israeli and American governments who are using perpetual fear here in Gaza and other parts of the Middle East in an attempt to divide-and-conquer; to spark civil war between different Palestinian and Iraqi factions. Then their lackeys in the major media parrot just what they are told by their neoconservative spin doctors.

They try and imply that Palestinians, Iraqis and other Arabs are simply and inherently violent backward and uncivilized savage-terrorists, thus justifying perpetual Israeli and American occupation — as if this is some kind of solution, rather than the root cause of this civil strife. Nothing could be further from the truth. One just needs to spend time on the ground here in this environment, under the influence of perpetual fear, to see how it all works.


On the way home we stop by the apartment of Abu Zahid. This morning, an Israeli rocket hit the top floor of his apartment. Fortunately this floor was still uninhabited. Al-humdulillah!

No one was hurt, but people were pretty scared. I kick a soccer ball around with some kids downstairs in the alley.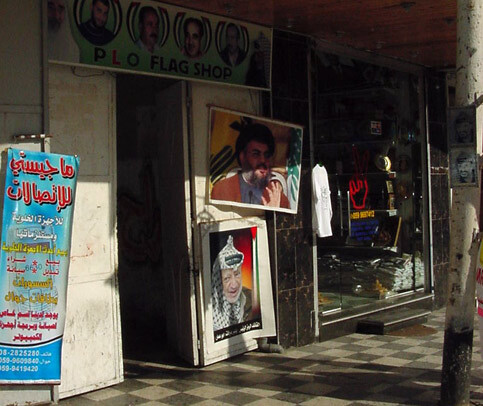 And then we head back to Gaza City.

Dr. Bill Dienst is a rural family and emergency room physician from Omak, Washington, USA.

Related Links