21 November 2006: Gaza to Tel Aviv
This is the second trip I have made to the Gaza Strip since 2003. I third time, in 2005, I was not permitted to enter. Back in 1985, it was easy to travel from Gaza to Jerusalem and back. In those days, I went back and forth many times.
The entrance to Gaza, where a huge grotesque monstrosity of a checkpoint terminal now stands, was then only a few concrete barrels. Palestinian group taxis would weave through the concrete-filled barrels that marked the border and one could easily pass inside or outside, on your way to Gaza City or on your way back to Damascus Gate in Jerusalem. In those days, the entire trip from Jerusalem to Gaza took just over an hour. At Eretz, you didn't even need to get out of your group taxi. Ten minutes later you were in the center of Gaza City.
It's not so easy now. It is much more difficult than ever before. In fact, for the majority of Palestinians who live here in the Gaza Strip, travel to Jerusalem or anywhere else in the West Bank has been made virtually impossible by the Israeli occupation authorities. Most Palestinians can no longer cross at all at Eretz. Most are trapped in their prison-home called Gaza.

To leave Gaza, they must make the difficult passage through Rafah to Egypt. For local Palestinians, leaving Gaza often means not knowing for sure if or when they might be able to return; it means risking being cut off from family and support systems and everything else a native Gazan knows. And it is entirely a different world out there. To leave Gaza is an existential step that substantially alters the life of those who do it. To return to the hardship of living in Gaza requires an existential commitment toward remaining steadfast.

It has become virtually impossible now for those Israelis, who want to develop positive relationships with their neighbors in Gaza, to go there. The Israeli government does not want countrymen, who still have a conscience, to know what really goes on inside the Strip.

For me, travel in and out is a bit easier, though still quite difficult. It has become more and more difficult now for foreigners to visit Gaza. Again, Israeli authorities are trying to make it difficult for outsiders to know what is going on inside Gaza. At this point in history, one has to be sponsored by a humanitarian organization in Gaza and have a formal letter of endorsement from a reputable professional organization in your host country. Then an appeal must be made, in my case, by Israeli Physicians for Human Rights, and then the Israeli Government might put you on the list of those few who are allowed entrance, and then they might let you in.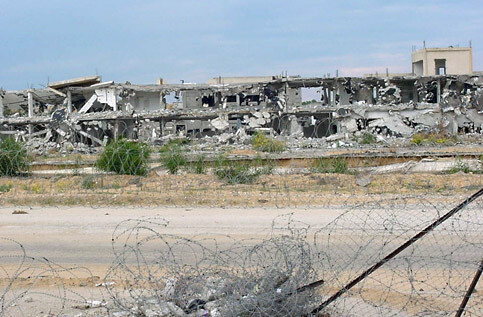 You really don't know for sure what will happen until you have finally gotten across Eretz and succeeded in getting inside. Going in this time only took me 45 minutes, a land speed record compared to my previous two attempts, both of which took two hours: one resulting in success, and one when I was turned away.

Every time I visit Gaza, I am struck by how gracious and normal most of the people I meet behave in the middle of the most grotesque and abnormal living situation imaginable.

Getting out of Gaza this time will prove to take much longer than it took me to get in. I know it will be scary; fortunately, the ARTE TV French news crew will be leaving Gaza on the same day as me, and we have decided to go out together. I am relieved that I will not have to do it alone this time.

It only takes less than 20 minutes from El Deira Hotel on the beach in Gaza City to make it to the beginning of the Eretz Terminal just North of Beit Hanoun.

Our van with my three bags and all the equipment for three members of a TV news crew first stops at the first checkpoint of the Palestinian Authority. Our passports are checked and then the van drives our stuff 100 meters more to the final Palestinian departure where we hire a porter. All of our things are loaded on a dolly and we say goodbye to the Palestinian guards.

Then we walk 300 meters down a long concrete corridor-tunnel. At the end of the tunnel there is a kink, which is our last photo opportunity; then we face a huge gate with spy cameras pointed at us. The gate opens mysteriously. We cross, and the gate closes behind us and now we are trapped between two gates and inside a no-mans-land that will take us another hour and a half to get across.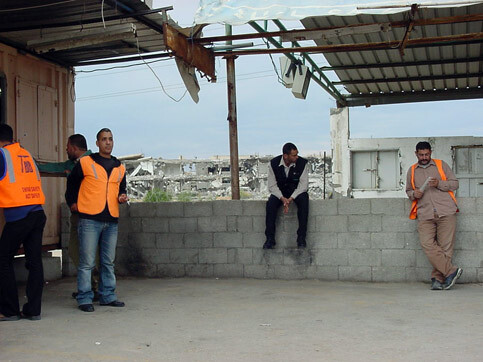 In front of us is a luggage scanner. A woman's voice shouts loudly and authoritatively at us in English and Hebrew: "Put your bags one at a time in the scanner! No, take them out! No, not that way! Now, just one at a time!" We still cannot see a human, only spy cams and loud speakers. Then each of us is scanned individually. I enter a plexi-glass cylinder; the door closes behind me and I am trapped inside the cylinder for as long as my anonymous handlers want to hold me. A scary loudspeaker voice with a thick Hebrew accent shouts: "Hands Up" and then "Sorry" when I startle.

A panoramic x-ray unit whizzes around me. The door opens and I am deposited into the next receptacle awaiting my French companions who must still get through this part of the maze. Then we must pass ourselves and our entire luggage through two metal revolving door squeeze boxes. It is extremely awkward and difficult to do all this alone, getting through the turnstiles with all your bags.

Fortunately we all work as a team, helping each other pass all of our stuff through the metal maze, and we all get through it easier than if we had done it individually. Then all of us and our bag pass through into another holding area, where a luggage inspector randomly opens and examines some of our suitcases.

Then we pass to the VIP room where we surrender our passports and wait a while longer. Then we finally are given permission to enter Israel from the guards, and then walk another 75 meters and pass through the final guard checkpoint and finally 30 meters further to the parking lot where a taxi awaits us. This whole ordeal takes us over two hours. I am glad for the company of my French companions, and very fortunate not to have to do this alone.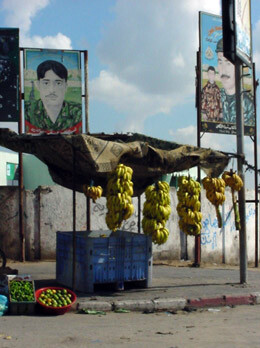 There are people who are paid good money to spend all their time inventing all this. If I ever successfully return to Gaza in the near future, I wonder if is will take three hours next time after "security experts" invent a few more gadgets! It is ironic that at a time where European borders are getting much easier to cross,

US

borders are getting tighter, and the Gaza-Israel border has become the tightest crossings in all in the world.

An effective diplomacy based on equal rights and justice would be much easier and more effective. This is one thing the Israeli government and the Americans have yet to try.

From the parking lot on the Israeli side of Eretz Checkpoint, we peel out onto the superhighway and it seems like we are back in Southern California again. An hour later, we are at a beachfront hotel in Tel Aviv, and on our way home.

Dr. Bill Dienst is a rural family and emergency room physician from Omak, Washington, USA.

Related Links