Salfit to Nablus, Nablus to Jenin, Jenin to Ramallah &
then Crossing Kalandia to Jerusalem
November 9, 2006 - Salfit area to Nablus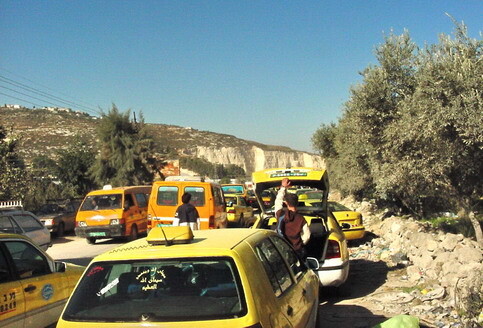 Salfit is a very beautiful part of Palestine in spite of all the sadness due to the huge Ariel settlement. Ariel, as well as many other smaller colonies and highways, have now managed to cut all the way across Salfit to the Jordan Valley.

The northern West Bank has now been severed from the central West Bank. There are now four smaller, instead of three larger, Bantustans in the West Bank. In total, there are now five Palestinian Bantustans, if you include Gaza. Each is completely surrounded by Israeli checkpoints and with total Israeli control of air and sea space. If this is what is meant as the "Palestinian State" by Bush and Olmert, it is definitely not viable.

We start the day in the village of Magdal Beni Fadel, population 2,500, which overlooks the Jordan River Valley. We can easily see the Hashemite Kingdom of Jordan on the opposite side. Below we see Israeli settlements and collective farms which now control over 90% of the arable land in the Jordan River Valley.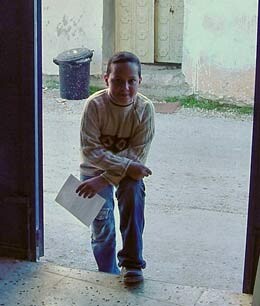 In our makeshift clinic, the Salfit Mobile Health Unit manages to see over 80 patients today. Dr. Hazem Bozeeyah is doing most of the work, and I most of the journalism and documenting.

We see a young man who lives here, but attends Al-Najah University in Nablus. He was trying to pass from Nablus to here through Al-Huwaida Checkpoint, when he was struck in the head and beaten with batons by the Israeli border police. He lets me photograph his scalp injuries, but not his face.

When we get back to Salfit, I say a tearful goodbye to my colleagues here at the PMRS Salfit district. They have shown me so much during the 4 days I have been here. Now I must cross Huwaida checkpoint myself on my way to Nablus.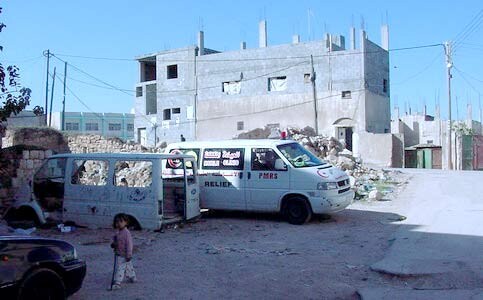 The group taxi called a "Servees" leaves central Salfit bound for Nablus. First we pass out through Zatara and Yitzhar checkpoints, which are really no big deal. The overall strategy of the checkpoint system in the West Bank is this: the Israelis make it relatively easy to move away from Jerusalem and the 1948 Armistice Line, while making it much harder to get back. That is, the delays and hassles tend to be much harder as you travel back toward the direction of Jerusalem.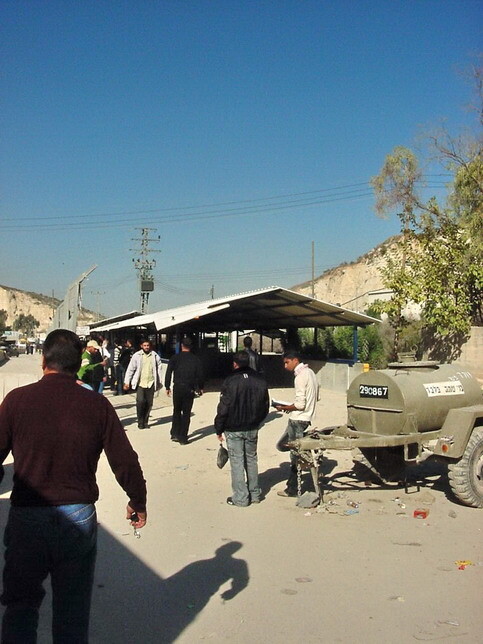 This servees terminates at the huge checkpoint at Al-Huwaida which controls who gets into and out of Nablus. We get out and walk with our bags for about 200 meters through a squeezbox to another servees waiting on the other side and pay a few shekels more for the rest of the way into Nablus. We pass Balata Camp, site of so much violence by the

IOF

and resistance by by the locals during the past several years. The second servees drops us off in central Nablus. This is a rough place.

IOF

special forces come in here at night, often dressed up as Arabs, and try to stir up trouble. The local youth living in the Old City have a more street-wise jaded hardness about them that is noticeable from the start.

I am warned to watch out, and stay inside after 10 pm because there are often gun battles in the street, and people get caught in the crossfire. I am advised to say that I am Canadian when I am out on the street. It is less offensive to the reality that the local people here are suffering in terms of whose taxpayers are paying for all this oppression happening now in Nablus.

November 11, 2006 - Nablus to Jenin

It is only 2 1/2 shekels from downtown Nablus to the checkpoint Beit Iba on the road toward Jenin. But when we get there, oh what a mess! This place is backed up in both directions. We get out of one servees and walk the 300 meters through the turnstile and squeeze box to the IOF soldiers who examine everyone's ID cards and my passport.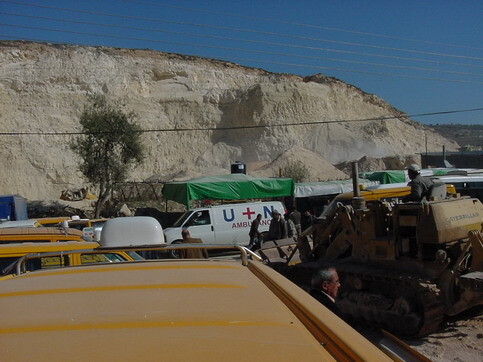 On the Jenin side, we must wait a while. It has rained hard the past few days and the water has eroded the parking area for the serveeses on this side. We wait while a bulldozer fixes the erosion, and vehicles including Red Crescent and

UN

ambulances are delayed trying to cross back to Nablus.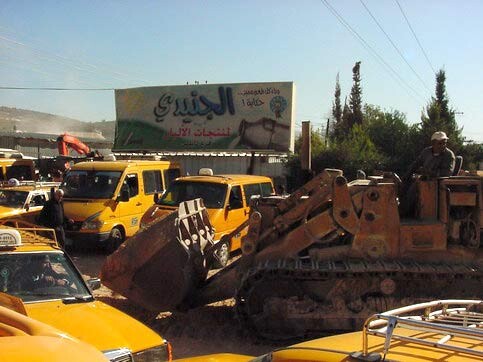 Finally the parking areas are fixed and our servees is under way toward Jenin. About 10 minutes later, our driver leaves the pavement and ventures out on dirt roads far up into the hills with the other vehicles and serveeses to get around the Jeba'a Checkpoint. Just outside of Jenin, we pass the Araba flying checkpoint. Soldiers are arresting and handcuffing a man as we pass by.

November 13, 2006 - Jenin to Ramallah and then to Jerusalem

After 2 days in Jenin, it is time to head back to Ramallah and then Jerusalem tonight, because I am heading to Gaza tommorrow. Dr. Jameel tells me that it used to take just over an hour to travel 100 km to Ramallah. Now it takes at least 2 1/2 hours if you are lucky, and up to 6 hours or longer if you are not. There are 7 checkpoints between us here in Jenin and where we want to be in Ramallah. Our group taxi leaves Jenin at 0845. Let me count the checkpoints and how we do: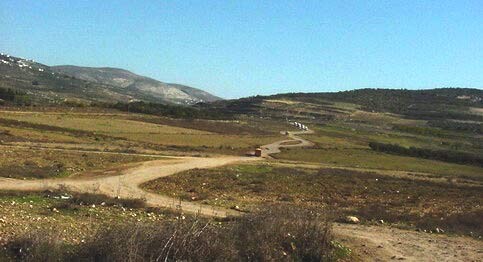 1) Araba flying checkpoint, just south of Jenin. The

IOF

have not showed up yet. It pays to leave early. Yesterday our Mobile Health Unit Van was stuck here for a half hour.

2) Jeba'a checkpoint. We skirted through the village and then out on some back roads and missed the checkpoint altogether. These taxi drivers are on their mobile phones all the time and know their stuff.

3) Anaab checkpoint. We took another dirt road and drove around this one too.

4) Geet Checkpoint. We were stuck here for only 7 minutes and the soldiers looked at our ID's.

5) Etzar Checkpoint. Only a 5 minute delay. Not bad.

6) Zatara checkpoint. We bypassed this one by taking back roads.

7) Atara Checkpoint. We went around this one too.

11:30 am. Total time to Ramallah: 2 hours and 45 minutes. I guess this is about as good as it gets these days.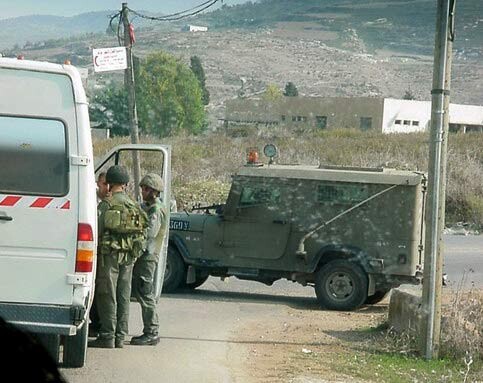 After final preparations in Ramallah, I take a taxi to the Kalandia checkpoint which now a giant terminal along the wall which blocks the entrance into Jerusalem. My taxi drops me off on the Ramallah side, and I haul my 4 pieces of luggage through 2 turnstiles and a squeezebox to the Jerusalem side while several young Israeli solddiers behind a plexiglass window pass the time and remain indifferent to my plight or anyone else's. I am lucky to have my

US

passport. Imagine how hard this would be if you were a native Palestinian and actually lived here!

I take the bus to Damascus Gate in Jerusalem. What an ordeal!

Dr. Bill Dienst is a rural family and emergency room physician from Omak, Washington, USA.