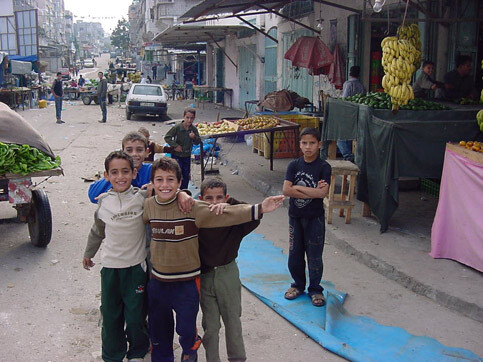 November 18, 2006 in Northern Gaza
Last night I again heard the roar of an F-16 fighter jet and then the low thud of air-launched missiles being fired into Beach Camp. I didn�t even bother to look out from my hotel room this time. Rafah, Jabalya and Beit Hanoun were also hit according to local news reports.
This morning, we drive by Mr. Alaaki Aqeelan�s apartment in Beach Camp, which was hit last night. The third floor is a shambles and there is concrete rubble on the street. Otherwise, people in the area are going about their daily business.
The tremendous indifference that the majority of Israelis and Americans show toward the people of Gaza, and the people of the West Bank, Lebanon, and Iraq for that matter, exposes the inherent racism and neocolonialist attitudes of our current so-called War on Terror. Longstanding US and Israeli policies are producing growing economic fear as well. Of Gaza�s population of 1.5 million, 1.1 million are so impoverished that they must rely on United Nations Relief and Works Agency provisions in order to survive. Today I am about to feel the different forms and levels of fear on a very personal level.

I head up to Beit Hanoun for my second visit. This time I go with the Gaza Palestine Medical Relief Society (

PMRS

) mobile health van to do shrapnel rounds. I go with Dr. Hatem, their physician, Husam, the nurse, and Ahmad, our driver. Beit Hanoun was the site of the week-long incursion and massacre which finally ended ten days ago.

We will be providing medical care to a certain segment of the population: those who were injured but not killed. We will see the more fortunate sub segment of the injured population.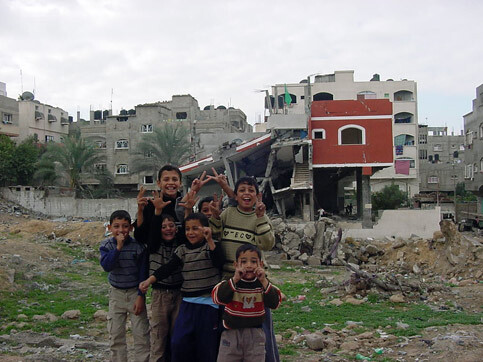 There is a larger segment of this population of wounded who have more serious injuries and are still hospitalized. Many of these people will now be crippled for life because of what happened here in early November. I will not see those people today.

Today we treat the more fortunate sub segment of those who have been injured. Those whose injuries did not require hospitalization, and also those who were hospitalized, but have now made it home. Some of these families whose homes we visit are now in mourning after losing other family members, and also having additional family survivors with major injuries that will leave them disabled and in need of chronic care.

First we stop just northeast of the secondary school that sustained much damage from the bulldozers and tanks.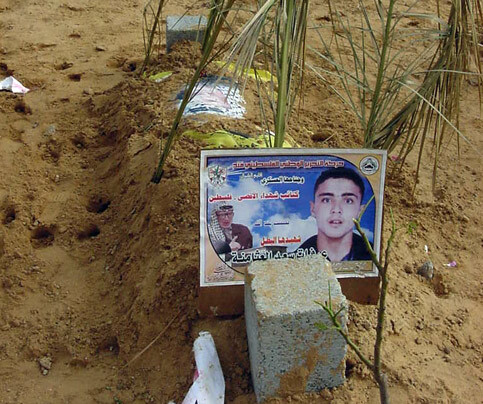 We are at the gravesites of 16 members of the al-Athamina family who were buried together last week in the sand here. There are palms over the grave sites, which had to be dug hastily by hand, and also pictures of the dead.

We visit the eastern margins of Beit Hanoun where this farming community�s citrus trees have been located, just to the west of the Israeli town of Sderot. It is quite frustrating to be a Palestinian living in Gaza. During the past 58 years of oppression and banishment to refugee camps here in Gaza, the world has ignored them.

So recently, Palestinians have fired homemade Qassam rockets toward Sderot in a vain effort to fight back. Most of the time, these rockets hit nothing. In the past six years, the Palestinians have fired about 1,700 rounds of Qassam rockets into Israel, killing 15 Israelis � including six children.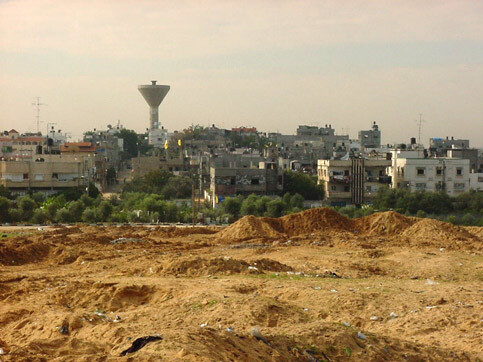 This has simply provided the Israelis another convenient excuse not to negotiate peace, and the Americans have played along.

In the same time period, Israel has fired over 15,000 rounds into Gaza. In one month last summer (26 June to 24 July) Israel killed 126 Palestinians in Gaza; 63 of these were civilians and 29 of these were children. During the past five months (June-November 2006), 450 Palestinians have been killed in Gaza.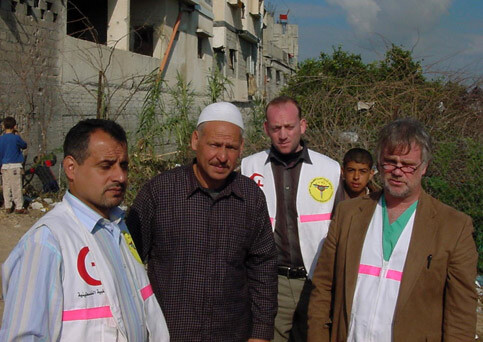 Here on the eastern margins of Beit Hanoun which borders Sderot, the Israelis practice collective punishment: 62 percent of the citrus groves have been destroyed by Israeli tanks and bulldozers, according to Mr. Abdul Rahman, a local farmer. He says some of these trees were over 50 years old. The excuse for all this economic devastation is that Qassam rockets have been fired from here.


Next, we head back to Beit Hanoun to see patients who were injured during the massacre on November 8, 2006. As we get out of the van, a group of Beit Hanoun�s children surround us, including two little girls: Lena Asafa El-Athamina, age 9, who lost her mother, aunt and grandmother in last week�s massacre; also Khadeeja Saqr Aduwan, age 8, and her younger sister. Their father and aunt were killed.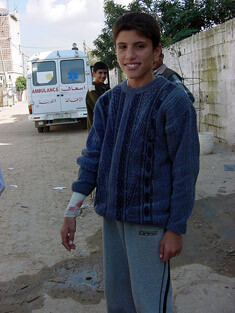 Our first patient is Osama, a 15 year old boy who sustained shrapnel lacerations to his right forearm.

Then we do would care on Abel Qader Abu Rood, age 56 and Mahmood Kafarani, age 35, who were seriously wounded as they tried to help after the El-Athamina apartment was attacked. Mahmood says that at around 5 am he heard birds chirping, and then a sudden artillery attack.

Fear is a powerful stimulant that causes some to instinctively react, sometimes with great courage. Both of these men ran to help and it was the second rocket that hit Mahmood and Mr. Abdel Qader. They screamed for help, but because more rockets were still hitting, no one could come and help them for a while.

Mahmood required open chest surgery, repair of his trachea and the sack around his heart as well as control of internal bleeding from his lungs. He very easily could have died. He required three chest tubes, and still has shrapnel imbedded in his chest. He was released from the hospital yesterday.

In spite of all this grief, the local people still show their hospitality; we are served tea and coffee everywhere we go as we do house calls in Beit Hanoun. Next we do wound care on Amad El-Kfarna, age 23, who suffered gunshot wounds to his chest, abdomen and back.

As we finish providing wound care to him and exit his apartment, we can now see and hear five Israeli Apache Helicopters overhead. They are firing automatic weapons to the south and west of us toward Jabalya camp and the town of Beit Lahiya. We can see the flash from the choppers, and then a few seconds later, hear the loud staccato of gunfire.

Dr. Bill Dienst is a rural family and emergency room physician from Omak, Washington, USA.

Related Links