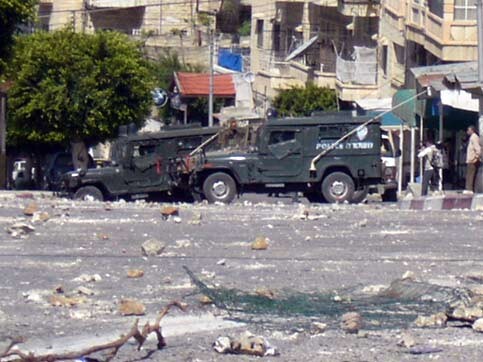 Nablus, 11 April 2005 — Early this morning, about two dozen jeeps from the Israeli Occupation Forces (

IOF

) assisted by a helicopter entered Nablus and surrounded a house on the Jabal Shamaliya, the northern mountain of the town. During the military operation 15 people were arrested, of whom two remain in custody. Six people were injured and taken to Rafidia Hospital, one of them in serious condition.

Nablus residents were woken up early today. The noise of a helicopter and explosions before six o'clock were the first signs of a military operation. On their way to school, hundreds of youth found themselves in the middle of it. Resistance was the result. While the clashes mainly took place at first in the area around Faysal Street, later on they moved further up, to the big graveyard. Although some resistance fighters showed up on the edge of the Old City, no armed confrontations took place. It turned out that the operation's focus was to arrest Firas Al-Tanbour.

In the course of the operation, the army occupied several neighboring homes of the Al-Khalili's house on the North Mountain. 15 people, among them even a blind young man, were kidnapped by the army.

Several people were injured during the clashes. At one point, teargas was shot into a house with a baby. One youth was shot in the head with a rubber-coated steel bullet and was hospitalized, his condition remains serious. According to medical sources, five other people were taken to Rafidia hospital as well.

The author of this article was intentionally attacked himself and was hit by a rubber-coated steel bullet in the chest.

Of the 15 people arrested, 13 were — according to my information — released. Two of them, Rami Al-Khalili and Firas Al-Tanbour, remain in custody. The Al-Khalili family just lost one of their sons, Ra'ed, last week after he was shot in the stomach.

Although today's military operation was the largest launched by the IOF during the day for the last few months, it might seem that Nablus is "pacified". Reality looks different.

Still, the army enters Nablus almost every night and causes trouble for the city's residents, the ongoing Israeli contribution to what is known as the Hudna ("Cease-fire").
Ray Smith is a psuedonym.