Today, Thursday afternoon an Israeli undercover commando killed Ibrahim Smeri, 24, a fighter of the Al-Aqsa Martyrs' Brigades, right outside the Balata refugee camp on the outskirts of Nablus.

Around 2pm today, two private cars with undercover units dressed in women's clothes approached Ibrahim Mohammad Mahmoud Smeri Hashash, as he left from Al-Quds street walking towards the southern end of Balata Camp.

According to eyewitnesses, Smeri managed to shoot at the Israeli special forces (shattering one of the car's front window) before he was hit with at least seven bullets. Two pieces of cloth with eye slits, empty pistol bullet casings and pieces of broken glass were found on the ground.

After shooting Smeri in both his arms, one of his lower legs, his stomach, and his chest, the soldiers grabbed his body and brought it to Huwwara army base. Later, it was handed over to a Palestinian ambulance that brought it to Rafidia Hospital in Nablus for investigation. His funeral — hundreds of people participated — took place around 5 o'clock in Balata refugee camp.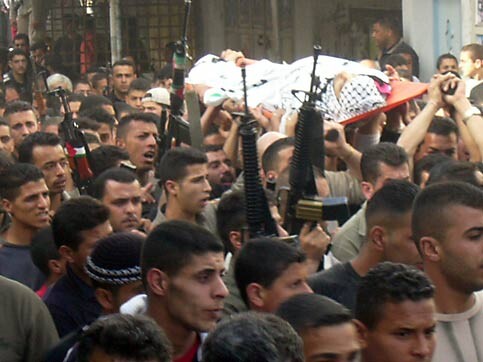 Smeri, with two brothers in prison, leaves behind his wife and three children. According to sources in the camp, Smeri kept on speaking out against the so-called Hudna ("ceasefire") in favour of armed resistance, as the reality in the occupied Palestinian territories during the last three months — especially in Nablus — definitely has not been a "ceasefire".

Last night, IOF troops entered the camp and clashed for hours with the local resistance.

Ray Smith is a pseudonym.