Ibrahim Kilani, his wife, Taghrid, and their five young children all perished in a single Israeli airstrike on a Gaza City residential tower last summer.
Ibrahim was an architect who had spent more than twenty years in Germany. Except for Taghrid, the family all had German passports. But this did not protect them from the strike, and Germany has made no visible effort to seek justice on its slain citizens' behalf.
Ibrahim and his family were not killed in their home in the northern town of Beit Lahiya but in a flat they rented in Gaza City. They thought they would be safer there. After all, they were only following the instructions of the Israeli army, which had dropped leaflets in their area instructing residents to flee to Gaza City.
When I visited the family's Beit Lahiya flat in September 2014, it was still full of their personal belongings, as if they left the place for just a little while. Blueprints of Ibrahim's latest plans still lay on his desk.
Entire families killed
The Kilanis were not the only family to be wiped out in Gaza last summer. According to the United Nations monitoring group OCHA, 142 families lost at least three members in Israel's military assault.
During the terrifying nights of bombings, families typically gathered in a single room. There was a high probability that a large number of people from the same family would be killed in direct strikes.
The targeting of civilians is a war crime, says Amnesty International, and even in the cases where there was militant activity in the area of targeted homes, the loss of civilian life in Gaza this summer was "disproportionate" and "indiscriminate."
It is impossible to comprehend the magnitude of the erasure of dozens of families like the Kilanis and the grief of those who survived.
Tragedy
The pace of Israel's killing was so relentless, engulfing Gaza in chaos, that it was impossible to get the names of many of the bodies I photographed as they were brought into the hospitals to learn their stories. But I was determined to help tell the individual stories of Palestinians in Gaza so that they may not be reduced to abstract statistics.
The difference between life and death was arbitrary for the nearly 1.8 million Palestinians trapped in Gaza with no safe place to go.
Each family's tragedy echoes that of others in Gaza. That justice is so out of reach, permitting Israel to unleash its violence again and again, makes the healing process all the more difficult.
This photo series is an attempt to convey the profound loss inflicted on Gaza, so that these families are not forgotten and their existence is never fully erased.
Anne Paq is a French freelance photographer and member of the photography collective ActiveStills. The Gaza-based rights group Al Mezan provided research, translation and logistical support for this photo essay.
Eight family members were killed when the homes of Mustafa and Refaat al-Louh in Deir al-Balah were attacked on 20 August.
Left: Oifa and Momem are the only survivors amongst Mustafa's children. Momem has a barber shop. Oifa is a student.
Right: Mustafa al-Louh in front of the ruins of his home. Mustafa survived because he woke up to go to pray and stopped in the kitchen where his wife was preparing tea.
The strike, which destroyed Mustafa's home as well as the tin-roofed home of his son, Refaat, killed eight members of his family, including three of his four sons. Rafaat was killed with his wife and three children: Mustafa (10), Maysara (7) and Fara (6). Mustafa's 18-year-old niece, Iman, was also killed in her home — located approximately 100 meters from the strike — while she was praying next to her bed. She was struck in the head by a large block of concrete.
Bodies were thrown in different directions by the blast. Fara was found in the neighbors' garden, Maysara on a roof. Mustafa said: "There is no reason for this crime. I do not know why they hit the house. There is no resistance here. We are not harming Israel with anything. I won't keep silent, because this is not just. Someone has to stop it. I am ready to face any court and confront Israeli lies."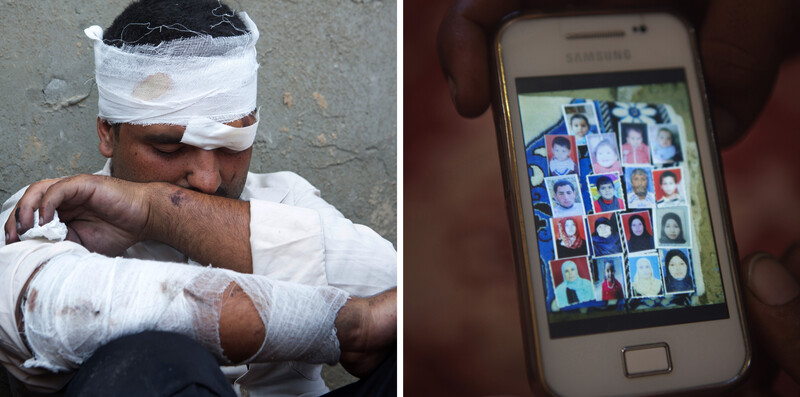 The home of the al-Najjar family in Bani Suheila, in the southern Khan Younis district, was attacked on 26 July. Twenty-one family members were killed.
Left: Hussein al-Najjar just a few hours after a strike on his three-story home killed 21 members of his family, including his wife, Riham, and two of his children: Samir (1) and Motaz (6). His other two children, Husam (7) and Olfat (4), survived because they were staying in the home of their aunt. Hussein is one of only three persons who survived the attack. He was found unconscious next to olive trees outside the ruins of the building.
Hussein says this is hard for his two surviving children: "Olfat curses heaven because we told her her mother is there. They are crying and have nightmares. They sleep with their aunt just meters aways from the huge hole caused by the attack."
Right: Photographs of the some of the members of the al-Najjar family who were killed.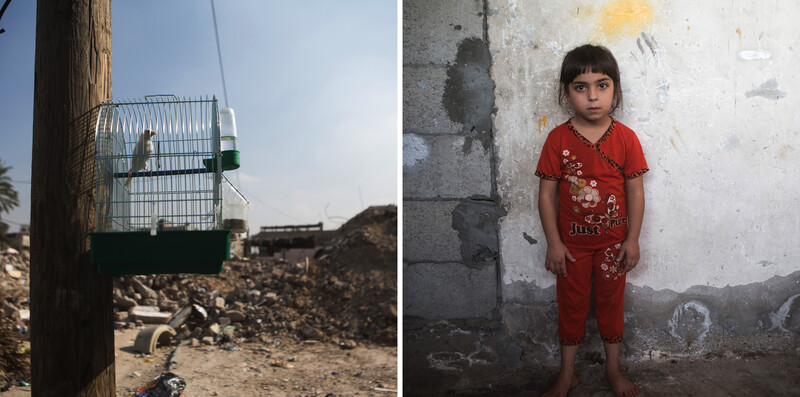 The al-Dali building, home to the al-Najjar family in Khan Younis, was hit on 30 July. Thirty-five members from five families were killed.
Left: The site of the attack on the four-story building where four families were living at that time (three permanently and one — the Abu Amer family — who took refuge in the kindergarten located on the ground floor). Eighteen children and seven women were among the thirty-five who were killed. It was the deadliest Israeli attack on a residential building.
Right: Nour al-Najjar (7) survived the attack, along with her mother, Hana, and her 21-year-old sister, Alaa, who needs surgery but was denied a permit to enter Israel for medical treatment. Nour lost her father and five siblings in the strike.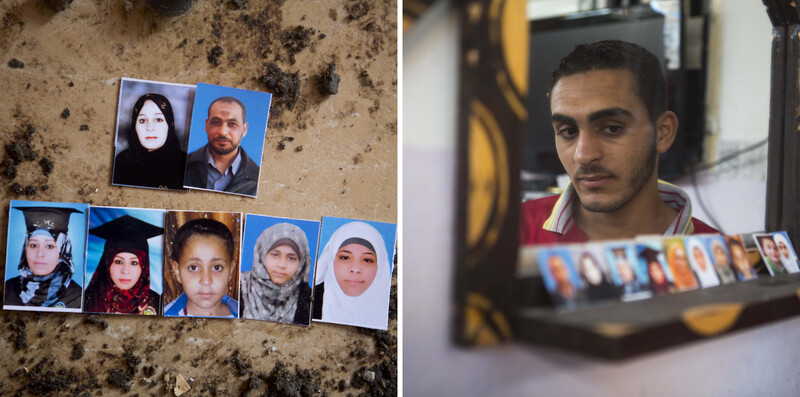 The Balata family home in Jabaliya refugee camp was attacked on 29 July. Eleven family members were killed.
Left: Photographs of the family of Naeem Balata (upper right) and his wife, Sahar, who were killed in the home of Abdelkarim Balata (Naeem's brother) along with five of their children.
Right: Back in his home, eighteen-year-old Alaa is the only survivor of his family who were taking refuge in Abdelkarim's home when it was hit. Alaa survived because he went out on the roof to check the water tank. Alaa decided to honor the memory of his father, who worked his whole life to encourage his children to pursue their studies, by going back to school and retaking the general high school exam to get a higher score in order to be able to attend university. Abdelkarim, Alaa's uncle, who lost his seventeen-year-old daughter, Adeel, in the attack, and the remaining members of his family have now moved into Alaa's home.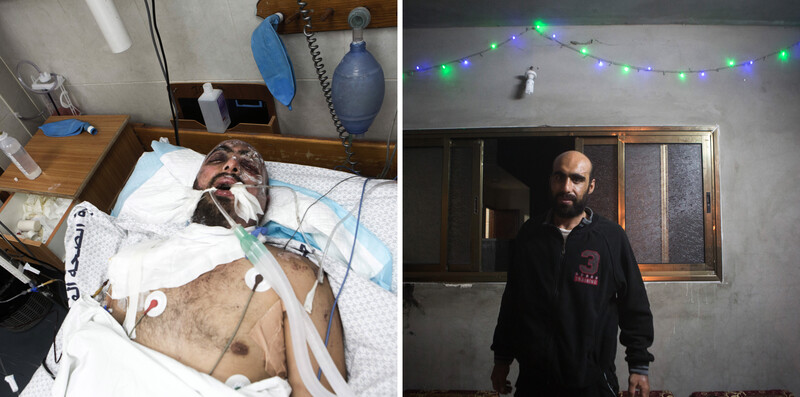 The Gaza City home of the al-Batsh family was attacked on 12 July. Eighteen family members were killed.
Left: Osama al-Batsh in the intensive care unit at al-Shifa Hospital on 14 July. Osama was the only survivor after the attack on the home of his uncle, Majid Subhi al-Batsh, which left eighteen dead, including Majid, his wife Amal and their seven children.
Right: Osama in his home in November 2014: "Doctors could not believe I was still alive. It's a miracle." Osama lost 30 kilograms (66 pounds) and had his leg amputated. The day of the attack, he had gone to visit his uncle but his wife and children stayed in their home and therefore survived.
The Maadi family home in Rafah was attacked on 1 August 2014. Six family members were killed.
Left: Muhammad Maadi holds the body of his niece, Jana (2), in a truck after the family took the bodies out of a makeshift morgue in a produce refrigerator. Bodies were stored in produce refrigerators in Rafah due to the overwhelming number of victims and the lack of space in the hospital morgues.
Center: A photo of Jana and Alaa (3) is displayed on a mobile phone. The children were killed in the Israeli strike along with their parents, Bassem and Iman. The entire immediate family was killed.
Right: Bassem's mother, Zaikaa, 58 years old, in the room where she was sitting when the attack occurred: "We are tired and homeless. We are tired psychologically. We are so affected." The attack killed two additional members of the Maadi family: Suleiman (54), Zaikaa's brother-in-law, and Yousef (3), another of her grandchildren.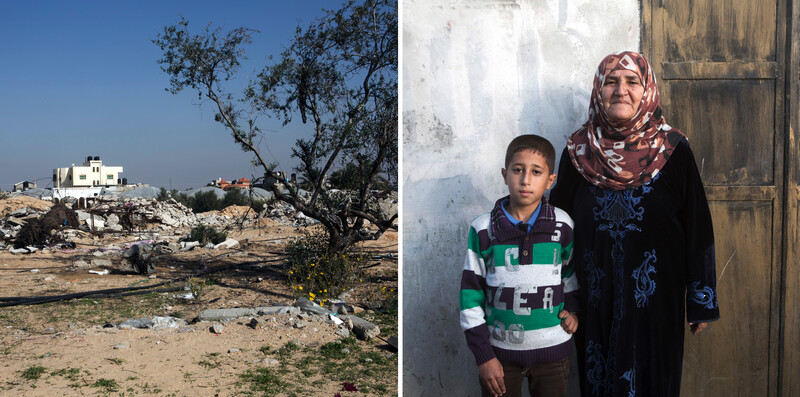 The Duheir family home in Rafah was attacked on 29 July 2014. Nineteen family members were killed.
Left: What remains of the Duheir family home, where thirty people lived, after two missiles were launched at it. Days before the attack, the home was empty because the brothers who owned it and their families were staying with their in-laws. They decided to reunite for Eid, the feast at the end of Ramadan. Nine children were among the victims. Only three survived the attack.
Right: Ahmad Duheir, 11 years old, with his grandmother. On the day before the attack, Ahmad refused to stay with his family when they returned to their house to celebrate Eid after staying for two weeks at the home of Ahmad's grandmother. His father insisted, but Ahmad refused and asked to be allowed to go back to his grandmother's. His father finally agreed and took him back. That same night, Ahmad's home was hit and his parents, Mahmoud and Jamalat, and his five siblings were killed. He is now staying with his grandmother and has returned to school.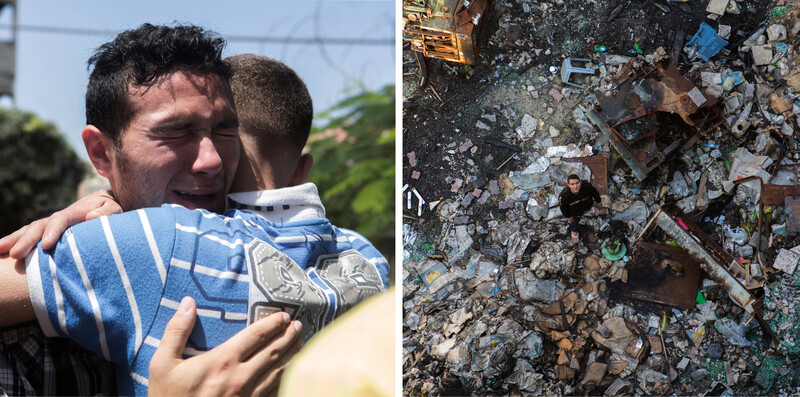 The al-Khalili family home in the al-Tuffah neighborhood east of Gaza City was attacked on 30 July 2014. Eight family members were killed.
Left: Ismail al-Khalili cries in front of the al-Shifa hospital morgue after the loss of his two brothers, Ashraf and Ahmad, and their families.
Right: Ismail stands where his family was killed. The entire families of Ismail's brothers, Ashraf and Ahmad, were killed: Ashraf's wife, Nida, and their children Deema (4), Ziyad (3) and Mahmoud (7); Ahmad's wife, Aya, and their daughter Lama (5).
On the day of the attack, the families decided to evacuate the building, home to approximately thirty people, but there were not enough cars to take everyone all at once. The two families were the only ones left, and were waiting in front of their home in the garden when there was a direct attack on them, killing seven. Mahmoud survived the attack but died of his injuries a few days later. The rest of the extended family left just five minutes before the attack. The al-Khalili family's factory, which is adjacent to their home, caught fire, destroying all their equipment and means of livelihood.
Ismail, who was a university student, said that he cannot manage to study anymore: "For all my family, the psychological impact is terrible. We were always together. We worked and lived in the same place. Time will reduce the grief but we cannot forget our brothers."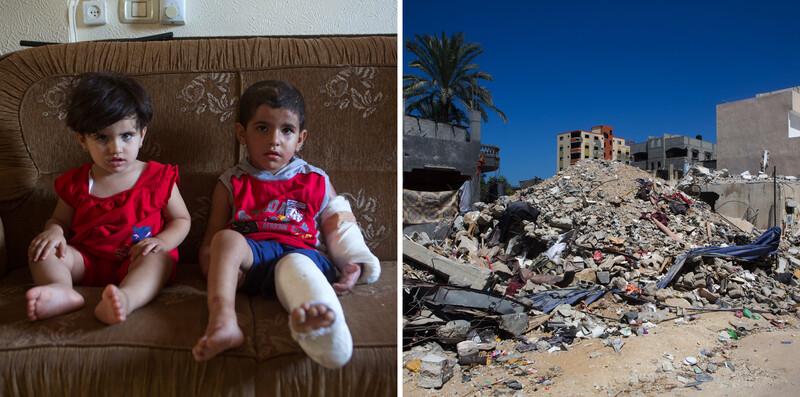 Eighteen members of the extended Abu Jaber family were killed in al-Bureij refugee camp on 29 July 2014.
Left: Survivors Jana (2) and Yamin (3) in the home of their uncle who has been taking care of them after their parents, Sumaya and Ahmad, and their sister, Hala (4), were killed in an Israeli air strike on their home. Jana was found on a roof, miraculously only suffering a few scratches and bruises. Yamin was found three days later in a hospital where he had been taken without the knowledge of his family. Yamin still suffers from a lot of pain; he has two fractures in his arm, one in the leg, and pieces of shrapnel all over his shoulders and back. Sometimes he said that he wants to go to heaven to see his family there.
Right: The ruins of the Abu Jaber family's homes. In total, three homes belonging to the extended family were destroyed. The victims included six children and one elderly person.
The Shuhaiber family home in Gaza City was attacked on 17 July 2014. Three children were killed.
Left: The funeral for Jihad (11), his brother Wassim (8) and their cousin Afnan (8). The three children were killed by a drone-launched missile targeting the roof where they were feeding pigeons. The children were visiting their grandfather, taking advantage of a ceasefire that expired just minutes before the strike. Wissam, the father of Afnan, said: "Until now I don't believe this has happened."
Right: Basel (10) is one of two children who survived the attack. He suffers from serious injuries in the arm, hand and head. He is in need of further surgery and there are still pieces of shrapnel in his head. According to his father, Yasser, Basel has problems focusing on anything and cannot sleep without pills due to the pain and nightmares.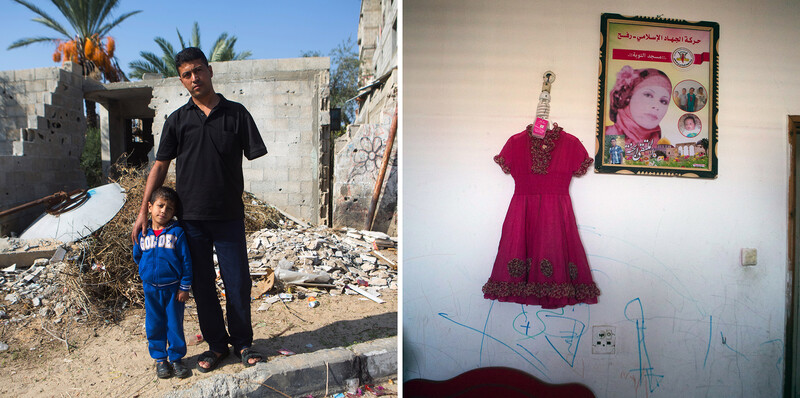 Thirteen members of the Siam family in Rafah were killed fleeing their home on 21 July 2014.
Left: Nabil, a vegetable farmer, and Bader (4), his only child who survived the attack. Nabil, whose left arm had to be amputated, lost his wife, Shirin, and four children: Mustafa (9), Ghaida (7), Abdulrahman (6) and Dalal (9 months).
Bader lost a kidney due to his injuries, and is afraid to leave the home. The extended family was hit by two missiles as they were fleeing in the street, just a few meters from their doorstep. Twelve family members were instantly killed, including two of Nabil's brothers. Another family member, 16-year-old Mohammed, died in November from his injuries while receiving medical treatment in Turkey.
Right: The dress that Nabil bought for his daughter Ghaidaa for Eid, the celebration at the end of Ramadan, hangs next to a poster with the photos of his loved ones who were killed. Nabil said: "It's very difficult. It's shocking to lose the people who represent all my memories. It's impossible to forget."
Tags