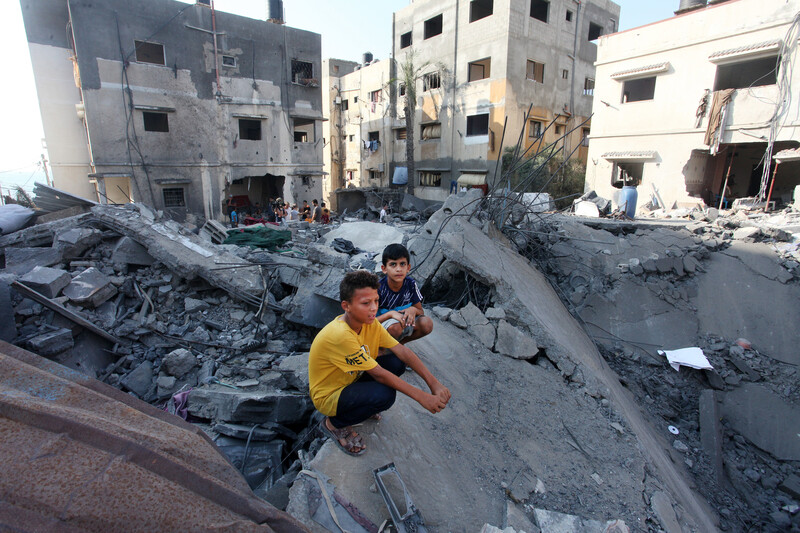 After Tel Aviv's latest unprovoked attack on Gaza, costing dozens of Palestinian lives over three days, a curious Israeli government narrative emerged, suggesting that Hamas was happy that Islamic Jihad leaders were killed in airstrikes.
Another Israeli talking point painted Hamas, which runs Gaza's internal affairs, as the "responsible adult" in the room in contrast to the hardline and undisciplined Islamic Jihad.
Coupled with that second talking point is the narrative that pragmatic Hamas declined to participate in the three days of hostilities because it didn't want to jeopardize the status quo at Gaza's Israeli-controlled crossings.
All three narratives deflect Israeli responsibility for the latest episode of asymmetrical warfare in Gaza. It was Israel that broke the ceasefire that ended last year's 11-day bombardment of Gaza, from which the besieged coastal enclave is still recovering.
This month's attack began with an airstrike in Gaza City that killed Taysir Mahmoud al-Jaabari, a military leader in Islamic Jihad, and Salameh Muharib Abed, al-Jaabari's aide.
The assassination of a senior resistance leader would all but guarantee a response in the form of rockets, which Islamic Jihad launched from Gaza hours after al-Jaabari's killing.
The Israeli prime minister and defense minister attempted to justify the surprise attack by claiming the strikes were "aimed at removing a concrete threat to the citizens of the State of Israel."
But Israel "has not substantiated or proven what the threat was," as Omar Shakir, a program director with Human Rights Watch, told Jewish Currents after a ceasefire was declared days later.
The unsubstantiated "concrete threat" is only a hollow attempt to justify an obvious violation of previous Gaza ceasefires in which Israel agreed to stop assassinating resistance leaders in the territory.
Israel has repeatedly violated past Gaza ceasefire agreements, the contours of which have changed little over the past decade and a half.
Gaza has been subjected to repeated large-scale offensives following Israel's unilateral withdrawal of its military and settlers from the interior of the territory in 2005.
The ceasefires ending those deadly episodes have essentially guaranteed "quiet for quiet" while the devastating Israeli-Egyptian siege imposed on Gaza in 2007, after Hamas routed Fatah forces and began administering the territory's internal affairs, remains firmly in place.
While the "quiet" allows Israelis to go back to their normal lives, the siege is a form of permanent and continuous warfare against every man, woman and child in Gaza.
Israeli assassinations break Gaza ceasefires
Indeed, Israel's assassination of al-Jaabari on 5 August echoed the November 2019 airstrikes on a home in Shujaiya, a neighborhood of Gaza City, killing Baha Abu al-Ata, also a military commander with Islamic Jihad. Abu al-Ata's wife was killed in that attack and one of the couple's young sons was injured.
Exactly a year before the assassination of Abu al-Ata, a botched Israeli commando raid in Gaza sabotaged not only an existing ceasefire agreement but also negotiations for a longer-term indirect ceasefire agreement brokered by the UN and Egypt.
And in 2012, Israel and Hamas were reportedly in talks over a long-term truce when Tel Aviv assassinated Ahmad Jabari, a Hamas military commander, in a missile strike that killed several other Palestinians, including a young girl.
The events of August 2022 are no exception to the well-established pattern of Israel deliberately sabotaging a ceasefire.
Belying the "ticking time bomb" ceasefire violation loophole, unnamed Israeli "intelligence sources" told Anshel Pfeffer – in an article for The Times of London aptly described by The Electronic Intifada's Asa Winstanley as "stenography for Mossad disinformation officers" – that Tel Aviv had been planning the operation targeting Taysir al-Jaabari for months.
Intelligence sources also insisted to Pfeffer that Hamas was happy to see the "decapitation" operation against Islamic Jihad.
"Hamas stayed out of this round of hostilities, for fear of jeopardizing recent agreements by Israel to expand the number of Gazans with work permits in Israel and new infrastructure building projects," according Pfeffer.
"Officials noted that Hamas was 'quite happy' to see its rivals come under attack," he adds.
That narrative made its way into the reporting of NPR, a national radio network in the US.
Steve Hendrix, The Washington Post's Jerusalem bureau chief, told NPR that Hamas not joining the fray "definitely shows the factionalism within Gaza."
He said that "Islamic Jihad is a rival to Hamas and a much smaller organization, and the two don't always get along."
While acknowledging that Hamas had "a decision to make," because fighting alongside Islamic Jihad would escalate the situation, Hendrix said that "it's easy to imagine that they're not sorry to see the leadership of this group [Islamic Jihad] be decimated."
There may be relevant differences between Hamas and the much smaller but influential Islamic Jihad. But it's a lazy analysis – with undoubtedly a strong dose of wishful thinking – to attribute "factionalism" to the former not participating in hostilities during the latest escalation.
That should instead be understood as a strategic decision to avoid prolonging and exacerbating Israel's rampage in Gaza, with its long-suffering population enduring repeated military assaults while under a medieval siege with no end on the horizon.
Restraint and retaliation
This was not the first time Hamas declined to directly participate in battle alongside Islamic Jihad, as pointed out by Mai Abu Hasaneen in the publication Al-Monitor.
"When Israel assassinated Baha Abu al-Ata, Jaabari's predecessor, in Gaza, Islamic Jihad retaliated by firing rockets at Israel," Abu Hasaneen writes.
"However, Hamas did not launch any rocket toward Israel back then in order to avoid an escalation in light of the poor living conditions in Gaza, Hamas leader Basem Naim had told the BBC back then."
Rather than engage in combat, Hamas' role following the assassination of al-Jaabari was to expedite a ceasefire. Islamic Jihad led the military response because it was their commanders who were targeted by Israel.
Tariq Salmi, an Islamic Jihad spokesperson, told Al-Monitor that it operated under a unified Palestinian position and "stressed that there was coordination between the military wings of the national and Islamic armed forces during the battle."
Analysts told the publication that this month's escalation provided "an opportunity for Islamic Jihad to demonstrate its military capabilities" while Hamas held back because the confrontation wasn't linked to "national causes, including the Jerusalem cause that pushed Hamas to launch the Sword of Jerusalem Battle" in May last year.
Hamas' non-participation in the latest round of fighting with Israel is not likely to be a source of tension with Islamic Jihad, Talal Okal, a writer for Al-Ayyam, a Palestinian newspaper, told Al-Monitor.
"Islamic Jihad is not a political competitor of Hamas, which rules the Gaza Strip; rather it is a resistance movement that works against Israel only," he said.
Islamic Jihad, founded in the 1970s, years earlier than Hamas, is singularly focused on maximizing military pressure on Israel, which it sees as the sole path to national liberation.
For Islamic Jihad, the road to compromise embarked on by the Palestine Liberation Organization under the leadership of the late Yasser Arafat has only led to a dead end.
Khalid al-Batsh, a senior Islamic Jihad official in Gaza, told Majallat al-Dirasat al-Filastiniyya in 2012 that Israel "does not seek peace, but rather uses negotiations as a cover for building settlements, Judaizing Jerusalem, and expelling people from their homes."
Armed resistance, meanwhile, gets results.
"What led Israel to exit Gaza?" al-Batsh asked rhetorically. "They left in … 2005 against their will," referring to Israel's unilateral withdrawal from the coastal enclave (the late Islamic Jihad leader Ramadan Shallah referred to it as a "redeployment" of Israel's guns to Gaza's boundaries).
Al-Batsh added that "with its simple and primitive means, the resistance was able to evict the Israelis from the Gaza Strip in less than five years, since the start of the [second] intifada."
Al-Batsh said that "in the past, our people's homes were hit by Israeli planes and artillery while the settlers remained secure in their settlements."
But today, Batsh said in 2012, "they know that any air raid on Gaza will be met with a rocket attack on their settlements … This has created a situation of restraint among the Israelis."
Fast forward nearly a decade later, Hamas and Islamic Jihad in the isolated strip have strengthened and extended the range of their capacity and ability to disrupt life in Israel through rocket barrages.
It is a logical tactic in besieged Gaza, where there is little to no other means to shift the severe imbalance of power between the stateless Palestinians on the one hand, and one of the world's strongest militaries, on the other.
Military pressure to shift power imbalance
Islamic Jihad, like Hamas, sees no reason to lay down their arms and recognize Israel.
"No liberation movement in history has recognized the legitimacy of its enemy before achieving its own goals, barring utter defeat or surrender," Ramadan Shallah, the late leader of Islamic Jihad, said in a 2014 interview with Majallat al-Dirasat al-Filastiniyya.
Regarding the PLO's recognition of Israel with the signing of the Oslo accords in the mid-1990s, Shallah added, "the Palestinian side was divested both of its goal [liberation] and the means to achieve it [armed struggle], and, furthermore, was required to guarantee the security of its enemy while being engaged in a struggle for national liberation!"
According to Shallah, discussing political frameworks such as a two-state or one-state solution "will have absolutely no effect whatsoever on the Zionist stance."
Pointing to Israel's rejection of the PLO's "historic compromise," which accepted a state on just 22 percent of historic Palestine, Shallah dismissed the idea that any formula or solution would convince Israelis "to live side by side with the Palestinian 'other.'"
He elaborated that "Israel's rejection of a compromise on the basis of even the most minimalist solution is due to the power imbalance."
According to Shallah, "the only thing that will produce change is maintaining the military pressure on Israel such that a shift occurs, both in the balance of power and in perception, thus allowing new parameters to emerge."
Where Islamic Jihad has boycotted the Palestinian Authority, an apparatus born of the Oslo peace process, Hamas entered that fray and, as a result, has been locked in a bitter impasse with the Western-backed, Fatah-dominated government without a state in the West Bank since 2007.
According to al-Batsh in the 2012 interview, then Israeli prime minister Ariel Sharon "declared before the withdrawal from Gaza [in 2005] that the Palestinian people must be given something to differ over."
"In other words," al-Batsh added, "Fatah and Hamas fell into the trap that Sharon and his group had set."
Islamic Jihad views this political and geographical split between Hamas in Gaza, on the one hand, and the Fatah-dominated Palestinian Authority in the West Bank, on the other, as the single greatest obstacle to a Palestinian consensus necessary to confront Israel.
"In the process of struggle for national liberation, unity is not an option: it is a duty, an existential necessity, and a prerequisite for every Palestinian," Shallah said in the 2014 interview.
"Ending the division and the occupation are inseparable goals because unity and liberty are two sides of the same coin," he added.
"Unity of the Battlefields"
Islamic Jihad dubbed the latest confrontation with Israel "Unity of the Battlefields" in what Al-Monitor writer Mai Abu Hasaneen describes as "a bid to thwart Israeli plans to separate the resistance in Gaza" from the rest of historic Palestine.
During his 2014 interview, Ramadan Shallah explained that "Israel had hoped that Gaza might become like Lebanon following the Israeli withdrawal: a quasi-independent entity that would be separate from the rest of Palestine and from which Israel would not tolerate a single shot being fired against it, regardless of its own actions in the West Bank or Jerusalem."
Islamic Jihad therefore focused on preparing the resistance "to defend the Gaza Strip and achieve a measure of deterrence vis-a-vis the enemy … and to ensure that the Gaza Strip was not wiped off the map of the national struggle or severed from the rest of the Palestinian body politic," Shallah said.
The leaders of Hamas and Islamic Jihad celebrated Israel's failure to break the will of the people in support of the resistance during a phone call soon after the ceasefire was declared. They pledged to work together to "fortify the strategic path for the future of the resistance project."
Hardly the narrative of a split between Hamas and Islamic Jihad proffered by Israel's agents of disinformation.
Maureen Clare Murphy is senior editor of The Electronic Intifada.
Tags