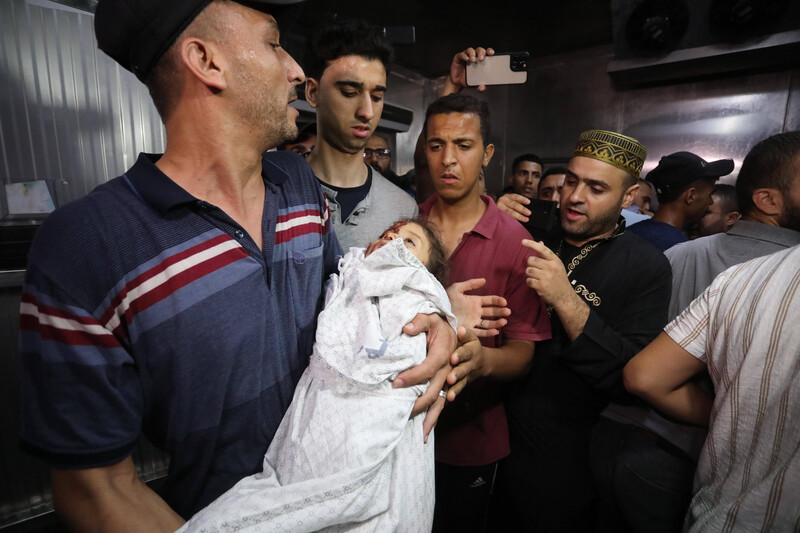 Israel launched surprise attacks across the Gaza Strip on Friday, killing 10 Palestinians, including a young girl and a senior commander from the Islamic Jihad resistance group.
More than 60 people were injured, including at least 10 children.
Islamic Jihad launched at least 100 rockets toward Israel late Friday evening, the first retaliatory response on behalf of Palestinian resistance groups.
A spokesperson for Islamic Jihad told the network Al Jazeera that the resistance was prepared for a long battle with Israel if necessary that could last days or weeks.
The spokesperson added that Israel's surprise attack came despite ongoing efforts by Egypt to mediate a de-escalation with the group, following Israel's arrest of a senior Islamic Jihad commander in the West Bank earlier this week.
Hamas gave its full backing to Islamic Jihad's response and said resistance factions were united and working in coordination.
Fawzi Barhoum, a Hamas spokesperson, told Al Jazeera that Israel had exploited the willingness of the Palestinian resistance to engage in Egyptian-mediated de-escalation efforts to launch a premeditated attack.
Israeli Prime Minister Yair Lapid stated that the attack on Gaza "will take as long as it needs" raising the horrifying prospect that 2.1 million Palestinians in Gaza are facing yet another of Israel's regular spasms of killing and destruction.
In an apparent attempt to justify the attacks, Israel claimed that Islamic Jihad members it killed on Friday planned to use "anti-tank missiles and sniper rifles" against Israeli targets, according to Tel Aviv daily Haaretz.
In May, Israeli intelligence admitted, according to Haaretz, that Israel had few "quality" targets in its "target bank" for Gaza.
According to the Tel Aviv newspaper, officials claim this is because Israel had already destroyed "hundreds of Hamas positions and infrastructure" in previous attacks.
But a more credible explanation is that as guerrilla forces, Palestinian resistance groups have few fixed installations.
This likely explains why Israel has repeatedly resorted to the so-called Dahiya doctrine, the deliberate mass destruction of civilian objects, including toppling entire apartment buildings.
The strategy aims to create such pain among the civilian population that the will to resist will be broken.
White House backs Israel
Even before the first Palestinian military response, the United States, which provides billions of dollars in weapons to Israel annually, endorsed the Israeli attack.

"We are monitoring developments in Gaza. We urge all sides for calm. We firmly believe that Israel has the right to protect itself," a spokesperson for the White House National Security Council said.

US-supplied weapons are habitually used in Israeli attacks on Palestinians.

The Israeli attacks started shortly after 4 pm on Friday when airstrikes in Gaza City assassinated a senior leader of the Islamic Jihad resistance group.

Israel published a video of its attack on an apartment building in a dense residential area that killed senior military leader Taysir Mahmoud al-Jaabari.

Israeli warplanes fired two missiles at the 13-story building, causing damage to the tower as well as nearby homes, according to Al-Mezan, a Gaza-based human rights group.

Al-Jaabari served on the Islamic Jihad military council and was the commander of the northern Gaza region.

Salameh Muharib Abdallah al-Abed, 39, was also killed in the same attack.
Child killed
Shortly after, Israeli warplanes targeted a group of people gathered outside a mosque in the Shujaiya neighborhood east of Gaza City, killing Imad Abdulrahman Shallah, 50, and Yousef Salman Qaddoum, 24.

The same attack killed a 5-year-old girl. She was identified as Alaa Abdullah Riyad Qaddoum by rights group Defense for Children International-Palestine.

"Alaa was killed instantly and sustained injuries to her forehead, chest and right leg from shrapnel, according to a doctor at al-Shifa hospital," DCIP reported.

She is the 19th child to be killed by Israeli fire this year.

Her father and 6-year-old brother were injured in the same attack.

A video shows Alaa's father carrying her body:

An Israeli airstrike on a security installation east of Gaza City killed 25-year-old Ahmad Mazen Azzam.

Another Israeli airstrike hit a security installation in Jabaliya in northern Gaza, killing 25-year-old Mahmoud Ahmad Abdelfattah Nasrallah al-Madhoun.

In the southern Khan Younis area, Israeli artillery bombarded lands and residential homes, killing a 22-year-old woman, Duniana Adnan al-Amour.

Israeli warplanes also struck a Palestinian resistance training site west of Khan Younis, killing 29-year-old Fadl Mustafa Zaarab and 35-year-old Muhammad Hasan al-Buyouk.

Israeli shelling also damaged an ambulance, according to the Palestinian health ministry.
"Cowardly enemy"
Israel's escalation started on Monday in the West Bank, when occupation forces arrested top Islamic Jihad commander Bassam al-Saadi in the Jenin refugee camp.
Video of the detention shows al-Saadi being dragged by Israeli forces.
During the same raid, an Israeli sniper shot a Palestinian child in the back, killing him.
Despite saying it was on alert following al-Saadi's detention and the attacks against his family, Islamic Jihad did not retaliate.
Israel's decision to further escalate on Friday comes despite the resistance group's restraint in the face of continuous Israeli provocations.
But resistance groups could not let Israel's latest bloody outrage go unanswered.
On Friday evening, the joint operations room of Palestinian armed resistance factions promised a response that was quick in coming.
"Our cowardly enemy has begun an aggression targeting all of Palestine, starting from the al-Aqsa mosque compound, continuing in Jenin, and today by assassinating a great patriotic leader and a group of fighters and civilians in an aggression against our people," the resistance groups said.
Even before a single missile was launched from Gaza, Israel began diverting flights from Ben-Gurion airport near Tel Aviv in anticipation of Palestinian retaliation.
Collective punishment
And as its siege of Gaza enters its 15th year, Israel has been escalating its collective punishment against the population there.
The Israeli army closed the Kerem Shalom checkpoint, the only place Israel allows goods in and out of Gaza, as well as the Erez checkpoint, the only crossing for people between Gaza and Israel, on Tuesday.
The closures prevented dozens of Palestinian patients from leaving Gaza for the West Bank, denying them life-saving treatments and "putting their lives at risk," Al-Mezan said.
Israel has never needed a pretext to attack Palestinians, but the timing of Friday's assault could be related to domestic politics.
It comes as Israel once again heads to the polls in November, following the recent collapse of its coalition government.
In the run-up to the elections, supposed centrist Yair Lapid took over as prime minister from far-right-winger Naftali Bennett.
Israeli politicians regularly brag about their willingness to shed Palestinian blood as a way to win votes.
Benny Gantz, the defense minister overseeing the current attack, previously ran for office by boasting that in 2014 he had bombed Gaza back to the stone age.
In May 2021, resistance groups in Gaza responded to Israeli attacks on Palestinians in Jerusalem with barrages of rockets that brought Israel to a standstill for days and killed 13 people there.
During that 11-day escalation, Israel launched targeted strikes on Palestinian civilians, massacring entire families in their homes.
That Israeli onslaught killed some 250 Palestinians, including more than 60 children.
While Gaza bore the brunt of Israel's violent rage in 2021, it is Palestinians in the occupied West Bank who have suffered most from Israeli bloodshed so far this year.
Israeli occupation forces and armed civilians have killed more than 70 Palestinians in the West Bank since January, including 18 children.
Whether Israel's latest aggression can be stopped before many more people are killed remains to be seen, but Israel does not seem to be looking for a de-escalation.
Gantz said Israel would be calling up as many as 25,000 reservists.
The Golani Brigade, an Israeli army division that has perpetrated previous massacres in Gaza, is among the forces being moved towards the boundary of the besieged territory.
A short time after the first Palestinian retaliatory missiles were fired toward Israel, the Israeli military announced it had resumed air attacks on Gaza.
Tamara Nassar is associate editor and Ali Abunimah is executive director of The Electronic Intifada.
Tags