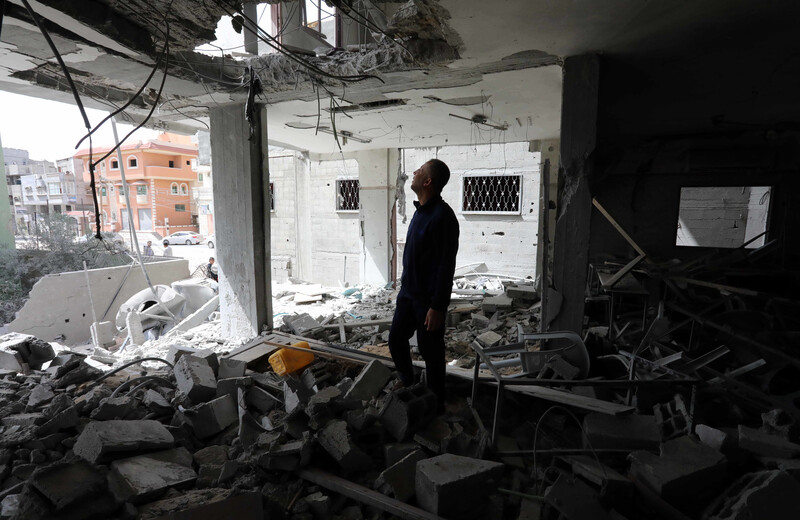 Israel used "bunker buster" bombs made by a US arms company in two attacks on Gaza in which civilians were killed last month.
The deadly strikes occurred in intense violence between 4 and 6 May during which 25 Palestinians, half of them civilians, and four civilians in Israel were killed.
Remnants of the GBU-39 series guided "small diameter" bomb manufactured by Boeing were found by Human Rights Watch at the site of the Zoroub building in Rafah, southern Gaza. Three civilians were killed in an Israeli attack on the six-story commercial building on 5 May.
Ahmad Zoroub, a relative of the building's owner, was sitting in a basement cafe with two friends when the building was hit by three munitions. Ahmad survived but his companions, Mousa Muammar, 35, and Hani Abu Shaar, 37, did not.
Also killed in the attack was Ali Abd al-Jawad, an English teacher who had been present at the tutoring center he operated on the ground floor of the building when it was hit.
Minutes after the attack on the Zoroub building, according to Human Rights Watch, "the Israeli military said on Twitter that it attacked 'terrorist operatives' in south Gaza, but did not say what or where the targets may have been."
"Three local residents said that Islamic Jihad had a media office on the second floor, but one noted that the office had moved to a different location months before," Human Rights Watch states. The owner of the building told the rights group that the Palestinian resistance group did not have an office there.
"Human Rights Watch uncovered no evidence of a current military objective."
Pregnant woman killed
Weapon remnants found at a destroyed residential building in Beit Lahiya, northern Gaza, were also determined by Human Rights Watch to be from a GBU-39 bomb.
The three-unit residential building was, like the Zoroub building, attacked by Israel on 5 May. Abdallah al-Madhoun, a member of Islamic Jihad's armed wing, was killed in the strike, as well as his father, Abd al-Rahim, 60; his 36-year-old sister-in-law, Amani al-Madhoun, who was nine months pregnant; and his brother-in-law Fadi Badran, 33.
Human Rights Watch contends that because he was an operative with Islamic Jihad's armed wing, Abdallah al-Madhoun was a "a valid military target," though its report states he was praying at his father's home when he was killed.
"However, the nature of the attack, on a home containing many civilians, raises concerns that it was disproportionate," according to Human Rights Watch.
The deadly strikes in May were not the first time Israel has used the GBU-39 bombs in the densely populated Gaza Strip.
First used by the US military in Iraq in 2006, sale of the GBU-39 to Israel was approved in September 2008. Israeli media reported that they were among the new weapons used during Israel's unprecedented three-week offensive in Gaza beginning in late December that year.
Rush transfer
A rush transfer of 1,000 of those bombs had been made to Israel in late November or early December 2008, according to the Journal of Palestine Studies. Some of the GBU-39 munitions used by Israel during the winter 2008-2009 assault on Gaza may have been packed with Dense Inert Metal Explosive munitions, which are "highly cancerous to those injured" by it, the journal states.
More than 1,400 Palestinians and 13 Israelis were killed during that assault. An independent investigation commissioned by the United Nations found that Israel deliberately targeted civilians and civilian infrastructure.
The sale of 3,450 GBU-39 bombs to Israel was approved by the US in December 2012, one month after Israel's second massive military assault on Gaza.
Around 170 Palestinians were killed in 1,500 Israeli air strikes across Gaza, as well as in navy and mortar attacks, during that eight-day November offensive. Among those killed were 100 civilians, 33 of them children. Six Israelis, four of them civilians, were also killed.
Three years later, more than 4,100 of the 250-pound bombs were included in a US weapons package to Israel worth $1.9 billion. That sale came on the heels of Israel's 51-day assault on Gaza in summer 2014, during which it dropped some 100 tons of munitions on the territory.
More than 2,200 Palestinians were killed in that offensive, among them nearly 1,500 civilians, including at least 551 children. Six civilians died in Israel and more than 60 Israeli soldiers were killed by Palestinian fire.
Around 150 Palestinian families had three or more members killed in a single attack, accounting for nearly 750 deaths, as Israel targeted residential buildings.
A UN commission of inquiry found that the widespread destruction of civilian infrastructure in Gaza and killing inflicted by Israel, often amounting to war crimes, "may have constituted military tactics reflective of a broader policy, approved at least tacitly by decision-makers at the highest levels of the Government of Israel."
$200 million contract
In January 2018, Boeing was awarded a contract of nearly $194 million to manufacture 6,000 of the GBU-39 guided bombs for the US Air Force as well as foreign militaries, including Israel and Saudi Arabia.
Some European countries have stopped exporting weapons to the Saudi government as thousands of civilians have been killed in its war on Yemen backed by the US and the UK, creating the world's worst humanitarian crisis.
This year, Chicago-based Boeing was given a 10-year contract worth $65 million to provide the GBU-39 bombs to 12 foreign militaries, including Israel.
Amnesty International has previously called on the US State Department "to suspend all transfers of military weaponry and equipment to Israel until it conducts an investigation into whether US weapons were used in human rights violations."
The 1997 Leahy Law, named for the senator who sponsored it, prohibits the US from providing military assistance to units of foreign militaries when there is credible information that those units violated human rights with impunity.
Tags