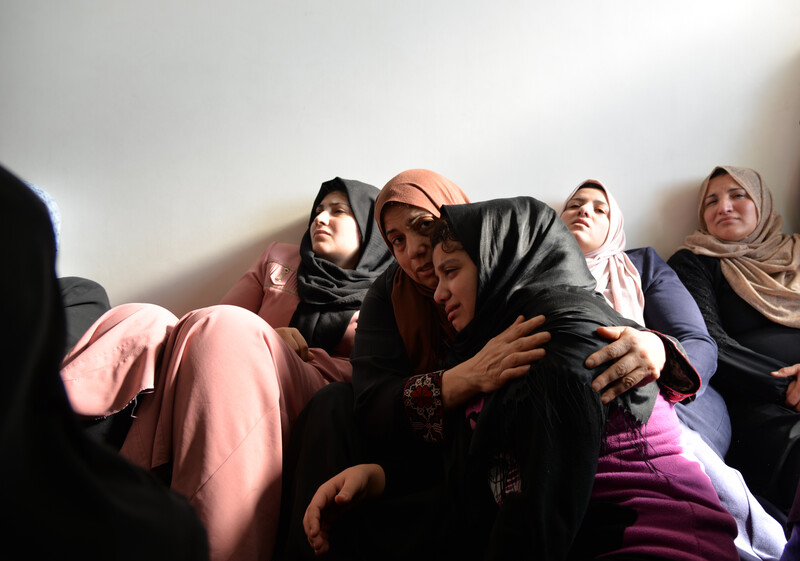 The "pinpoint" strike or "targeted killing" is back. Mainstream media simply can't resist such terms even when the wording is clearly misleading.
The New York Times described Baha Abu al-Ata, who was killed in an Israeli air strike early Tuesday, as a senior commander of Palestinian Islamic Jihad.
Adopting the language of the Israeli army, The Times wrote that "Targeted strikes against militant leaders have led to war before, and Israel has sworn them off in the past."
But this was no "targeted" strike.
In the third paragraph, the newspaper of record notes that Asma Abu al-Ata, the commander's wife, was also killed in the attack on their home in the Shujaiyeh neighborhood of Gaza City.
Not until the 24th paragraph is it noted that one of Abu al-Ata's young sons was injured as well.
An AP article picked up by ABC News refers to "a rare resumption of pinpointed targeting."
A separate AP article run by The New York Times avoids agency to the point of absurdity, stating: "Baha Abu al-Ata and his wife died as they slept in their home in eastern Gaza."
Another AP article is particularly egregious in its misrepresentation of the history of what it calls "targeted killings."
It reports that in July 2002, "Hamas's second-in-command military leader Salah Shehadeh is killed by a one-ton bomb dropped on an apartment building." That is true as far as it goes.
But the full reality is far grimmer. According to The New York Times, at least 11 people were killed in the Israeli attack, including several children, and more than 100 people were thought to have been wounded. That's what happens when a bomb of that size is dropped into a crowded residential area – not a "targeted killing."
CNN's Oren Liebermann in a clip promoted by the network did not bother to mention the killing of Asma Abu al-Ata or any injury suffered by a child in the family.
The CNN anchor who introduced Liebermann did mention "Gaza militants firing dozens of rockets toward Israel, one just barely missing several cars" on a road in Israel.
Palestinian civilian casualties, however, did not merit a mention.
Liebermann first attributed the term "targeted killing" to the Israeli military – also calling it an "assassination" – and then simply deployed the term as a fitting description of what transpired.
By contrast, Al Mezan, a human rights group based in Gaza, called Israel's killing of Abu al-Ata an "extrajudicial execution" that "caused harm to civilian lives and properties."
NPR's Naomi Zeveloff also referenced the incident as a "targeted killing," though unlike in Liebermann's clip she did mention the death of Asma Abu al-Ata.
The Los Angeles Times somehow called it "a surgical strike," while noting in the next breath that Asma Abu al-Ata had "also died." A doctor would hardly call "surgical" an intervention in which the patient on the next bed was also killed.
The BBC created a different problem by providing space for Ronen Bergman – who despite his bias is somehow still a staff writer for The New York Times Magazine – to spin the day's developments.
Scientist Jareer Kassis, who also provides Palestine-related analysis, called out the BBC for prioritizing Bergman over "blockaded Palestinians."
Israeli army hypocrisy
The Israeli army issued a bizarre tweet in the midst of Tuesday's violence, claiming "Children are NOT targets. Hospitals are NOT targets. Civilians are NOT targets." The army then said, "the terrorists who target them, are."

The hypocrisy was evident on a day when the Israeli military killed the spouse of a "target" in one Gaza attack.

In another attack attributed to Israel, it killed the son of another Islamic Jihad official, Akram al-Ajouri, in Damascus.

In addition to that fatality, the AP also reported that a man named Abdullah Yousef Hassan – apparently a bodyguard – was killed, as was a granddaughter of al-Ajouri, and another nine civilians were said to be injured in the Damascus strike that destroyed a three-story building.

Other reports indicate it was not his granddaughter who was killed, but rather a daughter who was injured.

Such bystander casualties have long been the result of Israeli military strikes.

The State Department in its annual human rights report stated that in 2003, "Israeli security forces targeted and killed at least 44 Palestinians, many of whom were terrorists or suspected terrorists. Israeli forces undertook many of these targeted killings in areas where civilian casualties were likely, killing 47 bystanders in the process, including children."

More than 15 years after the release of that report, the Israeli military is still pursuing a deadly policy for civilian bystanders and continues to do so with the indulgence of numerous western news sources that have embraced the Orwellian terminology of Israeli propaganda.
Tags